This easy BBQ Pork Sandwich recipe will leave your family asking for more!
My family loves BBQ. It doesn't matter what time of year it is, BBQ is a year 'round meal for us. Even my 8 year old son is a connoisseur. During the summer months we take weekend road trips and stopping at BBQ places is a favorite activity. We have a few local food trucks in our area and if my son had his choice, we would eat lunch there everyday.
Did you get an instant pot for Christmas? Now is the perfect time to pull it out of the cupboard and try it! If you don't have an Instant Pot, this BBQ Pork Sandwich recipe can be made in a slow cooker. All you need is a 2-3 pound boneless pork shoulder and your favorite BBQ sauce. Combine them both for a delicious and easy meal.
Instant Pot BBQ Pork Sandwich Recipe
Yield: 6
BBQ Pork Sandwich Recipe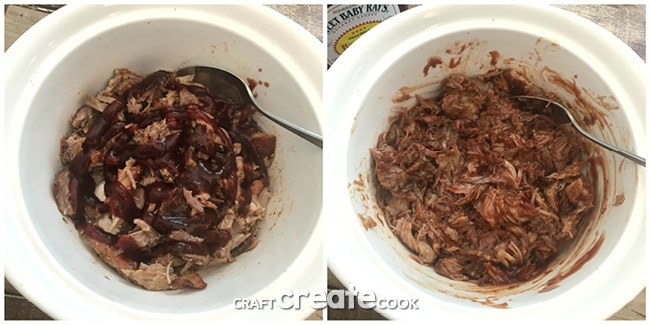 This Instant Pot BBQ Pork Sandwich recipe is easy to make and will leave your family asking for more!

Prep Time 15 minutes

Cook Time 8 hours

Total Time 8 hours 15 minutes
Ingredients
2-3 pound boneless pork shoulder
2 tbs. olive oil
1 C. of BBQ sauce (whichever brand you prefer) + more for after the pork has cooked
½ C. water
salt & pepper
Hamburger Buns
Instructions
Heat the 2 tablespoons of olive oil in a large saucepan and brown the pork shoulder on each side 8-10 minutes.
Once browned, place the pork shoulder in your slow cooker and turn on low.
Combine the ½ cup of water and 1 cup of BBQ sauce and pour over the pork.
Cook on low for 6-8 hours.
Remove pork from the slow cooker and discard the fat pieces, shred the pork and add more BBQ sauce.
Serve over buns with your favorite side dish or chips.
*If using your Instant Pot, brown the pork in the Instant Pot and then add the water and BBQ sauce. Seal shut and set the Instant Pot timer to 90 minutes. Remove and finish as stated above.


You will also want to try our:
Save