This Reuben Tator Tot Casserole is the perfect addition to St. Patrick's Day or any day for that matter!
St. Patrick's Day is officially a week away and I can't wait! I love everything about St. Patrick's Day, especially the food! My favorite is corned beef and cabbage but my family isn't a fan of the dish. I make corned beef at least once a year in my slow cooker or instant pot but then I'm the only one that ends up eating it. Reubens on the other hand, my husband loves! Weird, right? But hey, I'll take what I can get!
This Reuben casserole is awesome. It's uses deli shaved corned beef so you don't have to spend hours cooking corned beef. Combine the shaved corned beef with your favorite Thousand Island dressing, tator tots, Swiss cheese, sauerkraut and you have something the whole family can enjoy!
What are some of your favorite St. Patrick's Day dishes to enjoy with your family?
You will also want to make our: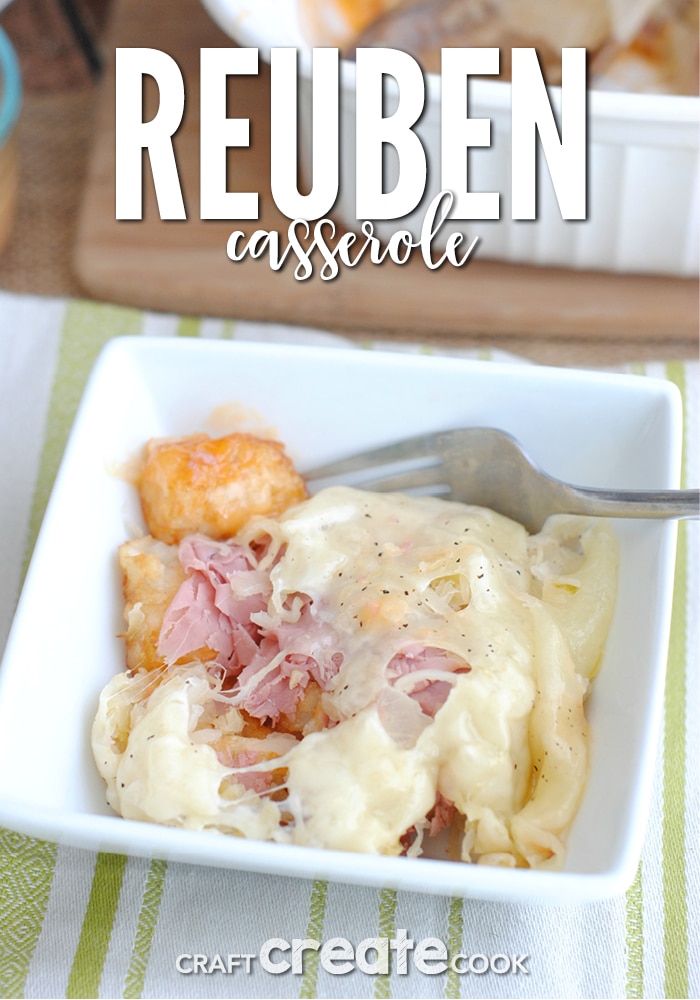 Yield: 9
Reuben Tator Tot Casserole
This Reuben Tator Casserole is the perfect addition to St. Patrick's Day or any day for that matter!

Prep Time 10 minutes

Cook Time 25 minutes

Total Time 35 minutes
Ingredients
1/2 lb shaved corned beef
1 package of swiss cheese slices
16 oz bottle of Thousand Island
15 oz can of sauerkraut, drained and rinsed
9 mini buns or Hawaiian rolls, sliced in half
melted butter (optional)
Instructions
Turn the oven broiler on low and lay the bun tops and bottoms on a baking sheet.
Broil on low until lightly browned.
Remove from the bun from the oven and preheat the oven to 350 degrees.
Line a 9x9 baking dish with foil (optional, but super easy clean up) and lay the 9 bun bottoms in the bottom of the dish.
Generously spread each bottom with Thousand Island dressing.
Add the corned beef to each bun and then cheese.
Add more dressing and place the tops on the sliders.
Cover the baking dish with foil and bake 20-25 minutes or until heated through.
Serve with Thousand Island dressing on the side.


Save
Save