St. Patrick's Day Cinnamon Rolls are sure to be the luckiest breakfast!
If you are looking for a fun and easy St. Patrick's Day breakfast, we have you covered here at Craft Create Cook. Every holiday I try to find something fun for my kids to enjoy and breakfast always seems to be my thing. Breakfast is my favorite meal of the day and I love cinnamon rolls, even the store bought kind. Plus, breakfast is easy and if I get busy the rest of the day, I've already done something special.
These Shamrock Cinnamon Rolls only require a few ingredients: store bought cinnamon rolls (I used Meijer brand but any brand will work) and green food coloring.
St. Patrick's Day Cinnamon Rolls Recipe
St. Patrick's Day Cinnamon Rolls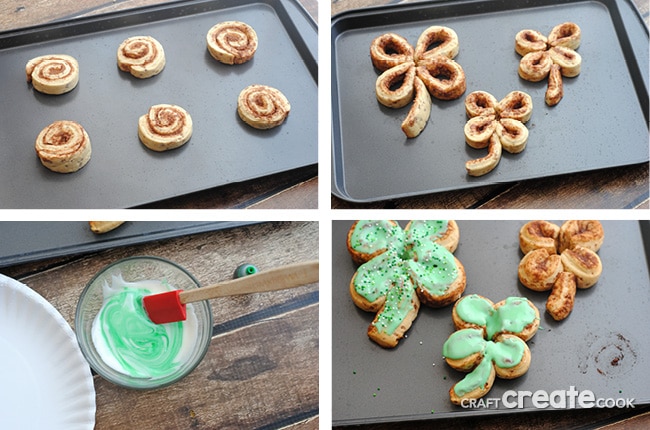 St. Patrick's Day Cinnamon Rolls are sure to be the luckiest breakfast!

Prep Time 10 minutes

Cook Time 12 minutes

Total Time 22 minutes
Ingredients
1 package of store bought cinnamon rolls
green food coloring
St. Patrick's Day sprinkles
kitchen scissors
Instructions
Preheat the oven to 350 degrees.
Open the package of cinnamon rolls and discard the packaging. Set aside the frosting.
Gently unroll each cinnamon roll one at a time and use the kitchen scissors to cut the cinnamon rolls in 2-3" pieces.
Gently fold the cut pieces in half and arrange in the shape of a shamrock on your baking baking sheet (see photos).
Add a stem to each shamrock.
Bake for 12-14 minutes.
While the shamrocks are baking, squeeze the cinnamon roll frosting into a small dish and add a few drops of green food coloring.
Let the cinnamon rolls cool a few minutes and then generously frost and top with sprinkles.
Enjoy while still warm.


You will also want to make our:
St. Patrick's Day Pot of Gold Treat Cups
St. Patrick's Day Chocolate Lucky Charms Treats
St. Patrick's Day Treat Leprechaun Hat
Save
Save
Save
Save