These St. Patrick's Chocolate Lucky Charms Treats are a cinch to make and are chocolatey delicious!
It's finally March and St. Patrick's Day is on the horizon so why not start thinking a head for a fun St. Patrick's Day treat! Almost every holiday brings out the specialty food goodies. During the fall we find fun Halloween themed marshmallows and pumpkin everything. During the Christmas season we find fun red and green frostings and holiday theme cake mixes. Walking through my local Aldi last week I spotted seasonal Chocolate Lucky Charms cereal, perfect for St. Patrick's Day! I immediately grabbed a box and tossed it into my shopping cart. I may have gotten an eye roll from my husband who was pushing the cart but I ignored him and kept moving.
Have you ever tried Chocolate Lucky Charms cereal? It's like regular Lucky Charms but chocolatey and delicious! The kids flipped when they saw the box sitting on the pantry shelf but I told them, "hands off" until I made some yummy Chocolate Lucky Charms Treats!
This recipe is so easy, just like Rice Krispie treats but it uses Lucky Charms instead! All you need is butter, Chocolate Lucky Charms and mini marshmallows.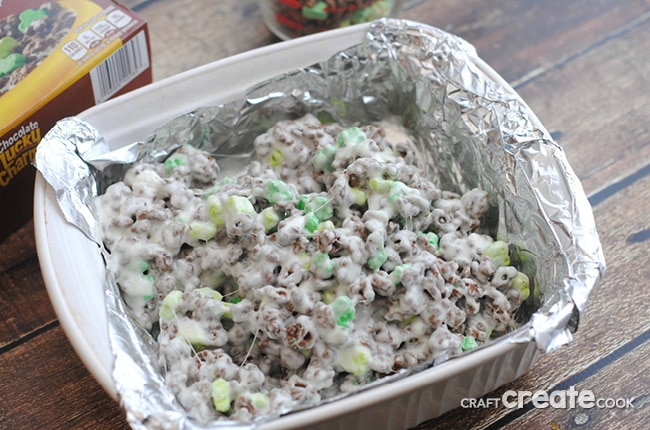 Chocolate Lucky Charms Treats Recipe
Yield: 9
St. Patrick's Day Chocolate Lucky Charms Treats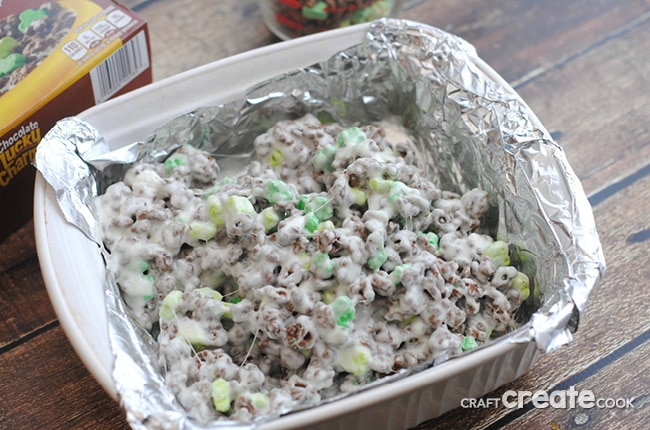 These St. Patrick's Chocolate Lucky Charms Treats are a cinch to make and are chocolately delicious!

Prep Time 2 minutes

Cook Time 10 minutes

Total Time 12 minutes
Ingredients
4-5 C. Chocolate Lucky Charms cereal
10 oz mini marshmallows
3 tbsp. butter, cut into chunks
Instructions
Line a 9x9 square baking pan with foil and spray with non-stick cooking spray.
Melt the butter and marshmallows in a large saucepan.
Once the marshmallows are 3/4 melted fold in the Lucky Charms cereal and stir to coat the cereal.
Pour the mixture into the foil lined baking dish.
Let set a few hours and cut into squares.


You will also want to make our:
Save