These Perler Bead Bookmarks are completely customizable and ready for your latest book.
Perler beads are one of my favorite crafting items. You can make anything with them from keychains to coasters to magnets. They're so much fun!
My son and I love using the template pegboards like fish, flowers, and hearts. But my favorite has to be the 5.5″ pegboard so you can make your own designs and ideas.
We have tons of books and not a lot of bookmarks so my son had the idea the other day to make his own paper ones and wrote out his favorite sports teams on them so he gave me the idea for these colorful ones.
I love how we can make different patterns using the different colored beads and actually use what we make when were done.
How to make these Perler Bead Bookmarks: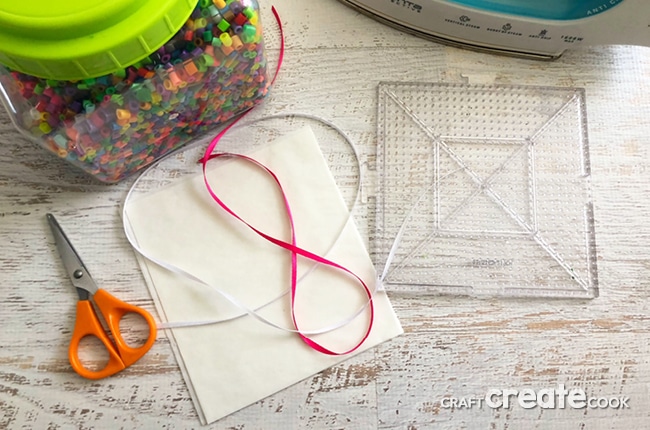 Materials: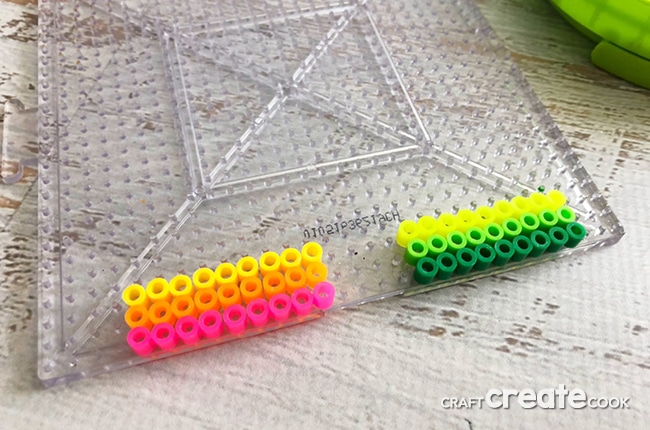 Start placing your beads onto your pegboard, 9 beads wide and 29 beads long.
I chose to do stripes as my pattern but you can do so many different designs.
On rows 25, 26, 27 only place 3 beads on each side of the row, leaving 3 in the center.
Place a piece of ironing paper onto the bookmarks and iron the beads for several seconds or until the beads are fused together.
Peal the paper off the board/beads carefully (it will be hot) and lay the Perler Bead Bookmarks flat onto the table until they cool.
Cut and tie a piece of 8″ piece of ribbon through the hole and your bookmarks are ready to use.
You might also enjoy our other bead crafts:
Perler Bead Trolls Craft  – This Perler Bead Trolls Craft can be customized to your favorite troll, making it fun for the whole family.
Perler Bead Pineapple Keychain – If you like Pina Coladas and making Perler Beads then this Perler Bead Pineapple Keychain is a perfect craft for you!
DIY Fuse Bead Pumpkin Keychain – This pumpkin keychain is easy to make and a fun fall project for the kids!