With a handful of simple products, you can make this red, white and blue patriotic snack mix for your next outing and be the hit of the party!
We love easy and simple recipes here at CraftCreateCook and this red, white, and blue snack mix is no exception! Plus, it doesn't have to look neat! The messier, the better! Let the kids take a stab at making this — from spreading the melted chocolate to adding the sprinkles and mixing it all together, they can certainly handle these tasks with your supervision!
I love trying to find easy, but different desserts to make. And although I love traditional desserts like cookies and cake, I like to eat the ones that someone else makes. This snack mix is easy enough to be different and it's fun, too!
You'll need some popcorn, pretzels, mini marshmallows, Royal Blue Wilton Candy Melts and Red Wilton Candy Melts and a container of sprinkles. Just lay your popcorn on a parchment lined baking sheet, drizzle red candy melts, and half the sprinkles. Then drizzle blue candy melts and the remaining sprinkles. Let set to dry.
When the candy melts are set up, break apart your popcorn, add to your pretzels and marshmallows. Mix and you're ready to serve. We found these super cute red, white and blue star cups at the Dollar Tree. But you can grab these from Amazon or wrap a handful of mix in a bag and guests can grab and go!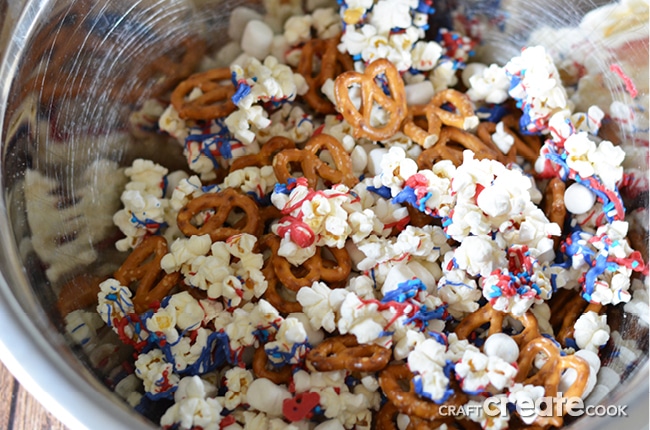 Yield: 10 cups
Patriotic Snack Mix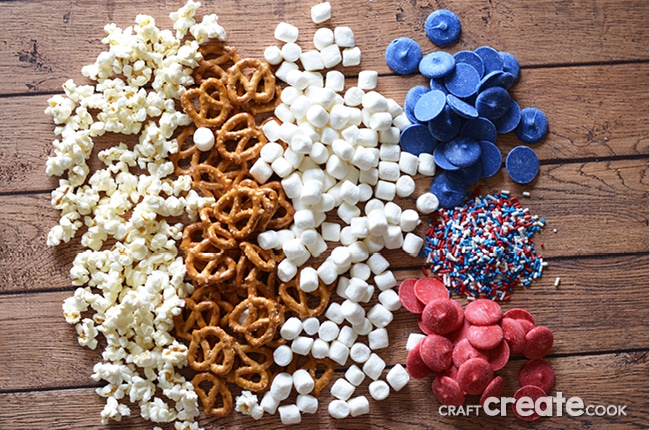 Prep Time 15 minutes

Total Time 15 minutes
Ingredients
6 cups popped popcorn
2 cups pretzels
2 cups white mini marshmallows
1/2 package (6 ounces) red candy melts
1/2 package (6 ounces) royal blue candy melts
Patriotic Sprinkles (1.75 oz)
Instructions
Spread popcorn onto a single layer of a baking sheet.
Heat half a package of red candy melts according to the package directions. Drizzle over popcorn going in every single direction. Sprinkle with half of the patriotic sprinkles. Repeat with the royal blue candy melts. Set aside.
In a large bowl, add pretzels and marshmallows and mix well.
When popcorn is cool and set up, break apart and add to the pretzel mix.


Looking for additional Red, White & Blue Patriotic Desserts?