This low carb Keto friendly egg salad recipe is perfect for a light lunch or a quick snack.
2018 is finally upon us and how many of us have made that resolution to lose weight and get in shape? I know, I know, it's so cliche but it's true. A new year always marks a fresh start to whatever you want to achieve. Last year, I dabbled in low carb. I had heard about it through friends and brushed it off thinking it was like Atkins. I tried Atkins several years ago after having a baby. My mother and father in law lost a ton of weight on Atkins and kept it off. Sadly, I lasted about a day.
I love carbs. Breakfast is usually a bowl of cereal. Snack is crackers of some kind. Lunch is a grilled cheese on my favorite organic white bread. Dinner would consist of white rice with a side of meatballs. After dinner snack? Yes, please! Give me whatever I can find lurking in the snack cupboard. For a single person that's a lot of carbs every day.
My husband and I decided to try out Keto along with me after I explained the basics to him. He loves carbs just as much as I do. The first few days on Keto were tough. I craved carbs here and there but after a few days my cravings died down and then something magical happened: your body goes into Ketosis and it begins to burn fat and by not eating carbs all day long, I didn't feel hungry. In fact, I actually felt like I had more energy.
Lately I've been trying out new foods while avoiding the carbs. I've always loved egg salad but I've always eaten it on crusty toasted white bread. I swapped out the bread for lettuce, added some radish slices to the eggs for crunch and BAM! You have low carb Keto friendly egg salad!
Low Carb Keto Friendly Egg Salad
Yield: 2
Low Crab Keto Friendly Egg Salad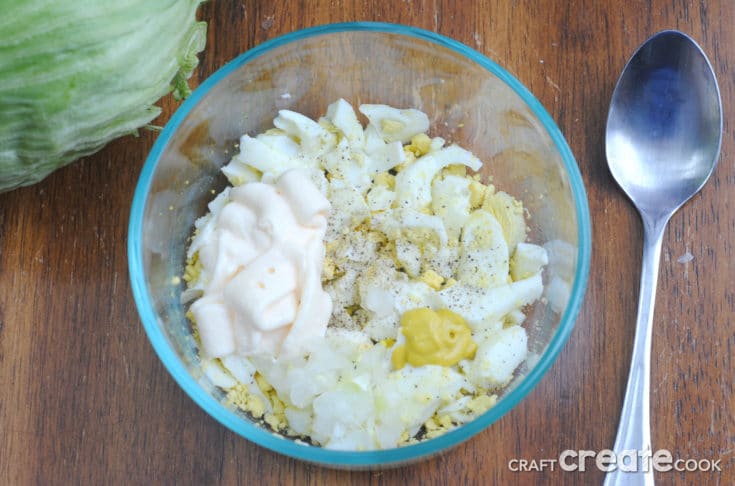 This low carb Keto friendly egg salad recipe is perfect for a light lunch or a quick snack.

Prep Time 5 minutes

Total Time 5 minutes
Ingredients
6 hard boiled eggs, peeled and chopped
2-3 tbsp. mayonnaise
1-2 tsp. mustard
1 tbsp. minced onion
¼ C. radishes, chopped (you could also substitute celery)
salt & pepper to taste
lettuce leaves
Instructions
Combine the eggs, mayonnaise, mustard, onion and radishes, mixing well.
Add salt & pepper to taste.
Serve over lettuce leaves.


You will also want to try our: