This zucchini pasta casserole recipe is full of flavor and easy to put together!
It's happening. It's that time of year in my neck of the woods where zucchini is in season! It's popping up on sale in the grocery stores. It's in abundance at the farmer's market and it's in my kitchen, ready to be turned into chocolate cake, zucchini pizza, and zucchini pie! But this year I wanted to try something different so I am sharing my zucchini pasta casserole recipe!
How to make Zucchini Pasta Casserole
One of my favorite things to shred zucchini is my food processor. I don't have anything fancy, just this simple food processor with a shred blade. It actually takes me longer to clean the machine than to shred the vegetable! When that's the case I shred extra and save it in the freezer so I can have lemon chocolate chip zucchini cake whenever I want!
You could also use a spiralizer to create more of a spaghetti noodle for your zucchini pasta. No matter what shape your zucchini is in, you're going to love this zucchini pasta casserole recipe!
The other bonus feature of this zucchini casserole recipe is that it falls into the keto friendly family! It's low carb to help you stick to your diet and eating plan!
If you aren't a fan of eating sausage, you can swap it for ground turkey, cooked shredded or cubed chicken or omit the meat altogether and enjoy a meatless meal!
Try some of our other zucchini recipes!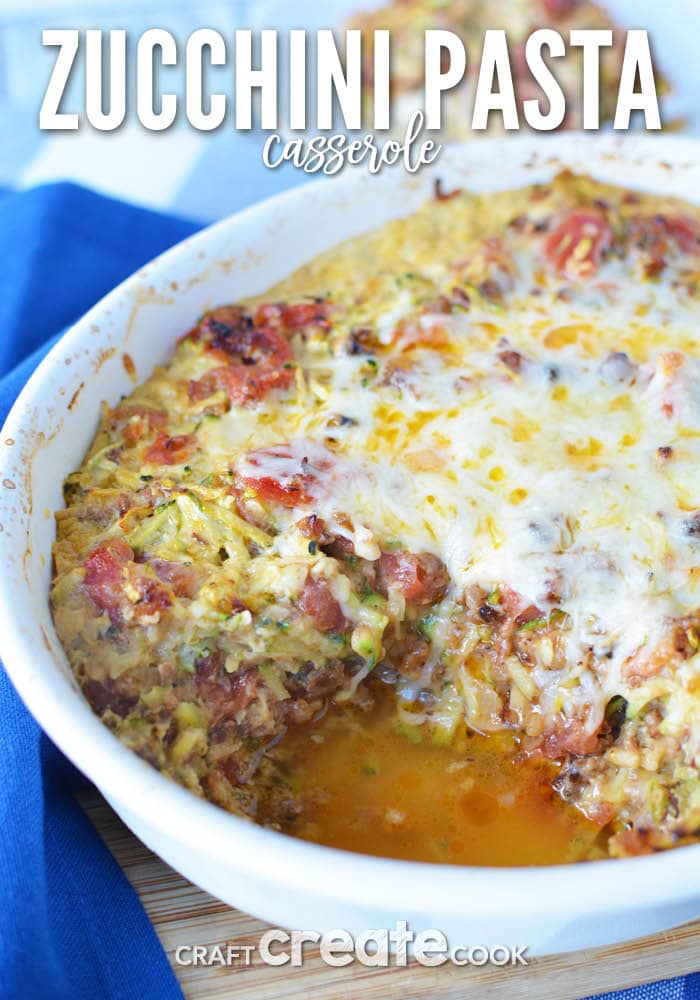 Keto Italian Zucchini Pasta Casserole Recipe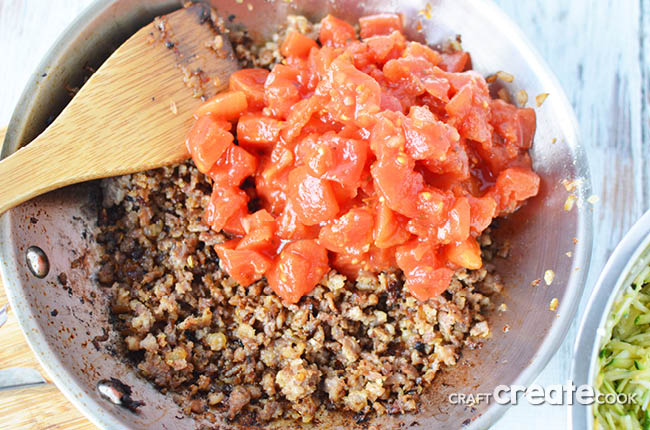 This zucchini pasta casserole recipe is full of flavor and easy to put together!
Ingredients
4 cups shredded zucchini (unpeeled)
1/2 teaspoon salt
2 eggs
1/2 lb Italian sausage
1 can, 14.5 oz, Italian style diced tomatoes
1/2 cup diced onion
1-1/2 cup mozzarella cheese, divided
1/2 cup shredded Parmesan cheese
Instructions
Preheat oven to 400 and grease a casserole pan with nonstick cooking spray and set aside.
In a large mixing bowl, add zucchini, salt, eggs, 1 cup mozzarella cheese and Parmesan cheese. Mix well.
In a large skillet, brown onions and sausage. Stir in tomatoes. Add sausage to zucchini and mix well.
Pour into prepared casserole dish and bake for 30 minutes. Sprinkle with 1/2 cup mozzarella cheese and return to oven for 5 minutes to melt. Let stand 5 minutes before serving.