These chocolate zucchini cupcakes with buttercream frosting are so delicious, you won't know there is zucchini in them!
Raise your hand if you love cupcakes! Raise your hand if you love zucchini! I love both and what better way to have the best of both worlds than with these deliciously sinful homemade chocolate zucchini cupcakes with chocolate buttercream frosting?
Every summer, I take part in a local organic farm's open market. I pay for half up front and then pay off the rest before summer ends. If you haven't tried a CSA or open market, I highly recommend it. You are essentially buying a share of the farm each summer. Depending on how the open market is run you generally get a wide variety of fruits and vegetables of your choice. With our open market plan, I can go to the farm as often as I like or I can head to their table at the local farmers market and choose as much as I want, within reason.
I love stocking up on fresh organic fruits and vegetables several times a week. One of my favorite vegetables is zucchini. Because zucchini is so bountiful, we eat it several times a week. I love coming up with creative side dishes like this Easy Cheesy Zucchini Rice Recipe and sinful (but still good for you) Homemade Chocolate Zucchini Cake Brownies.
My kids aren't huge zucchini fans. My middle kiddo will eat it but the other two refuse. However, they LOVE chocolate zucchini desserts and they all agreed you couldn't taste the zucchini and asked for seconds. Score!
For these cupcakes I used a few cupcake decorating items available on Amazon:
Chocolate Zucchini Cupcakes with Chocolate Buttercream Frosting
Yield: 24
Chocolate Zucchini Cupcakes with Chocolate Buttercream Frosting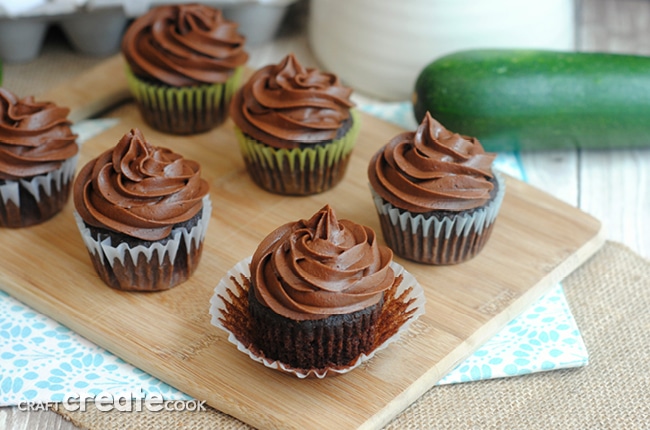 These chocolate zucchini cupcakes with buttercream frosting are so delicious, you won't know there is zucchini in them!

Prep Time 10 minutes

Cook Time 20 minutes

Total Time 30 minutes
Ingredients
2 C. shredded zucchini
1 ½ C. granulated sugar
2 tsp. vanilla extract
¾ C. vegetable oil
⅔ C. unsweetened cocoa powder
1 tsp. baking soda
½ tsp. baking powder
2 C. flour
Butter Cream Frosting Ingredients
1 C. butter, softened to room temperature
4 C. powdered sugar
¾ C. unsweetened cocoa powder
2 tsp. vanilla extract
2-3 tbsp. milk
Instructions
Preheat the oven to 350 degrees and line two 12 ct muffin tins with cupcake liners.
Combine the eggs, shredded zucchini, sugar, vanilla extract and vegetable oil.
Slowly fold in the flour, baking soda and baking powder.
Fill each each muffin well about ¾ full.
Bake for 20-25 minutes and let cool.
While the cupcakes are cooling, combine the softened butter, powdered sugar, vanilla extract, cocoa powder and milk. If the frosting is too thick, slowly add a small amount of milk until it's reached your desired consistency.
Attach the frosting tip to the disposable piping bag and fill with frosting.
Gently squeeze the frosting onto each cupcake.


You will also want to make our: