Coffee, caramel and chocolate combine to make this amazing no-machine-required homemade ice cream.
When I was a kid, we had an ice cream maker. I'm almost positive my parents got it as a wedding gift in the early 70s but honestly, I have no idea where it came from. It was electric, and my dad tossed some ingredients in it and plugged it in. And I remember we used that machine once in my 20+ years of living at home. I don't even remember what the ice cream tasted like, but at one point in my life, we made homemade ice cream and I must have eaten it!
Now life is much more hectic and at the same time, simpler. There exists an amazing 2 ingredient ice cream that you don't need a fancy ice cream maker for! I start with this as my base and add lots of mix-ins to make the perfect homemade ice cream. This is one of my favorite flavors by far and my husband agrees!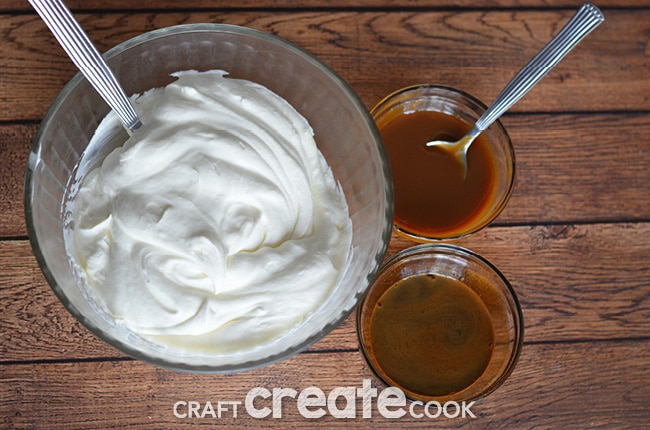 A heavy duty mixer is helpful for this task, but you can use a hand mixer if that's all you have. Use the whisk to combine the cream and milk and beat it until it is stiff. This can take anywhere from 5-10 minutes. Just be patient, it will happen. That's your two ingredient base, now after that, you can add in almost anything that sounds good to you! Today we're adding in strong coffee, caramel and chocolate, to make an amazing homemade Mocha Chocolate Caramel Ice Cream!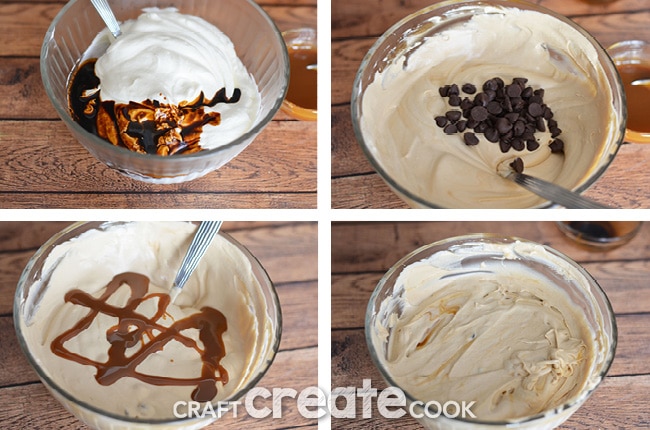 I enjoyed my ice cream on the front porch after the kids went to bed and in a chocolate waffle cone. It was simply divine!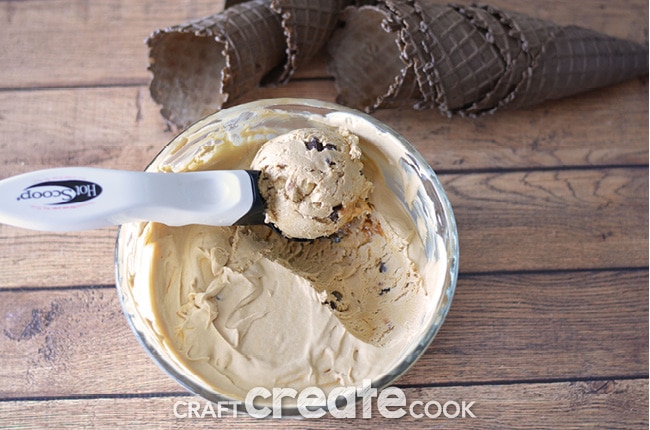 If you need a few more cool summer treats, try these:



Yield: 1 quart
Homemade Ice Cream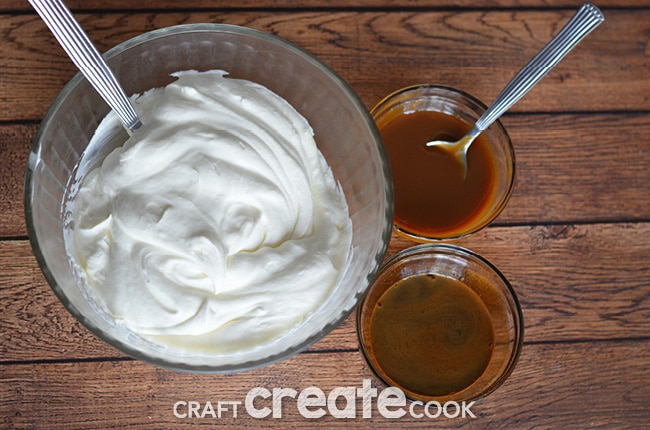 Coffee, caramel and chocolate combine to make this amazing no-machine-required homemade ice cream.

Prep Time 10 minutes

Total Time 10 minutes
Ingredients
4 tablespoons instant coffee
2 tablespoons warm water
2 cups heavy whipping cream
1 can (14 oz) sweetened condensed milk
½ cup chocolate chips
½ cup caramel ice cream topping
Instructions
Dissolve instant coffee in warm water and set aside.
In a heavy duty mixer, add whipping cream and sweetened condensed milk. Beat for 5-10 minutes or until stiff peaks form.
Stir in cold coffee.
Stir in chocolate chips.
Heat caramel according to directions on jar and stir into mix being careful not to mix all the way but to leave swirls of caramel.
Place in the freezer overnight or for at least 4-6 hours.
Serve with an ice cream scoop on a chocolate waffle cone or in a bowl of your choice.



Save
Save