Chocolate Covered Caramel Apples are just as fun to make as they are to eat!
Apples are delicious.
Chocolate is delicious.
Caramel is delicious.
When you combine them all, Apples + Chocolate + Caramel, it's a serious flavor, texture and mouth watering EXPLOSION in your mouth! These chocolate covered caramel apples are delicious slices of tart and juicy granny smith apples covered in smooth and creamy, melt-in-your-mouth dark chocolate, drizzled with caramel and topped with m&ms and nuts (if desired).
I prefer to make caramel apple slices vs an entire caramel apple for a handful of reasons:
I always slice my whole caramel apples and eat the slices. I leave the core and stick in the center and toss it when I'm done.
My kids beg me to buy them caramel apples at the store. And when I do, they take two bites and don't like it anymore. Or they lick off all the caramel and leave me with the apple.
I like small things. I like bite size. I like things I can easily pop into my mouth and enjoy but not over enjoy.
I found these neat caramel bits in the baking aisle -- no more unwrapping caramels! Plus, I think they melt faster!
How to Make Chocolate Covered Caramel Apples
You'll want to invest in one of these amazing apple slicers. I use them for every apple slicing, including my apple pies. I've had this apple slicer for 10+ years and I use it all the time. I also toss it into the top rack of the dish washer -- an added bonus.
You can certainly get creative with the toppings on the apples. Swap pecans for walnuts or omit completely. Add mini marshmallow bits if desired.
Once you try making these chocolate covered caramel apples, you'll need to try our:
Save


Yield: 12-16
Chocolate Covered Caramel Apples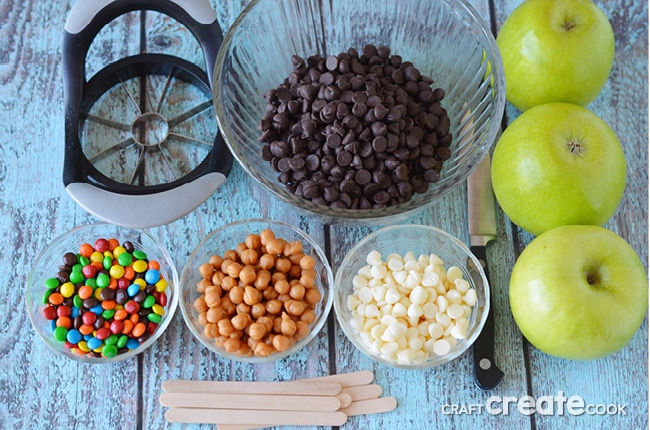 Our Chocolate Covered Caramel Apples sliced into bite sizes treats are amazing.

Prep Time 20 minutes

Total Time 20 minutes
Ingredients
Granny smith apples
1 package, chocolate chips
1 package orange candy melts
½ cup caramel bits
¼ cup chopped pecans
¼ cup mini baking m&ms
candy eyes
popsicle sticks
Instructions
Place parchment paper onto a baking sheet or cutting board and arrange some space in your refrigerator.
Use your apple slicer to slice your apple. Discard core.
Use a sharp knife to carefully cut a slit into the bottom of the apple.
Slide a popsicle stick into the apple gently.
Heat half a bag of chocolate in the microwave according to package directions. Dip apples into chocolate. Set apples on prepared baking sheet. Repeat until all apples are covered.
Heat caramel according to package directions. Remove apples from fridge and drizzle caramel on them.
Heat 20 candy melts in a ziplock bag (that you lay on it's side and leave unzipped) in the microwave for 20 seconds. Knead until soft and cut the tip of the bag. Drizzle candy melts onto each apple.
Top apples with pecans, m&ms and candy eyes.
Refrigerate for 5 minutes or until chocolate is set. Store in refrigerator until ready to eat.


Save
Save
Save
Save
Save