This Healthy Avocado Tuna Salad Wrap is the perfect light lunch!
January is the time of year when you either follow through with your resolutions, or bomb them completely. I have several friends right now who are just getting back into eating healthy and following through with an exercise program and I commend them for it. I, on the other hand, really dislike these types of resolutions. They seem so cumbersome to me. I used make them, follow through for a few days and then end up falling off the wagon.
The older I get the more I despise New Year's resolutions. Instead, I take things one day at a time and just tend to live a healthier lifestyle and enjoy everything in moderation. Moderation is key. Yes, I still enjoy Wendy's (I'd never turn down a Jr. Bacon Cheeseburger. Ever). I work out 4-5 days a week, so honestly I don't ever feel guilty of indulging in some White Castle on the weekends. In fact, that's why I work out most of the time.
Because I work from home I eat most, if not all, of my lunches at home during the week, I like to keep things light and easy. I love avocados. I also love tuna and always have several packets in the pantry. Put the two together and you have a quick, easy and healthy lunch. Serve over romaine lettuce or toast some yummy crusty bread and enjoy. The possibilities are endless.
Yield: 1
Healthy Avocado Tuna Salad Wrap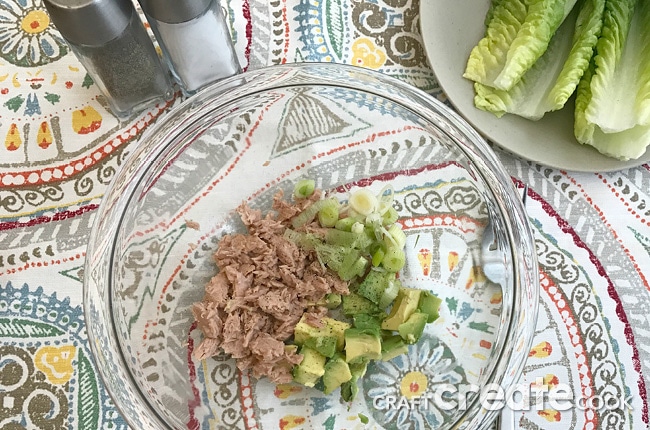 This Healthy Avocado Tuna Salad Wrap is the perfect light lunch!

Prep Time 5 minutes

Cook Time 5 minutes

Total Time 10 minutes
Ingredients
1/2 an avocado, mashed
1-2 green onions, chopped
1 2.5 oz packet of tuna
2-3 romaine lettuce leaves, washed and patted dry
salt & pepper to taste
Instructions
Mash the avocado and combine it with the tuna, green onions and salt & pepper.
Mix well and serve over the romaine lettuce.


You will also want to try:
Shrimp Tacos Recipe
Black Lentils & Spinach
Oven Baked Chicken
Save