This classic waffle recipe will be a hit as your next family meal!
I love breakfast. Eggs. Bacon. Hash browns. Pancakes. Waffles. Sausage. You name it, I love it. Except for biscuits and gravy! I often make breakfast for dinner at our house, and I call it "Sunrise at Sunset." Pretty sure that came from the cafeteria in college.
I also love this cookbook. It is a great classic cookbook that has oodles of basic recipes, tips on how to cook dry beans, how to turn a regular size muffin into a mini muffin and this waffle recipe. I bought this cookbook at Wal-Mart when I was in college. I had my first apartment and remember after I picked up this cookbook, I bought several for friends as gifts. My roommate even told me she loved this cookbook and bought her own copy after she graduated and moved out. My favorite waffle recipe is on page 127 of this book, but since my book is from the late 1990s, it's the 11th edition, so I can assure you it's on a different page in the latest printing.
Although I prefer one bowl recipes, I will break out two bowls and follow the directions and do the dishes for this waffle recipe. It's THAT good! I've made these in my regular waffle maker and in my Belgian waffle maker and both turn out fine. If I'm ambitious, I double the recipe and then freeze the left overs. We use them during the week for breakfast in the morning. Just pop in the toaster and within minutes you have a hot, crispy waffle. Sometimes if I'm craving a quick snack, I'll toss one of them in the toasted and eat, plain with my fingers!
The trick to making these work is to NOT spray your waffle maker with cooking spray. Over time, it builds up on your nonstick surface and makes it sticky. Instead, use butter. I use a plastic fork with a little butter on it and spread it across the hot grates before I pour in my dough.
The second trick is to read the instructions on your waffle maker. Only put in the recommended amount of batter and use a measuring cup. If no information is given in the manual, start small and then increase the amount of batter. If you over fill your waffle maker, the batter will spill all over and the waffles won't come apart. They will split in half and stick to the top and bottom of the grates, most likely making you throw in the towel and serve cereal for breakfast. Trust me, I've been there. I used 1/3 cup of batter (for each square, I have 2 squares) for my regular waffle maker and 2/3 cup batter (total) for my Belgian waffle maker. Try to pour the batter into your hot waffle maker in an x-pattern so the batter fills the corners.
I love topping these with fresh strawberries and bananas. I never add syrup, I just enjoy the crunch of the waffle with the juicy strawberry and the sweet banana flavor.
What's your favorite breakfast item? And what's your favorite cookbook?


Yield: 12-16
Strawberry Banana Waffle Recipe
This classic waffle recipe will be a hit as your next family meal!

Prep Time 10 minutes

Cook Time 20 minutes

Total Time 30 minutes
Ingredients
1-3/4 cups flour
1 tablespoon baking powder
1/4 teaspoon salt
2 eggs (separated)
1-3/4 cups milk
2 tablespoons oil
butter
peeled and sliced fresh bananas
washed and sliced fresh strawberries
Instructions
Preheat waffle maker.
In a medium bowl, beat 2 egg whites until stiff. Set aside.
In another mixing bowl, add egg yolks, milk and oil. Stir until combined.
Add flour, baking powder and salt to egg yolks and stir until combined, mixture should be lumpy. Stir in egg whites leaving a few fluffs of egg white. Do not over mix.
Grease hot waffle maker with butter. Pour in batter and close lid. Bake according to your waffle maker's directions. When finished remove from your waffle maker with a fork.
Top with bananas and strawberries and add syrup if desired.
Notes
Makes 12-16 4" waffles.
Recipe taken from: Better Homes and Gardens New Cookbook. 11th edition. Copyright 1996. Page 127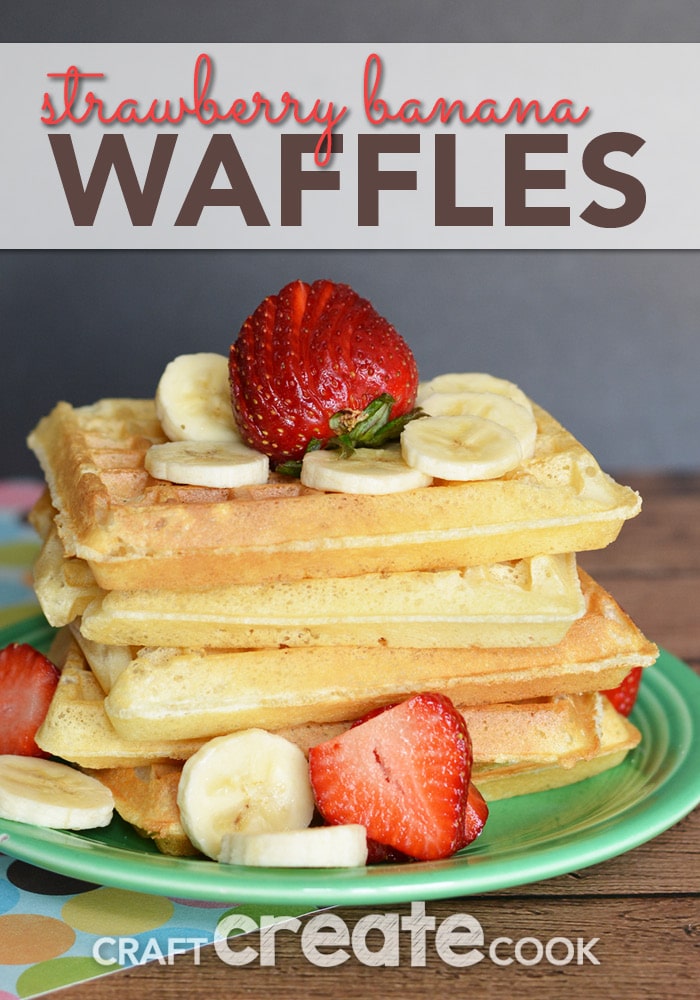 You'll want to try:
These 3 ingredient peanut butter cookies are gluten free!
Easy no bake Raspberry Mint Appetizers!