If you love plants, you can never have enough planters! These easy faux copper tin can succulent planters are easy and inexpensive to make. Plus you can create them in under 30 minutes! Take a look at how to use your own using dollar store supplies, so you can start displaying your plants in something with style.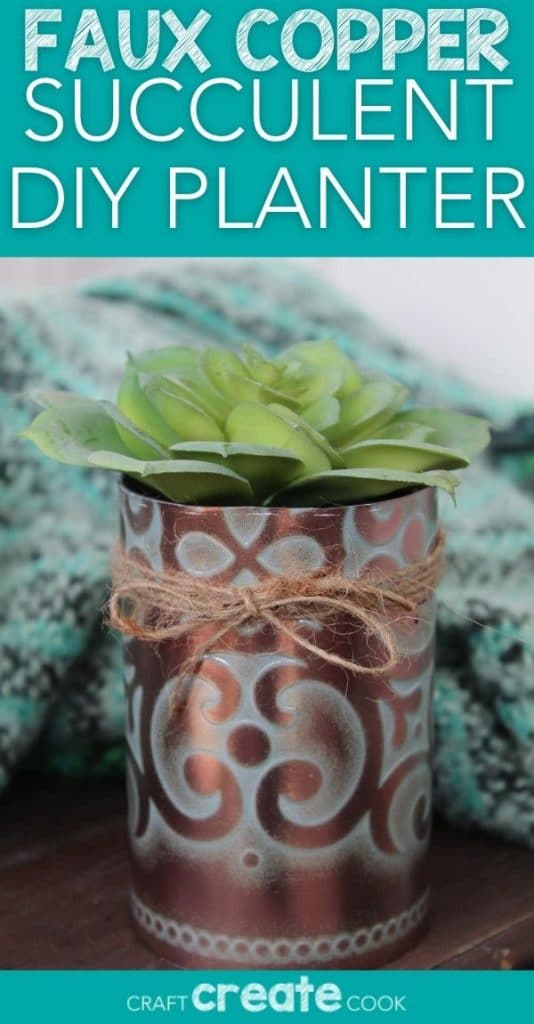 Faux Copper Tin Can Succulent Planter
I love the look of copper, but it can be expensive to buy in home decor. Making something look like copper has never been easier! I found that you can grab faux copper peel and stick tiles at the local hardware or dollar stores for practically nothing! They aren't just for floors, but can be used in tons of great crafts!
Since I love succulents and always have a little plant here and there around the house, I thought this would be a great way to test out this method. Making these tin can planters was easy and so much fun!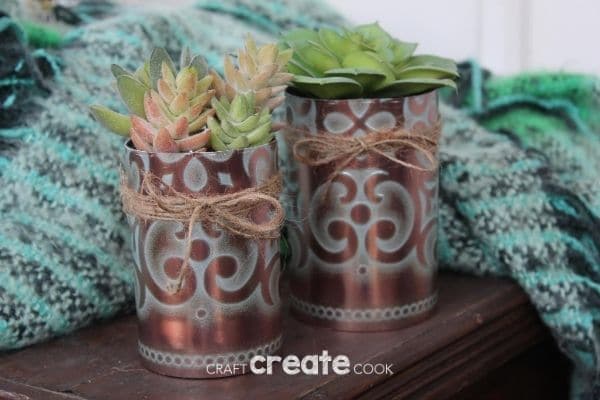 What Can These Tin Can Planters Be Used For?
While I obviously love them for a succulent planter, you can truly use them for any number of things. With a tin can base, they are perfect for adding real flowers. Use a nail to pierce the bottom so watering is easy!
You can also leave the bottom in tact, fill with water, and add your favorite fresh cut flowers into the can. Since they are so cute and easy to make, it's perfect for using as an addition to your end tables or dining table.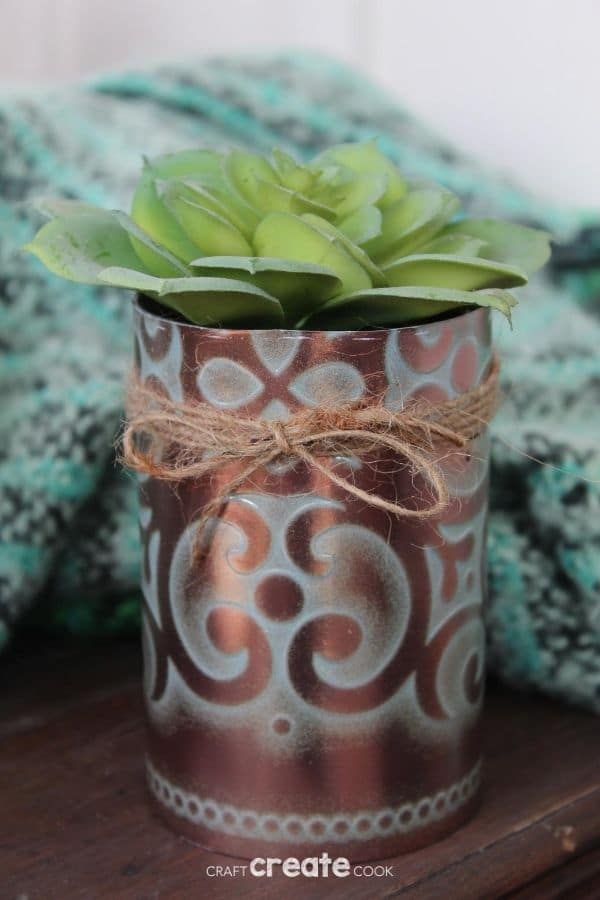 Do I Have to Use Tin Cans?
No! If you prefer to use something different, feel free to do so. You can use this same method on a glass jar, mason jar, old condiment jar, plastic can, coffee canister, or any small item that could also double as a planter.
Other ideas include:
Additions to wedding tables
Party favors for any event
Organizers for makeup brushes or favorite makeups
Pencil or pen holder on your desk
Utensil holder on the dining table or at a party
Candle holders for flameless candles on your mantle
Grow herbs on your windowsill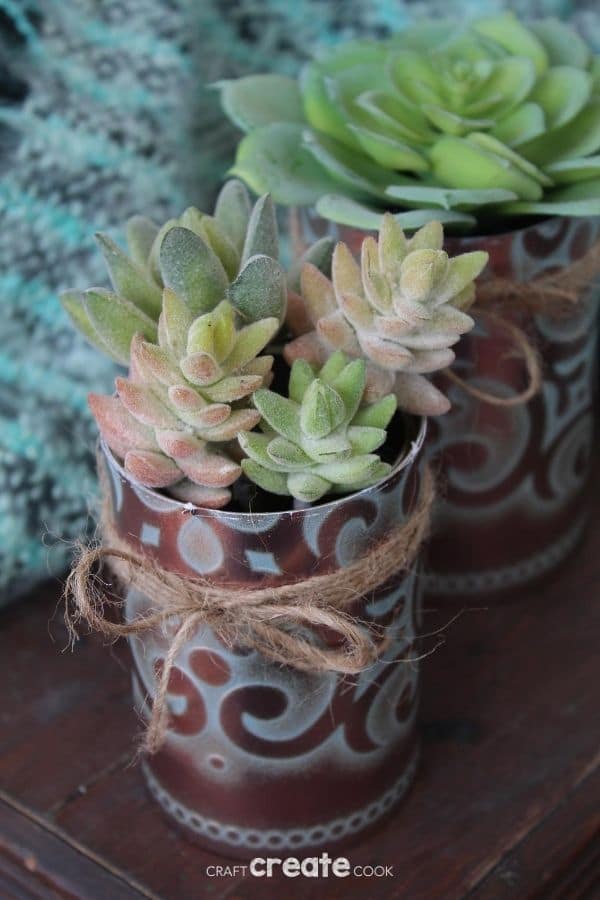 Where Can I Find These Peel and Stick Tiles?
My local Dollar Tree store had these in stock this summer. You can also look at the Dollar General, Family Dollar, or Walmart. Stores like Home Depot, Menard's, or Lowe's are all excellent choices as well. Of course, you can also find faux copper peel and stick tile online.
You do not have to use a faux copper finish for this project. This exact tile is probably difficult to find identical, but you can find similar options. If you prefer marble, chrome, gold, or even just a bright blue or red, you can use that instead.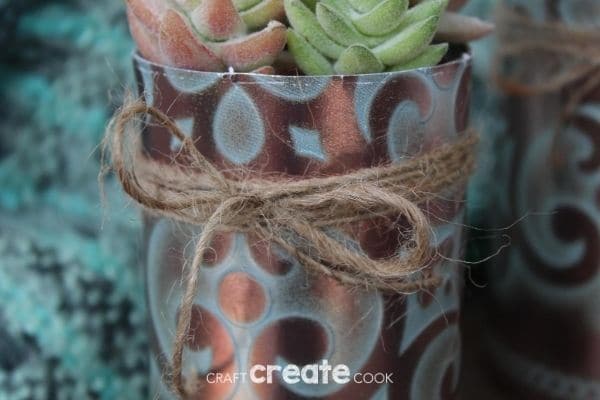 Supplies Needed
Note: You will use approximately one tile per tin can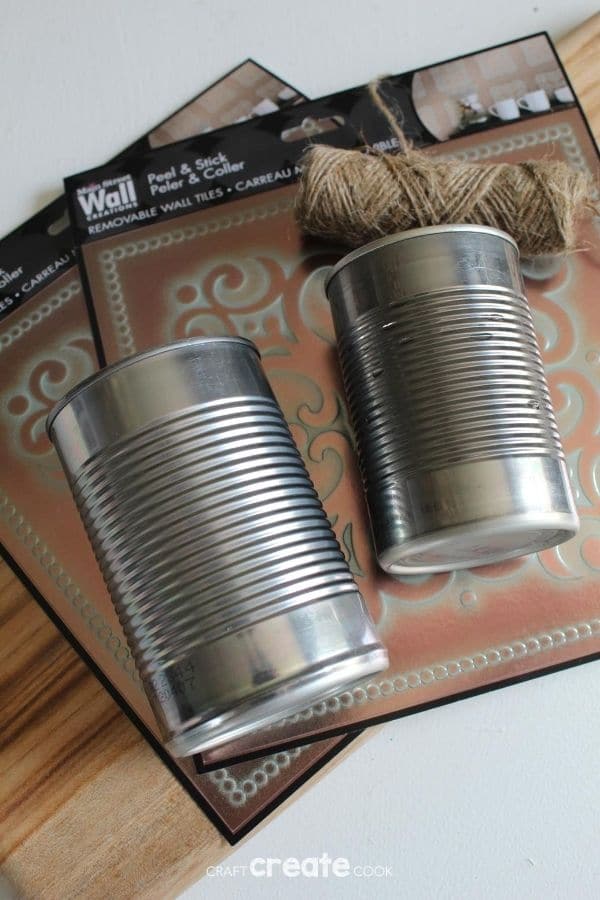 How to Make Tin Can Succulent Planters
Remove the label from your tin can and wash it well. You may need to use Goo Gone or soap to remove the sticky backing from the label.
Dry the inside and outside of the can well.
Place the can onto the back of the peel and stick tile and measure how much you will need to wrap. This usually uses one tile but in some cases may need more or able to use one tile for two planters.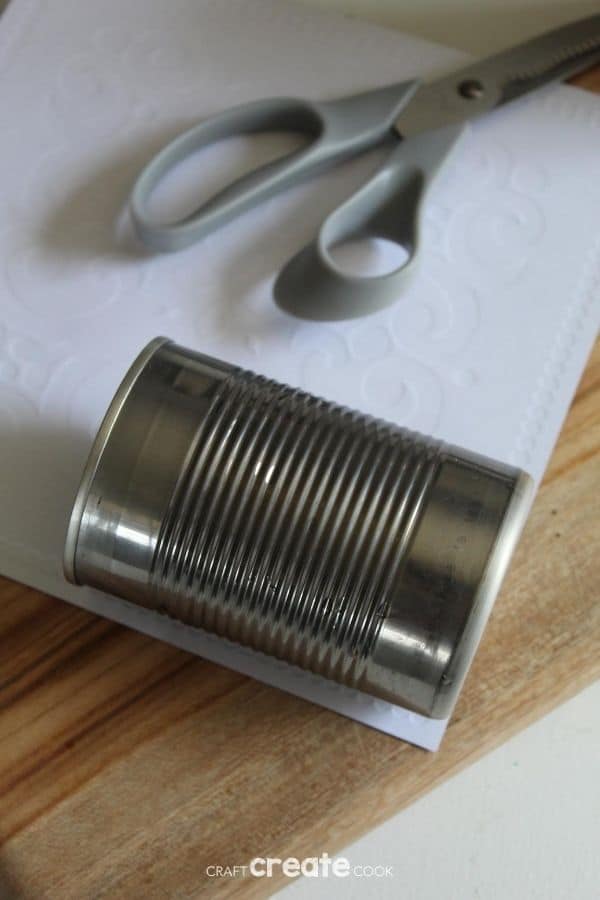 Use scissors, craft knife, or snips to cut the tile to fit;
Add a generous amount of glue to the back of the tile, even if the back is sticky.
Wrap the tile around the can pressing firmly and holding into place.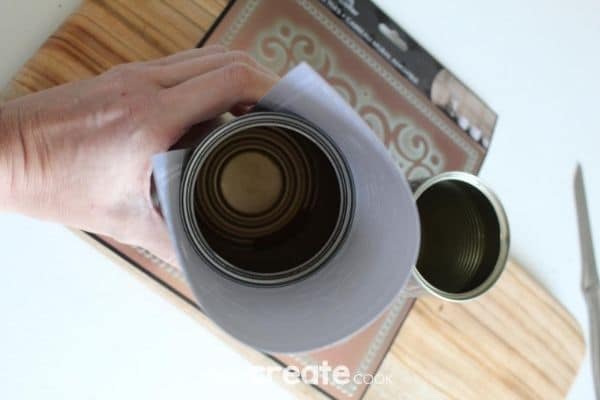 Trim off any excess tile on the top and smooth with sandpaper if needed.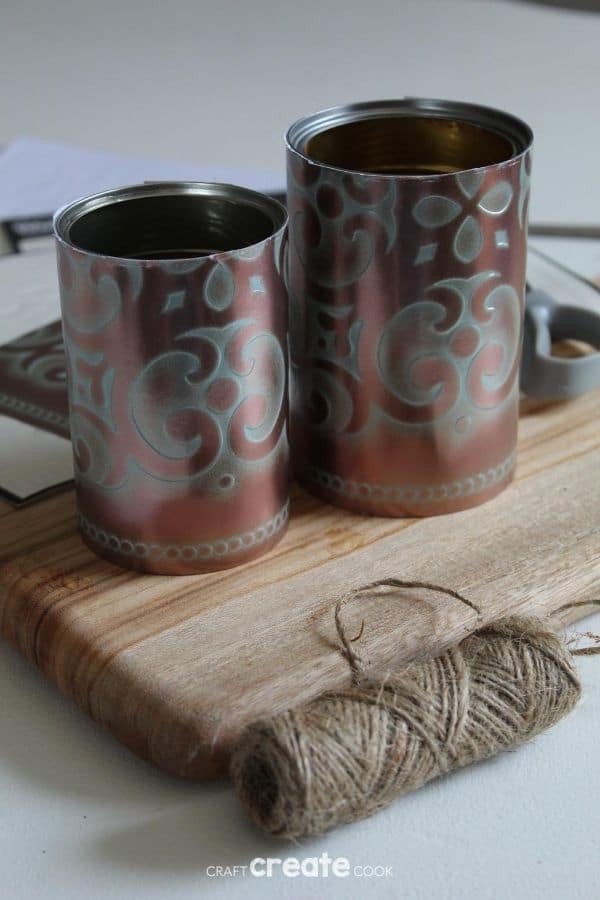 Wrap a length of twine or ribbon around the top of the can and tie into a bow.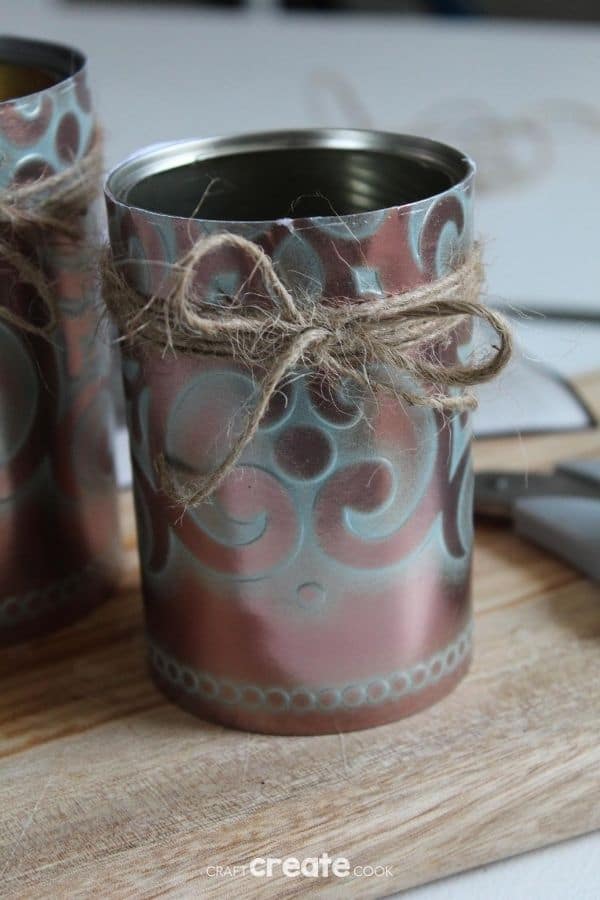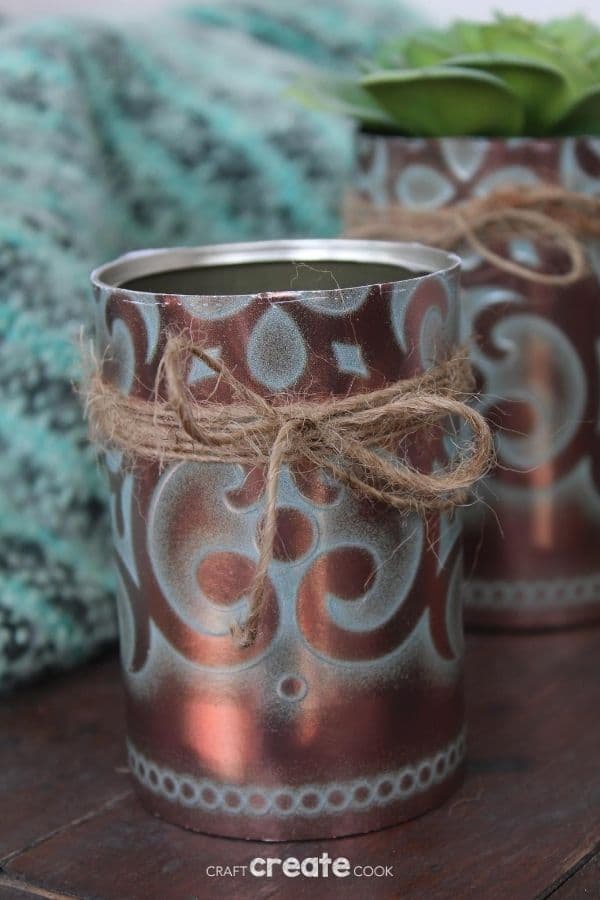 More Easy DIY Ideas
I love upcycling items and turning them into adorable little crafts. This planter is great for my favorite succulents, but I sometimes like to make other fun crafts. Below are some of my latest favorites you will love.
Yield: 1
Faux Copper DIY Tin Can Succulent Planter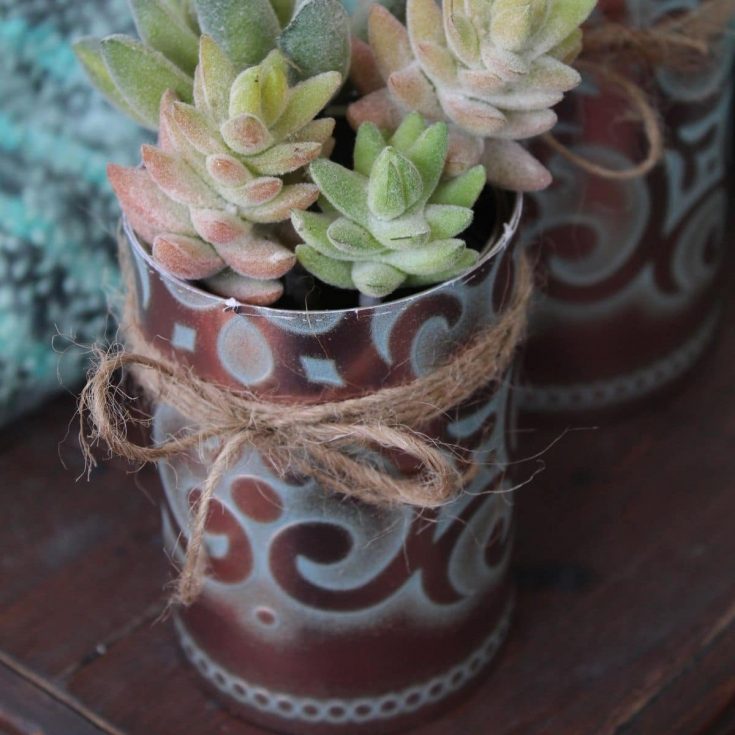 Grab some peel and stick tiles, a few empty tin cans, and turn them into this adorable faux copper tin can succulent planter! A perfect gift idea!
Instructions
Make sure your can is washed and rinsed clean. Dry it well so the peel and stick tile will adhere well.
Wrap the can in the peel and stick tile to get an idea of how much you will need. In most cases, one tile is enough per can. Larger cans may require more than one tile.
Use your scissors to make snips/marks where you will need to cut the tile.
Cut the tile to fit the can.
Add a generous amount of glue to the back of the tile. These peel and stick tiles are already sticky, but the glue will help it adhere better.
Wrap the peel and stick tile around the can and press it firmly until it is dry and in place. Use your scissors to trim away any extra tile that may be overlapping on the can.
Wrap some twine around the top of the can and tie into a bow. This is an optional embellishment.
Recommended Products
As an Amazon Associate and member of other affiliate programs, I earn from qualifying purchases.