Finding a Father's Day Gift is one of the hardest ideas to come up with! But we've got you covered with a fun, simple and easy gift the kids can help make!
I have good intentions to get my kids to make something amazing for their dad for Father's Day and usually I'm the only one excited about the idea. (Check out these 7 Items Dad's REALLY want for Father's Day) With the lack of enthusiasm that means I either 1) do it myself or 2) just go buy something and wrap it for him. But this year, I kind of did both! I bought a gift card and buried it in this mason jar! It was inexpensive, quick, and the kids LOVED helping!
You'll need a few supplies for this amazing Father's Day Gift Card Jar:
First, you'll open your jar and squeeze a little clear hair gel inside. About 1/2″. You may have to tap the jar on the surface to get the gel to smooth out.
Then you add your gift card, in the center of the jar. It should stand up just fine. If it does not, add a little more clear hair gel to each side of the card to make it stand better.
Add a few aquatic animals, making sure to position them upside down so when you flip the jar, the animals are right side up!
Squeeze in additional clear hair gel and add more animals.
When the jar has about 1-1/2″ of head space at the top, add blue hair gel. Tap jar gently on the counter to even out the gel and add additional blue hair gel if necessary. Note: I did not add enough blue hair gel, therefore I modified my directions. I only left 1/2″ space at the top for the blue hair gel and when I put on the lid and band, it basically covered the blue gel.
Put your lid and band on the jar and seal it tightly. Flip the jar over and admire your masterpiece. Add a tag that says "Fishing You a Happy Father's Day" and attach it to your water globe with a piece of baker's twine.
Look how cool this is! Gaze at it from every angle! It's just so neat, the animals look like they are swimming!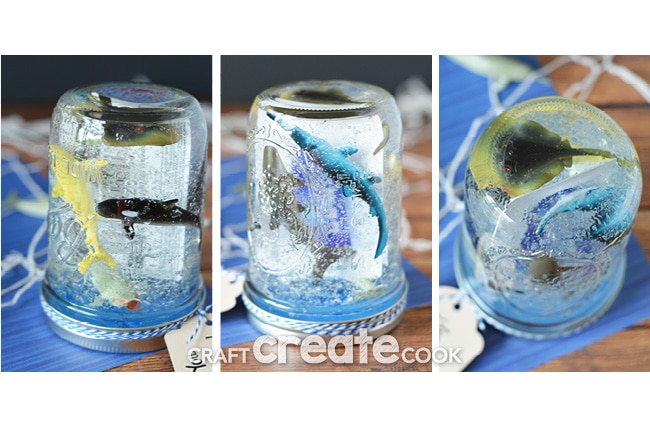 When you're done, you probably have some leftover aquatic animals, so an added bonus is the kids get to play with them! Toss them into the bathtub or let them find their way outside to the sandbox.
The kids will have lots of fun making and giving this to their dad for Father's Day!
Note: When purchasing hair gel, make sure to purchase enough. A pint jar will hold 16 ounces, therefore you'll need at least 16 ounces of hair gel.
Try these other fun projects!
7 Father's Day Gifts Dad Really Wants