Our hydrating essential oil foot cream will keep your feet feeling wonderful all year long!
When the seasons change, so does my footwear! In the summer I'm all about comfortable Rocket Dog flip flops. They are my grab-and-go shoe whenever I need to leave the house. I love them so much I have a pair in brown and black! They have a little bit of support and are always very comfortable on my feet!
When the fall hits, I grab my "tall boots" as my kids like to call them. I always dread putting on socks and my boots but by the time October hits and my toes are freezing because I'm still wearing flip flops, I force myself to take on the extra footwear.
It seems like no matter the season, my feet are often dry. In the summer my feet tend to get "old man dry" meaning they almost look grey in color! In the fall my heels seem to take the beating. When this happens, I grab my year-round essential oil foot cream. It adds just the right amount of moisture to keep my feet hydrated and looking good all day.
I put peppermint oil into my foot cream because it offers me a soothing feeling after a long day on my feet, especially when I'm transitioning between seasons and have to change my footwear. Plus it smells good! And good smelling feet are an added bonus! If you need an extra boost of moisture, put this essential oil foot cream on your feet before bed. Cover them with socks and leave them on overnight. You'll notice a difference in the morning!
Need additional DIY Beauty Product Recipes? We have lots!
Hydrating Essential Oil Foot Cream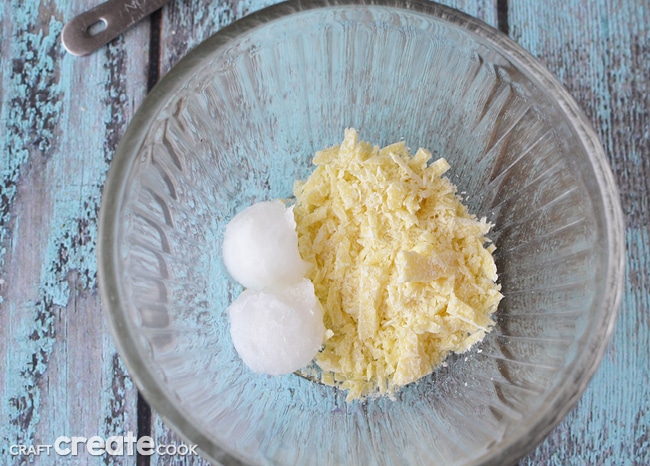 Our hydrating essential oil foot cream will keep your feet feeling wonderful all year long!
Ingredients
Instructions
Add cocoa butter and coconut oil to a small bowl. Microwave for 90 seconds stirring every 30 seconds until melted.
Stir in vanilla and essential oil. Partially chill in the refrigerator (about 25 minutes) and then whip.
Store in a small container.
To use
Apply as necessary to dry feet or slater on feet before bed and cover with socks. A little goes a long way.