Chocolate wafer pumpkin cookies that are crispy and rich with chocolate to satisfy your sweet tooth.
There's something delicious about chocolate wafer cookies. I love how crispy they are and one of my favorite things to do with them is to dip them into my coffee on a Saturday morning. This time I decided to add some frosting to my wafer cookies to add some Halloween flair to them which makes me very happy.
Chocolate wafer cookies are very easy to make. You can easily slice and bake these cookies and it's the best way to make them. So let's stop chit chatting and get to it!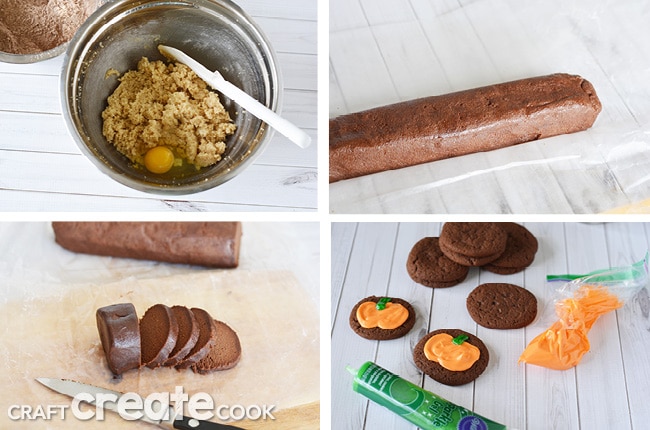 Of course these are make-ahead cookies! Those are my favorite recipes! Make them then night before and then slice and bake the next morning. You can store them in an airtight container for up to two weeks! Trust me, these cookies will not last that long!
You'll also want to try these adorable Pumpkin Cupcakes and our Halloween Monster Cupcakes!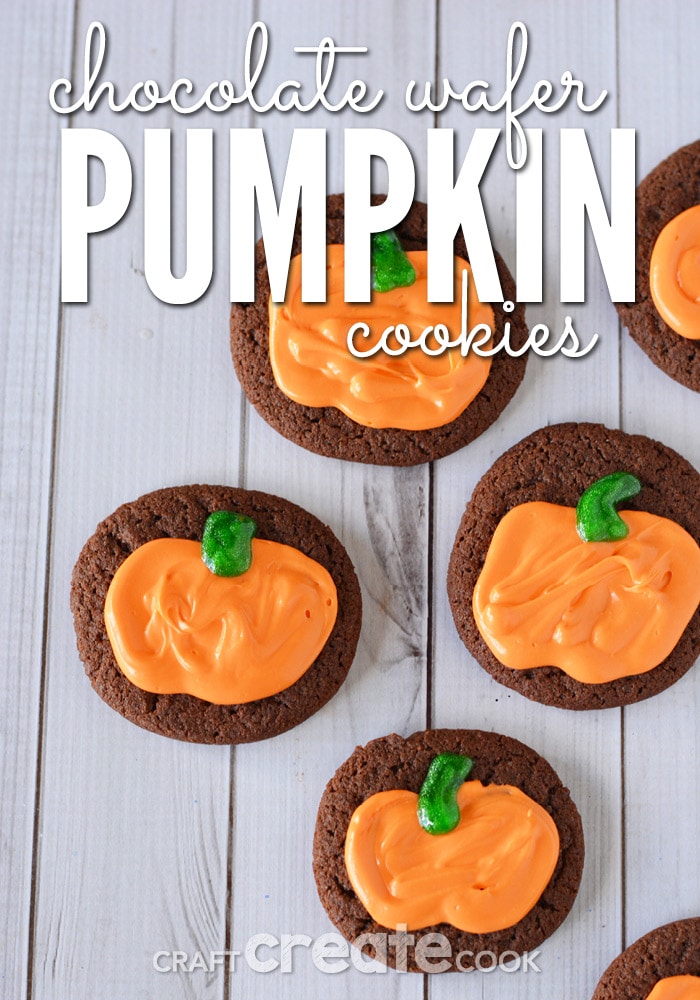 Chocolate Wafer Pumpkin Cookies
Author:
CraftCreateCook.com
Prep time:
Cook time:
Total time:
Ingredients
1 cup all-purpose flour
½ cup unsweetened cocoa powder
¼ teaspoon baking soda
¼ teaspoon salt
6 tablespoons butter, softened
½ cup brown sugar, packed
½ cup white sugar
1 teaspoon vanilla
1 egg
1 tub vanilla frosting
Orange Food Coloring (try AmeriColor Soft Gel Paste in Orange)
Wilton Sparkle Gels in Green
Instructions
To Make Cookies:
In a small bowl add dry ingredients and mix well - flour, cocoa powder, baking soda and salt. Set aside.
In a mixing bowl, cream butter and sugars for about three minutes. Add vanilla and egg and beat well.
Slowly stir in dry ingredients and beat until just combined.
Shape the dough into a 9" log and wrap in wax paper and place into the refrigerator for 45 minutes or longer.
Preheat oven to 350. Line a baking sheet with parchment paper.
Slice chilled cookie dough into ¼" slices and place onto prepared baking pan.
Bake for 12-14 minutes, turning the baking sheet halfway through baking.
Cool on wire rack.
To Frost:
Use orange food coloring to color tub of frosting. Place into ziplock bag and snip the tip.
Pipe pumpkin shapes onto the cookies and fill in.
Add a stem with the sparkle gels.
Save
Save
Save