These pumpkin Halloween cupcakes are as easy to make as they are to eat!
Halloween is only a few short months away, can you believe it? It's my favorite holiday and I love fall. Today, I'm excited to share with you these pumpkin Halloween cupcakes. they are perfect for a Halloween party, school snack or just to enjoy at home with the kids!
I love Halloween so much that I've already starting planning the kids Halloween costumes. My son has been a SWAT guy the last few years and this year is no exception. My middle kiddo, on the other hand, wants to be pizza! I'm so excited because I'm going to try my hand at making her costume (if she doesn't change her mind). She's so fun and loves being different. Last year, while most girls went at as a Disney princess, she chose to wear a cow costume I found at a resale store for $8. She was SO cute and had a blast! Not to mention she still wears that costume around the house!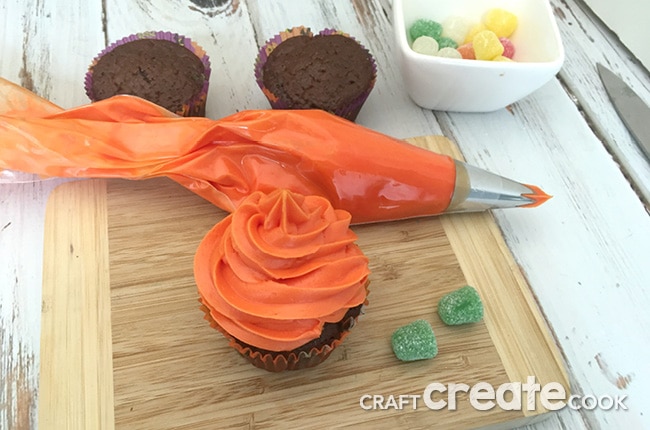 For the pumpkin cupcakes you can use our yummy homemade chocolate cake recipe I'm sharing with you OR you can save some time and use a box mix. I used Pillsbury Funfetti Orange frosting to save some time and my kids are not picky when it comes to frosting. They enjoy all frostings equally. You will, however need a frosting tip and disposable piping bag to decorate your cupcakes. I love this basic Wilton Decorating Set. I promise you will get a lot of use out of it. I always frosted cupcakes by hand but after discovering how easy the tips and frosting bags are to use, I was hooked.
Let's get to baking! Gather all your pumpkin cupcake ingredients and place everything on the counter in one spot. Bake the cupcakes and allow them to cool. Once the cupcakes have cooled, attach the star frosting tip to the disposable piping bag and fill with frosting. Gently squeeze the piping bag and frost each cupcake as shown.
You will also want to make:
Bottle Cap Spider Halloween Craft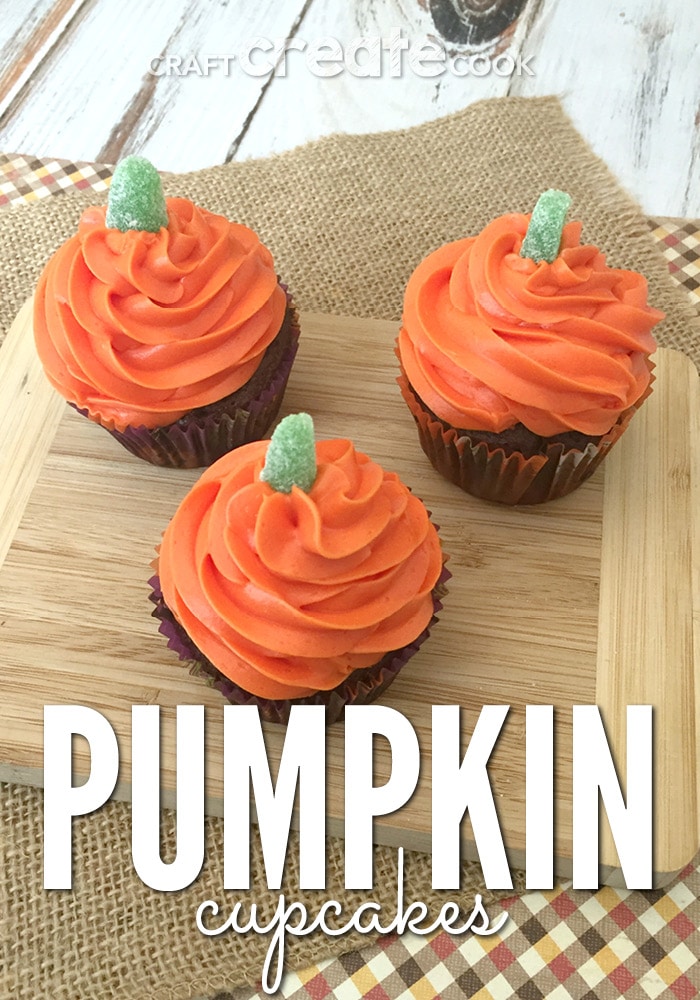 Yield: 32
Pumpkin Cupcakes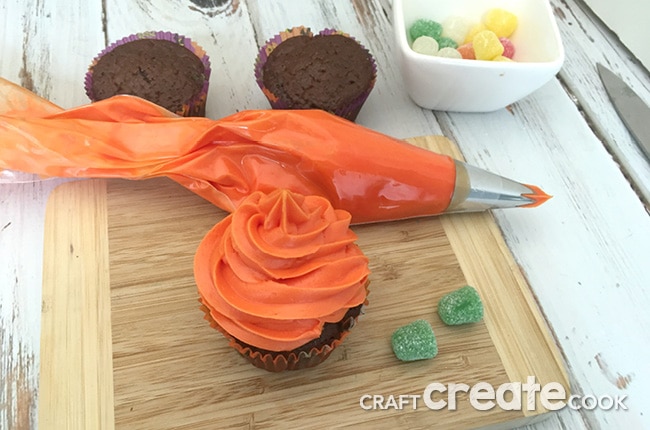 Prep Time 10 minutes

Cook Time 16 minutes

Total Time 26 minutes
Ingredients
2 1/4 C. flour
1 2/3 C. sugar
3/4 C. butter, softened to room temperature
2/3 C. unsweetened cocoa powder
1 1/4 C. water
1 1/4 tsp. baking soda
1 tsp. salt
1 tsp. vanilla
1/4 tsp. baking powder
2 large eggs
orange frosting
green gum drops
Instructions
Preheat the oven to 400 degrees. Add cupcake liners to your muffins tins or spray with non-stick cooking spray.
Combine all the cupcake ingredients in a large bowl, mixing well.
Evenly pour the batter into the muffin tins, filling 3/4 of the way.
Bake 16-18 minutes.
Remove the cupcakes from the oven and let cool prior to frosting.
Once the cupcakes are cooled, attach the frosting tip to the disposable piping bag and fill with frosting.
Gently squeeze the piping bag while frosting the cupcakes in a circular motion.
Cut a green gum drop in half and place on top for a stem.
Repeat with all cupcakes.