BARK sent me a doggy box free of charge to review. All opinions are 100% mine.
Everyone has heard of BarkBox but did you know they now have a whole line available at Target?
You may know the name BARK from their amazing monthly BarkBox (a monthly subscription service that ships all-natural treats, chews, and original toys to dogs across America (and Canada, eh) or their online store BarkShop.We're seriously obsessed.
This past summer they launched their retail collection at Target. They now carry the same amazing all-natural treats, chews and toys available in BarkBox and on their online store BarkShop! That's right BARK and Target just got better! We especially love their New York City collection, which MooMoo will tell you a little about below.
A Dog's Guide to New York City:
When I stepped inside New York City I smelt Pizza! When you're in New York City (or anywhere for that matter) a slice or 5 of BARK's New York Pork Pizza treats do the body good! My Mom kept telling me their wheat, corn and soy free but all I heard was pork and pizza and I was good to go. Plus it's the only time she lets me have more than a slice at a time.
Central Park was the second stop on my list of things to eat, see or do. I obviously didn't go to New York City to pee on a couple trees because I can do that in my backyard, I came for the food and I heard the dog runs are great. There was where I ran into Officer Pupke. Luckily Officer Pupke was wearing a durable canvas uniform because I saw his fur covered tail and went after him. Did I mention Officer Pupke is a squirrel?
I spent awhile chasing Ramone the Rat, he's a Big Apple native. He really looks scarier than he actually is and loves to cuddle (shh).
By this time I was hungry for lunch, I treated myself to a few more slices of Central Pork Pizza and a couple Coney Baloney Beef Hot Dogs. I love how these treats are low fat and all natural so when my Mom finds an opened bag on the couch she doesn't get too upset.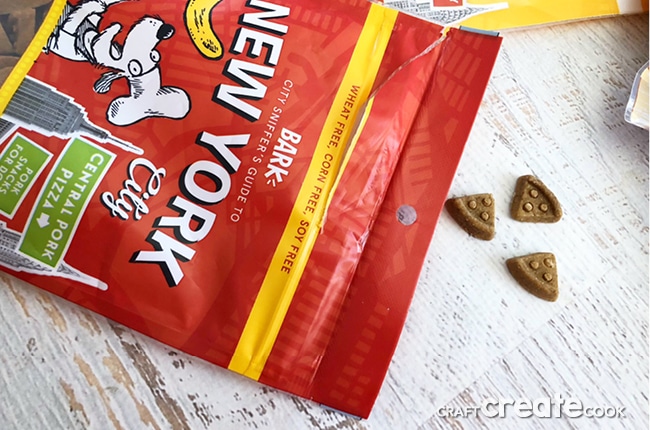 .
Extra food is okay on vacation right? Because this rueben sandwich looked too good to pass up. Crinkle meat in-between two slices of corduroy bread and top with a dimpled dill pickle. I was licking my chops.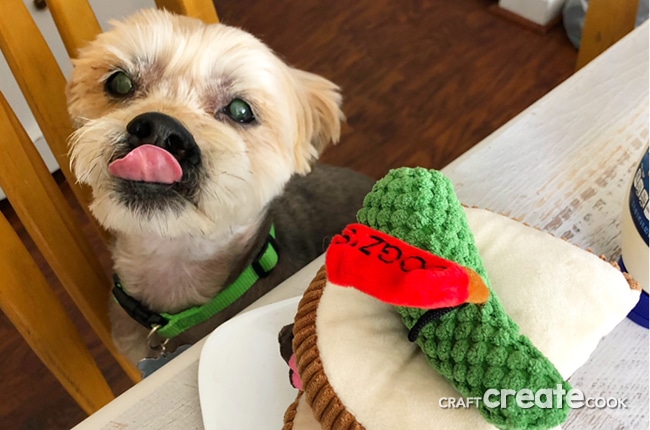 Seriously my trip to New York City was all I was expecting and more. I'm a little spoiled myself and can't wait to share a little of New York City with my local shelter.
You might also enjoy our other fur baby friendly ideas:
How to Keep Your Dog Active - If you've stopped by Craft Create Cook before you probably know we love pets. Especially dogs. Learn how to keep them active.
Homemade Grain Free Dog Treats - Five ingredient homemade grain free dog treats will be a big hit with your furbaby!
Bark Box - BarkBox allows you to spoil your pup without even going outside.