I received compensation from Bayer Consumer Health, makers of MiraLAX® to write this post. MiraLAX® is a laxative used to treat occasional constipation. All opinions are entirely my own. #ReliefMadeEasy #CollectiveBias
Learn How to Become a Morning Person with a glass of fruit infused water and 5 simple steps.

I have always been a night person and my husband a morning person. I love seeing the energy he has in the morning and wanted to change up my routine so I wouldn't be exhausted and tired in the morning. I would always stay up late watching my favorite shows but when I got up I dealt with wanting to nap right after I woke up, low energy and constipation. That is until I changed up my routine and followed 5 simple steps.
5 Simple Steps to Become a Morning Person
:

No screen time in the bedroom

: The bedroom should be a place for rest and relaxation and using a phone or computer to check emails, text or watch videos creates tension and stress. The light from the screens tells your body that your aren't ready for bed.



Go to bed when your tired

: I know this sounds simple, but there are were so many times when I felt like I had so much to do like laundry or cleaning and I told myself that I can just stay up till I have it all done. If your tired, you're tired for a reason and need sleep.



Wake up at the same time everyday

: Start with setting an alarm clock, give yourself plenty of time to get ready, eat a healthy breakfast and drink your morning beverage of choice. Soon you'll notice when you go to bed at a decent time and get enough sleep your internal alarm clock will go off and you'll start waking up around the same time everyday.



Morning beverage/ better for you breakfast

: A couple glasses of water help in the morning help keep your body hydrated and help aid with moving your bowels. I love to start my morning off with a glass of fruit infused water, blueberry citrus being my flavor of choice. And when I experience occasional constipation, I just add a MiraLAX® Mix-In Pax® to my citrus water. It's easy to take and easy on your body.



Morning workout:

It doesn't matter what workout you choose but get your body going. After I get up and have a refreshing glass of fruit infused water I like to go for a 1.5 to 2 mile run. I wouldn't classify myself as a great runner but I make myself go because I know when I'm finished I will feel great.
While I was shopping at Walgreens this week, I noticed they had MiraLAX® on sale, so I had to stock up on my favorite Mix-In Pax and a small bottle for home.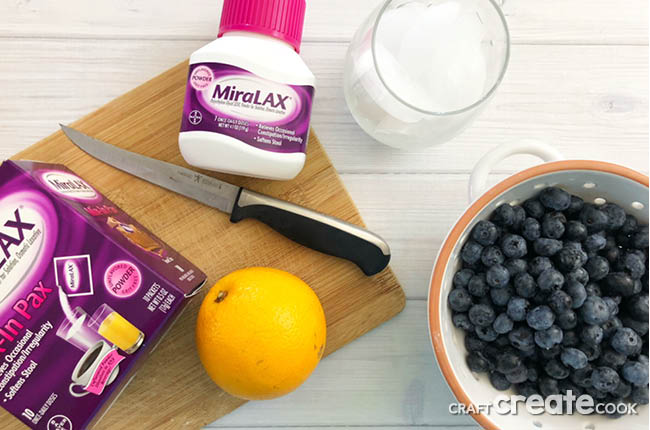 Blueberry Citrus Infused Water:
Wash your fruit and store in the fridge for convenience.
Tip: Mix in a MiraLAX® to relieve occasional constipation.
*Use as directed.
MiraLAX® works with your body's natural process to provide effective relief from occasional constipation. Because it works with the water in your body, MiraLAX® provides a gentle experience, and doesn't cause harsh side effects such as that bloated feeling, gas, cramps, or sudden urgency.

MiraLAX® is different from stimulant laxatives. Stimulant laxatives make your body go by forcefully stimulating the nerves in your colon. MiraLAX® works with the water in your body to hydrate, soften, and ease, unblocking your system naturally.

I now feel great in the morning, feel hydrated, get a great run in and can say that when I get occasional constipation I know I'm using a brand that I trust.

Save on any MiraLAX® product with this coupon.