You'll want to try our Rainbow Rice Krispie Treats for an ultra satisfying dessert.
There's something about rainbow desserts that makes me happy inside. Maybe it's the bright colors, even layers, or the time I know it takes to master rainbow perfection.
Rice Krispie Treats are my weakness. I've been doing great at getting to the gym and eating healthier knowing warm weather isn't far away. BUT Rice Krispie Treats will get me every time. Then I think of some article I read years ago that said Rice Krispie Treats are a better option than some cereals/granola bars (or maybe I made that up, I'm not really sure). So I guess I'm saying that extra 30 minutes I'll be spending at the gym this week is worth the sticky yumminess that these Rainbow Rice Krispie Treats are.
This recipe isn't challenging, it's just a little bit more time consuming. But the satisfaction you get by just looking at your near perfect rainbow will be worth it. Did I mention the kids will love them too?
Rainbow Rice Krispie Treats Recipe
Ingredients:
8 3/4 Cups Rice Krispies cereal (one box of cereal will be enough)
(2) 10 oz Bags miniature marshmallows, divided
Red, orange, yellow, green, and blue gel food coloring
5 Tablespoons softened butter
Directions:
Grease a 9 x 5″ loaf pan with a non stick cooking spray and separate each marshmallow bag into thirds.
Place 1/3 of a bag of marshmallows and a tablespoon of butter into a large mixing bowl, heat for about 1 minute in the microwave, and mix in your red food coloring.
Press your mixture firmly into the bottom of your pan ( I like to use a greased potato masher for an even, firm push, but you can also use the back of a spoon).
Repeat steps 2-4 with each color food coloring (red, orange, yellow, green, and blue), layering each color on top of the last.
Freeze for 30 minutes, carefully remove the Rainbow Rice Krispie Treats from the mold, slice, and enjoy!
You might also like our other rainbow crafts/recipes: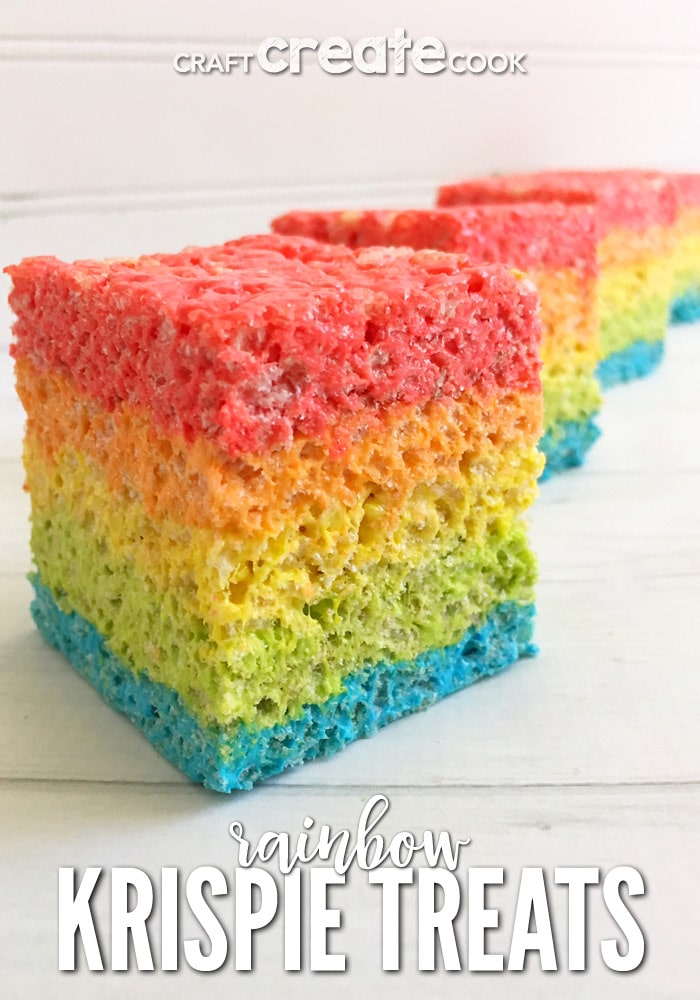 Save