Your kids will love these Secret Life of Pet's Max Cupcakes!
Here at Craft Create Cook we adore animals. All 3 of us have at least 1 pet, and to be honest, I think a few of us are a few pets away from being a crazy dog lady. When we saw the creators of the Minion Movie and Despicable Me created Secret Life of Pets, we jumped for joy. I saw the Secret Life of Pets preview at the movies with the kids a few months ago and they are as excited as me to see it. We've even watched the other released previews on Youtube.
In honor of the movie releasing soon, I decided to create some adorable Secret Life of Pets Max cupcakes. Max, is one of the main Secret Life of Pets characters. He's a little dog that loves his owner and patiently sits watching the front door waiting for his owner to come home. He talks with his friends, other neighbor pets and soon gets a brother named Duke. Duke is much larger and Max isn't as thrilled as his owner to have a new brother, and havoc ensues.
Secret Life of Pets is such a cute movie and I can't wait to see all of it. Like I said, I love animals and I've always been one to believe they have feelings and talk to one another just like humans do. At least that's what I like to believe. My husband thinks I'm nuts and I am ok with that.
So, ready to make some cute Secret Life of Pet's Max cupcakes? Let's get started! First, you will need a box of white cake mix (any brand will work), some plain white frosting, Nilla wafers, candy eyes, brown M&M's and Wilton black gel.
You will also want to make: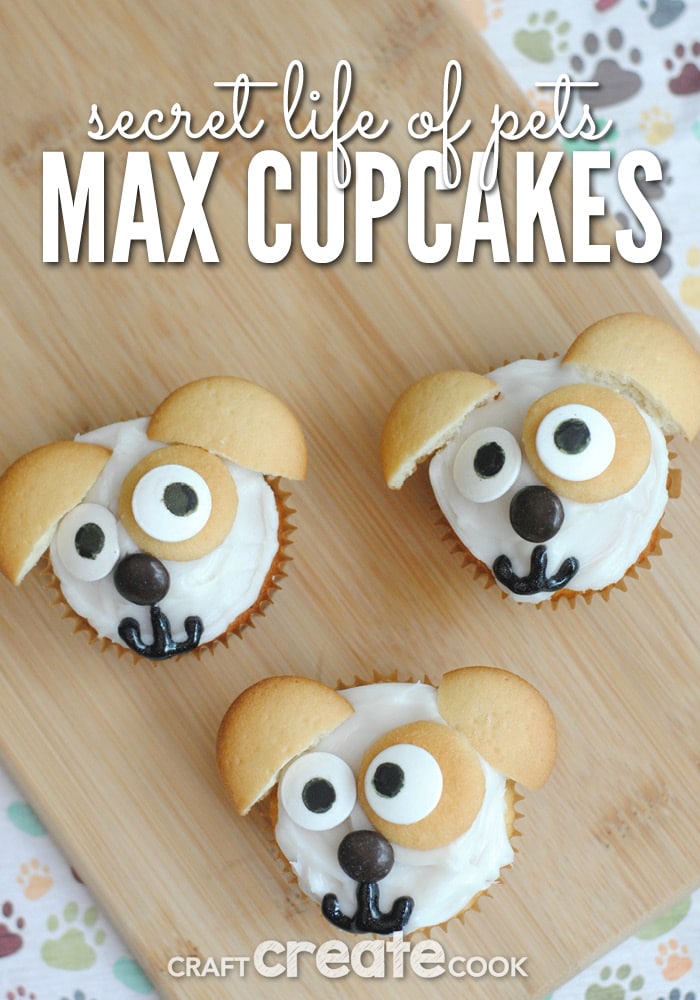 Yield: 24
Secret Life of Pets Max Cupcakes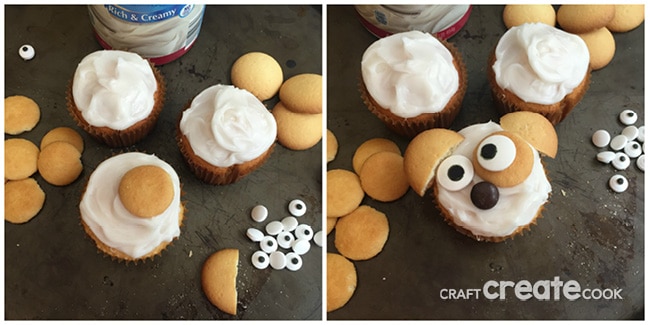 Your kids will love these Secret Life of Pet's Max inspired cupcakes!

Prep Time 5 minutes

Cook Time 20 minutes

Total Time 25 minutes
Ingredients
1 box of white cake mix, any brand
1 tub of white frosting, any brand
Nilla wafers
mini Nilla wafers
Wilton black gel icing
candy eyes
brown M&M's
toothpick
Instructions
Make and bake the white cupcakes according the box directions. Let cool completely.
Generously frost each cupcake with white frosting.
Cut 24 Nilla wafers in half using a paring knife and set aside.
Take 1 cupcake at a time and place 1 mini Nilla wafer in the upper right hand corner of the cupcake (see photo).
Using the toothpick, dab a little bit of white frosting on the back of one candy eye and place on top of the mini Nilla wafer.
Give each cupcake 1 brown M&M for a nose.
Take 2 Nilla wafer halves and place on top of the cupcake for Max's ears.
Lastly, use the Wilton black icing gel to give each Max cupcake a mouth, as shown.