Your kids will love these adorable Finding Dory cupcakes!
Do you remember when Finding Nemo came out in 2003? I was in my mid twenties and teaching Head Start and remember it being Disney's 'it' movie that year. All the kids in our Head Start program loved Nemo. Being in my twenties, I honestly didn't pay much attention.
Fast forward 13 years later and I have my own Disney loving kiddos ages 5, 6 and 7 who adore Disney and love watching Finding Nemo with me. Finding Dory, the newest in the Disney sequel to Finding Nemo, comes out this week, June 17th. My kids are pumped and so am I! Now that I have kids of my own I love Disney movies and we often watch them together. I have a huge collection of Disney DVD's.
We even did our first Disney Cruise and Walt Disney World vacation this past February. It was So. Much. Fun. I highly recommend the cruise if you ever have the itch. Seriously. No, it's not cheap but it's worth every penny and the service is absolutely top notch. But, back to Finding Dory, the kids are pumped so I thought I'd whip up some cute and easy Dory-esque cupcakes in honor of the movie coming out this week. It was also my 6 year old daughter's summer birthday snack day at school so it was win-win for me!
These cupcakes are easy to make and I am positive that the Finding Dory fans in your life will love them as much as my kids did.




Yield: 18
Easy Finding Dory Cupcakes

Your kids will love these adorable Finding Dory cupcakes!

Prep Time 10 minutes

Cook Time 20 minutes

Total Time 30 minutes
Ingredients
1 box of white cake mix, any brand and ingredients to make cupcakes.
1 tub Pillsbury Funfetti Aqua Blue Vanilla frosting
1 package Pepperidge Farm Finding Dory Goldfish
Crushed graham crackers (about 1 stack crushed with a rolling pin in a Ziploc bag)
Instructions
Follow the box directions for making the white cupcakes. Let the cupcakes cool completely prior to decorating.
Once the cupcakes have cooled, generously frost each one using the Pillsbury Aqua Blue frosting.
Sprinkle crushed graham crackers on the bottom half of each frosted cupcake.
Finally, give each cupcake a few of the Pepperidge Farm Finding Dory Goldfish.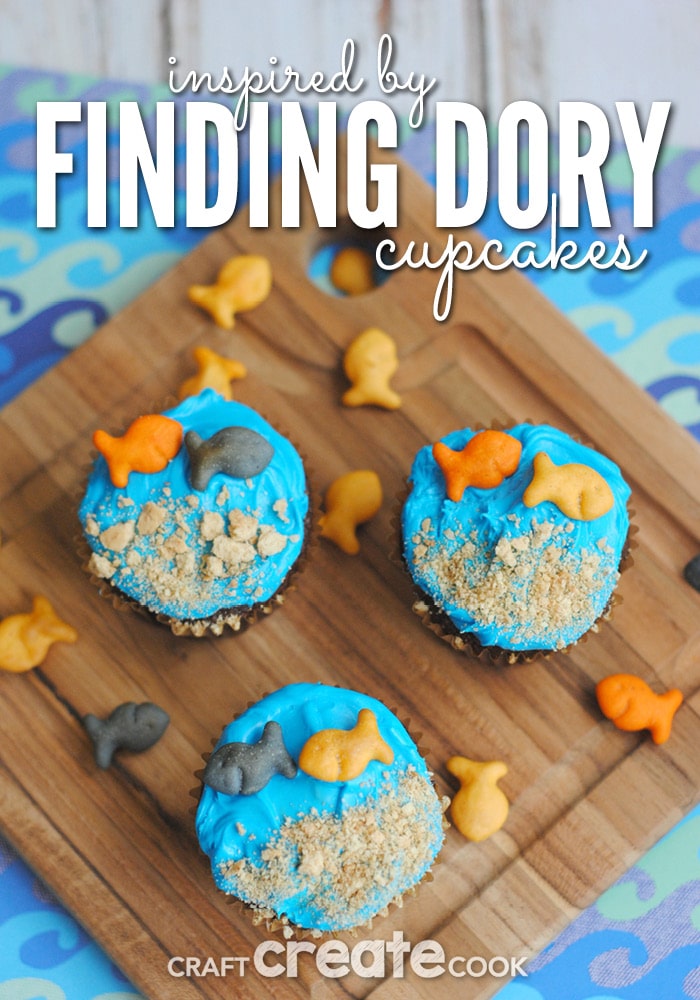 You will also want to make: