Kids will love these adorable Secret Life of Pets Duke Cupcakes!
Secret Life of Pets just hit theaters, have you seen it yet? If not, take a minute and plan on seeing it with the kids. It's super cute and fun. It's even great for adults. With it being summer we are always looking for something fun to do and going to the movies is a special treat for my kids. I love going to the movies but having 3 kids makes it pricey so we don't go that often. If we don't make it to the theater I try to rent a new movie as soon as it releases and we have a movie watching party with popcorn, snacks, candy and beverages. The kids love it so I am picky as to what movies we see in theaters.
My oldest adores dogs. So do I. I'm 3 shades away from being a crazy dog lady. My 'oldest' child is a German Shorthair Pointer named Charlie and she'll be 10 years old in less than a few weeks. I love her. Sometimes more than I love my kids. She's quiet. She's well behaved. She doesn't scream or whine or fuss. She even loves to snuggle. You get the idea. I love her.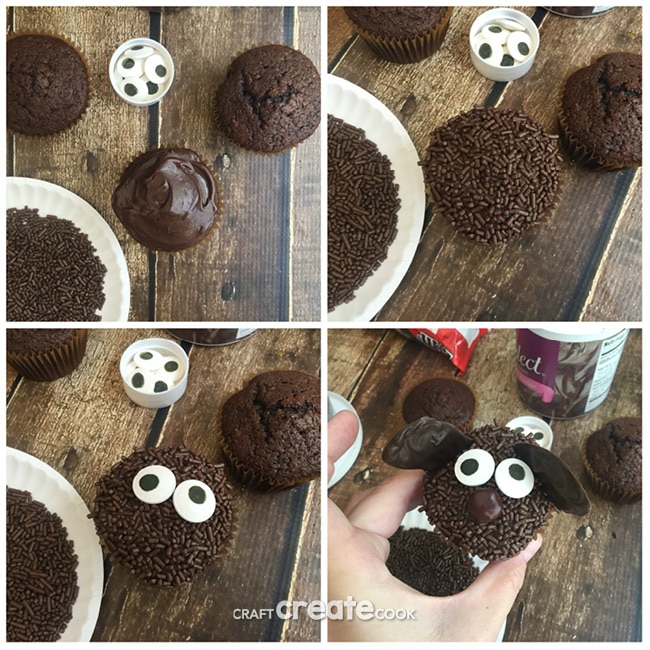 When I saw the preview for Secret Life of Pets I knew we HAD to see it at the theater. My oldest begged me for weeks so I finally gave in. I'm so glad I did. I just love all the characters and Duke is no exception. He's just a huge friendly lug you wanna just snuggle with. I made these Secret Life of Pets Max cupcakes so I thought it only fair that I make Duke cupcakes too. They were so easy, the kids loved them and who doesn't love a chocolate cupcake? I used a store bought boxed cake mix to save time and they only took a few minutes to decorate. You probably have everything on hand but if not you can grab the Wilton dark chocolate candy melts and large candy eyes, if needed.
So, what are you waiting for? Grab some chocolate cake mix and get to baking!
You will also want to make: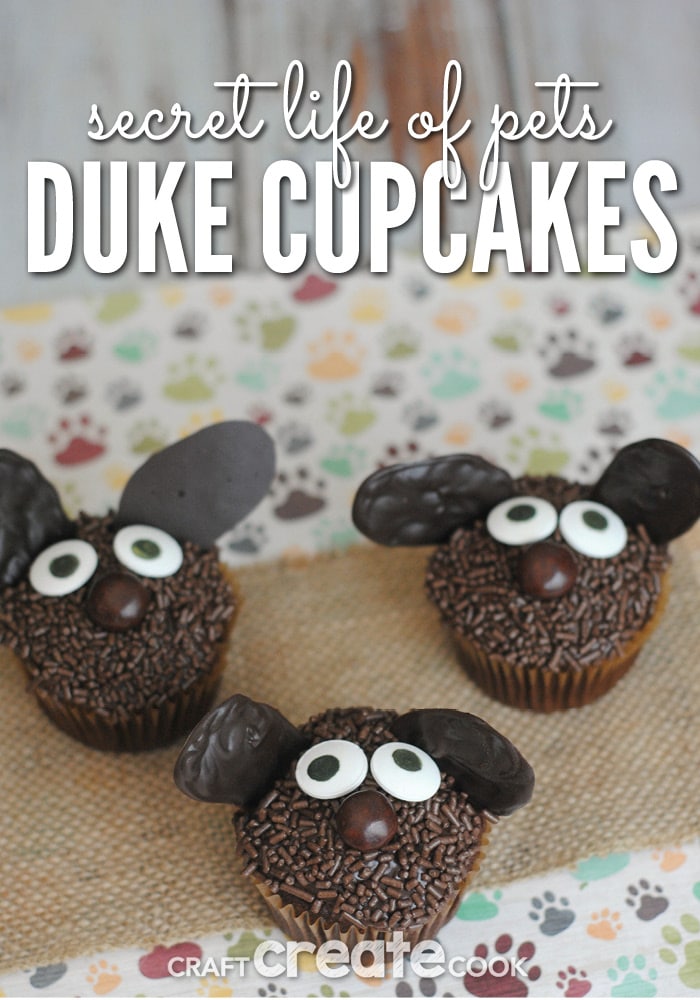 Yield: 12
Secret Life of Pets Duke Cupcakes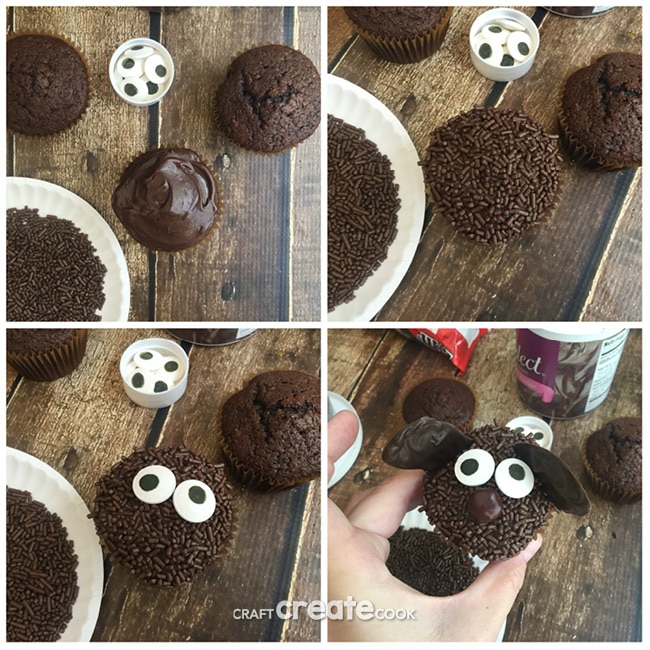 Prep Time 20 minutes

Cook Time 17 minutes

Total Time 37 minutes
Ingredients
1 box chocolate cake mix, any brand
3 eggs
½ C. vegetable oil
1 ⅓ C. water
chocolate sprinkles
brown peanut butter M&M's
large candy eyes
chocolate frosting
12 oz Wilton dark chocolate candy melts
small sandwich baggie
kitchen scissors
wax paper
toothpicks
Instructions
Preheat the oven to 400 degrees and line two 12 count cupcake tins with liners.
Combine the chocolate cake mix, egg, oil and water.
Fill each cupcake liner about ¾ full with batter.
Bake 15-17 minutes.
Remove from the oven and allow them to cool completely before decorating.
While the cupcakes cooling, pour the Wilton candy melts into a microwave safe dish. Heat in 30 second increments stirring occasionally, until melted. Let cool a few minutes.
Use a large spoon to scoop the melted chocolate into the sandwich baggie. Snip the corner and gently squeeze the melted chocolate out onto the wax paper forming a dog ear shape. It doesn't have to be perfect. Use the toothpick to fill in as needed. Repeat making 24 sets of ears. Let harden. Place in the fridge to speed up the setting process if you prefer.
Generously frost each cupcake with chocolate frosting and set aside.
Dip the tops of the cupcakes into the chocolate sprinkles (see photo).
Place a dab of chocolate frosting on the back of each candy eye and give each Duke two eyes.
Give each cupcake a brown peanut butter M&M for a nose.
Lastly, give Duke two ears by gently pressing the chocolate ears into the top of the cupcakes. Repeat with all the cupcakes.