One of my favorite ways to display our "Elfie" is to share how Elf on the Shelf bakes a cake! This is a super easy way to setup your elf when in a hurry. We all know those days happen when you need a last minute place to put your elf. This little idea is easy, fast, and will have kids giggling all day!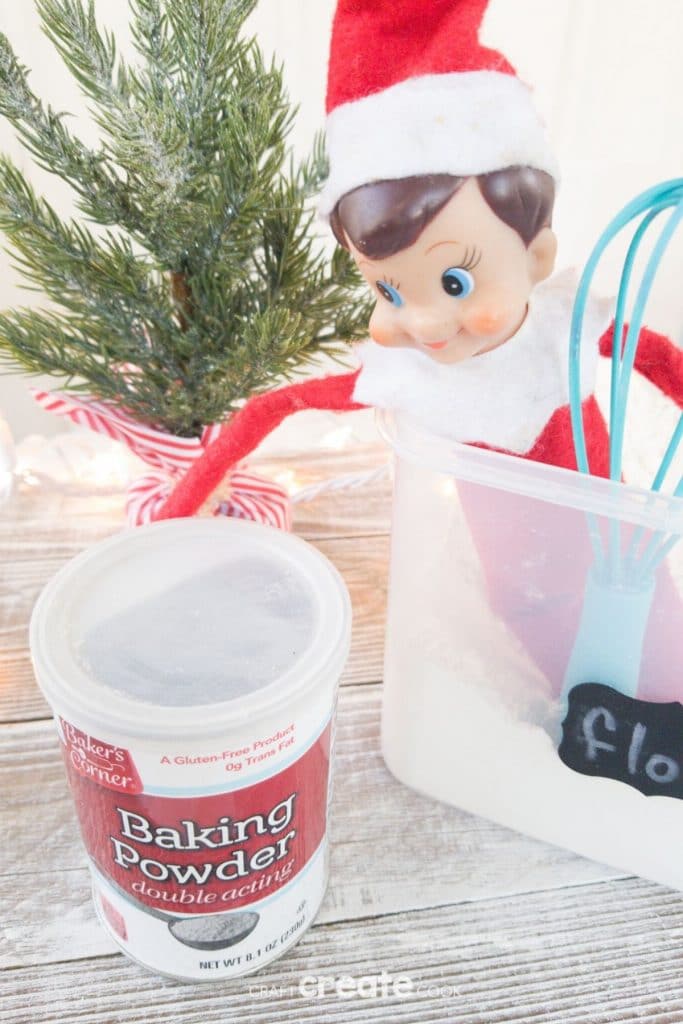 What Do I Need to Setup an Elf on the Shelf Baking a Cake?
You can easily set this up with more supplies, but for the basics you'll just need 4 items.
Elf on the Shelf
Canister or container of flour
Can of baking powder
Whisk
You can turn this into a baking day showing the elf baking a cake, cookies, making bread, or any other baked good. This setup is super easy since you likely have all of these items already on hand. If you want to do something different with this, check out the ideas below.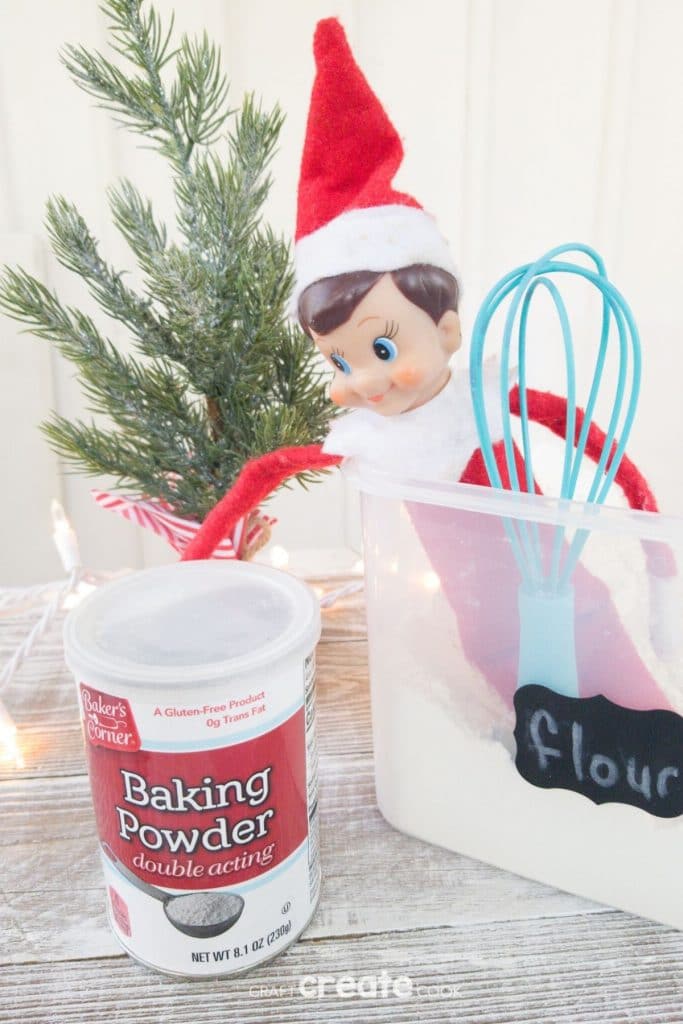 How do I Setup My Elf on the Shelf?
For this idea, I like to open up the bucket or canister of flour and simply place the Elf inside leaning over the edge. If you are worried about the elf or the flour getting dirty/contaminated, you can pour just a small amount into a new bowl or canister so you can just throw it out after the elf moves.
I like to add baking soda or baking powder and a whisk since those are musts with most baking, but below are some other ideas for this setup.
Lean your elf against a boxed cake mix.
Open a bag of chocolate chips and lay the elf beside it with a smear of chocolate on his/her face.
Put your elf by a bowl of batter or dough with the spoon as if they are licking the spoon.
Have a jar of sprinkles open and spilling out by the elf as if they have knocked it over.
What are the Rules of Elf on the Shelf
Every family will have their own set of rules or guidelines for their elf, but below are the standards everyone seems to follow.
The elf moves every night while the kids are sleeping.
Kids are not supposed to touch the elf or he loses his magic.
The elf goes back to the North Pole after Christmas.
All other things can be determined by you. Some families begin sharing elf exploits on Black Friday. Others start on December 1st, and still others start on December 10th. Let your elf arrive whenever you want and just have fun!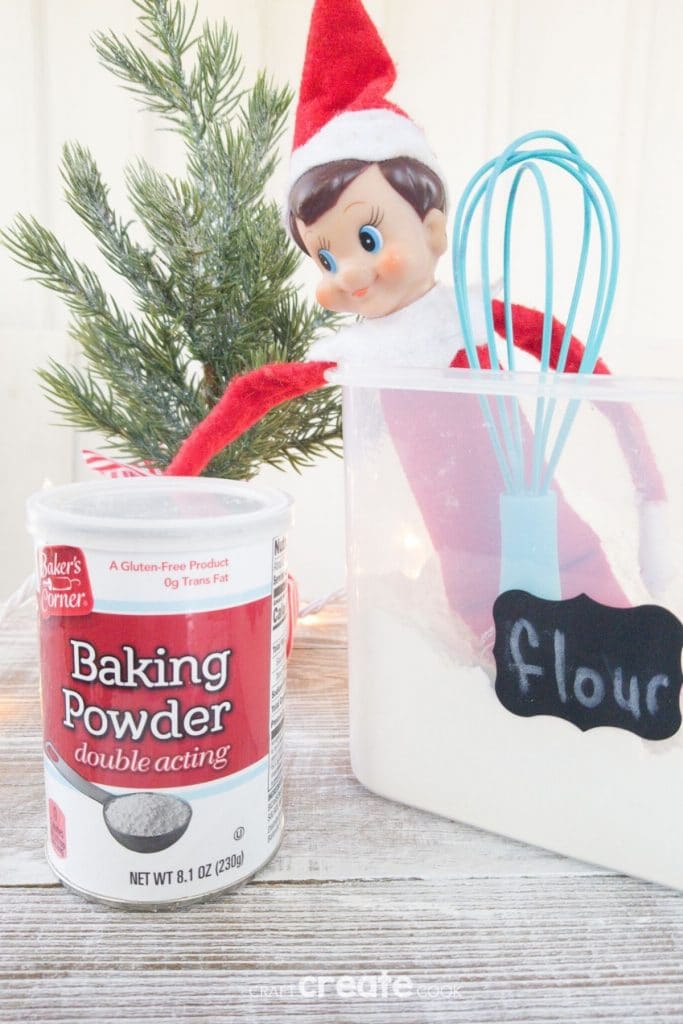 Can You Buy Just the Elf from Elf on the Shelf?
When shopping for your elf, you'll find that they all come in a box with the book. You may be able to find off brand elves or even used elves that are just the elf and no book or special items.
The best place to find an Elf on the Shelf is on Amazon or a big box bookstore like Barnes n Noble, Books a Million, or similar.
Where Can I Find Elf on the Shelf Clothes?
One thing I like adding is a fun new outfit every year on our elf. For this idea, you could definitely add a cute little apron to your elf. A chef's hat is another super cute idea! I find great ideas on Amazon but also on Etsy. Below are some of my favorites found this year.
You can even buy an Elf on the Shelf sleeping bag that is ideal for setting up at night for your elf to "rest" after they arrive.
More Elf on the Shelf Ideas
If you are looking for more Elf on the Shelf ideas to do with your family elf, I have a few I love. You can follow this tutorial to create a bendable elf, and of course, I love the housekeeping elf. Another fun idea is making a Trolls wig for your elf, or even making a little igloo for your elf. Most of all, have fun! Of course, this year in 2020, you'll want to put your elf in quarantine first!