Anyone can make these simple unicorn cupcakes for a unicorn party, special event or just because!
My daughter loves unicorns. And I do, too! There's just something about the beautiful and mythical creature that is sometimes adorned with rainbows and sparkles that makes me smile. Or perhaps it's because I grew up in the days of My Little Pony and some of the ponies were actually Unicorns!
When my daughter asked for a Unicorn party, I knew I had to come up with something quick. Her birthday is around the holidays so I'm always struggling to find the time to do something fun for her in between all of the holiday activities, late nights wrapping presents and shopping for our holiday entertaining.
This year I decided that unicorn cupcakes would be the easiest thing for me to make! I did some searching and came up with this very simple idea for unicorn cupcakes!
How to Make Unicorn Cupcakes
To make the most perfect unicorn cupcake horn, you'll need this Wilton Sea Shell Candy Mold. Be mindful you can only make 2 horns at a time, but you can grab a few molds to double your production. I only had one mold and I didn't find this too cumbersome. I would make 2 horns and then refrigerate for about 10 minutes. Gently pop out the horn and keep the horns in a resealable bag in the refrigerator.
You can use any color combination you'd like for your unicorn horns, but I chose bright pink, turquoise and lavender candy melts for this recipe.
Add the melted candy melts to your mold, alternating colors or creating a pattern. Gently tap the mold to remove air bubbles and the candy will flatten. Repeat and refrigerate before removing from the mold and repeating for the desired number of horns you need.
You can't have a unicorn without ears! I used bright white and bright pink candy melts to make the ears. You'll melt your bright white candy melts and pipe a small, 1" triangle onto wax paper. Let it set and add some bright pink candy melts to the center of the triangle to create the ears. Pop it into the refrigerator to harden.
Remember you'll 2 ears per cupcake.
Start with your favorite flavor of cupcakes. Bake and cool them completely before frosting them. I used a 1M tip to create the fancy swirling rose look and a tub of store-bought vanilla frosting! I said they were simple!
Once your cupcakes are frosted with frosting, gently press the horn into the center. Add the ears. Repeat until all of your cupcakes are decorated! I love these cupcakes because they are so simple! The candy horn was a big hit and the favorite part of the cupcake.
If you're working on an entire Unicorn Party, make sure you check out some of these fun ideas!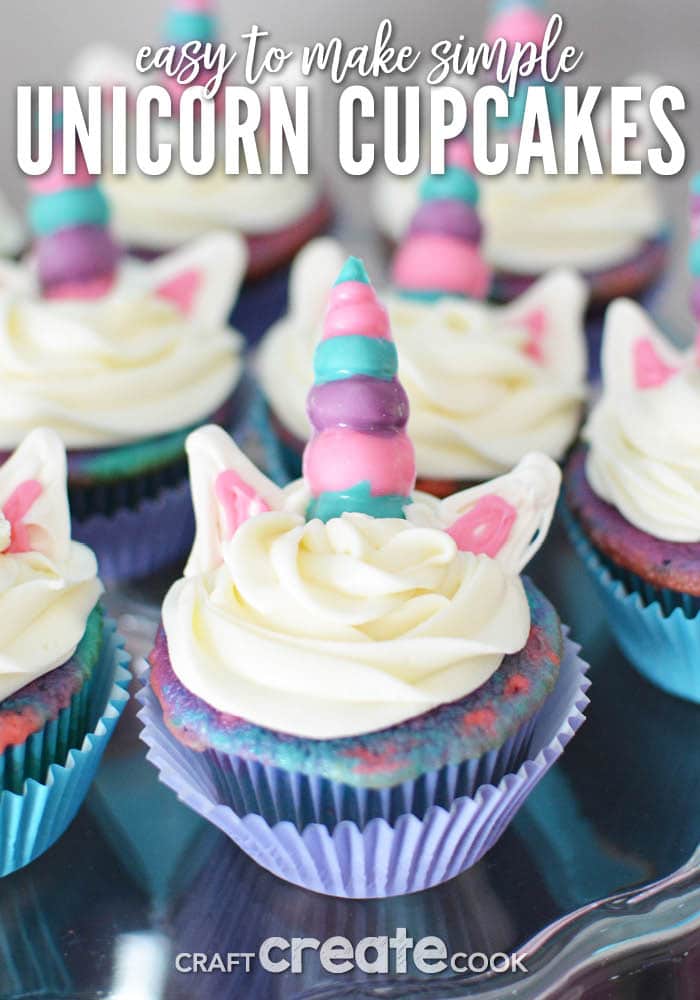 Yield: 24
How to Make Simple Unicorn Cupcakes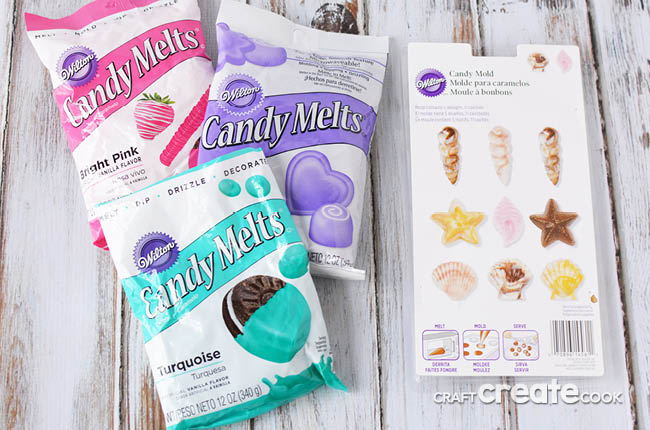 Prep Time 1 hour

Cook Time 15 minutes

Total Time 1 hour 15 minutes
Ingredients
24 cupcakes, baked and cooled
1 tub vanilla frosting
1M tip and pastry bag to frost cupcakes (optional)
Unicorn Horn Ingredients
25 bright pink candy melts
25 lavender candy melts
25 turquoise candy melts
Wilton sea shell candy mold
Unicorn Ear Ingredients
25 bright white candy melts
20 bright pink candy melts
Instructions
To Make Unicorn Horns
Place 25 of bright pink, lavender and turquoise candy melts into separate resealable bags, but do not seal. Microwave each bag, for 1 minute, kneading at 20 second intervals until completely melted. Repeat for all colors.
Snip the tip of the bag and pipe into the sea shell mold. Gently tap mold to smooth candy melts and remove air bubbles.
Refrigerate for 10 minutes. Remove from mold and store horns in a resealable bag in the refrigerator. Repeat until you have 24 horns.
To Make Unicorn Ears
Place wax paper onto a cutting board.
Place candy melts in a separate resealable bags, but do not seal. Microwave white candy melts for 1 minute, kneading every 20 seconds until smooth and melted. Pipe 48-1" triangles onto the wax paper to create ears. Let set to harden.
Heat pink candy melts in microwave for 1 minute, kneading every 20 seconds until melted. Pipe pink on top of the white triangle to make the center of the ear. Let set to harden or place in the refrigerator.
How to Assemble Unicorn Cupcakes
When ready to assemble, frost cupcakes with vanilla frosting placed into a pastry bag fitted with a 1M tip.
Add 1 unicorn horn in the center of the cupcake. Tuck in 2 ears next to the horn. Repeat until you have all cupcakes assembled.