Homemade Totchos are easy to make, delicious and perfect for when you're craving bar food!
I love food. No, really, I lovvvvve food. I could eat all day if it were humanly possible, snacks including greasy bar food are right at the top of my list. We have a bar called Tap 30 that my husband and I occasionally frequent on a rare date night out. We've also been known to stop in for lunch while the kids are at school. I'm not a huge fan of craft beer or beer in general but their Moscow Mules are fantastic and the shiny copper mugs are my favorite. But I digress.
They have a menu item called 'Totchos' and they are to die for. No, really! They are the perfect bar food: tator tots, jalapenos, smoked gouda cheese, pepperoni and bacon. Yeah, all my favorite things combined! While I love eating Tap 30 totchos, we don't go very often because, hello, taking 3 kids into a bar isn't that fun. So, I made my own version at home!
They are seriously SO simply to make and mine are baked, not fried like Tap 30's. When I told my friend Kari about them, she was very confused. So confused that I got confused. She had NO idea what totchos were OR why I was making them. Um, HELLO, they're totchos!! I explained and I'm pretty sure I saw her shrugging her shoulders through our texts. Next time she visits, she's definitely getting totchos!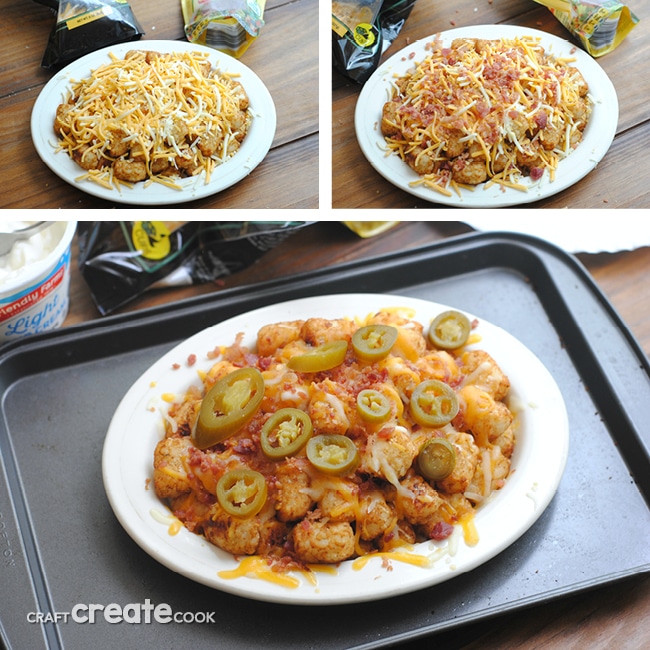 Homemade Totchos Recipe
Homemade Totchos
Author:
Craft Create Cook
Prep time:
Cook time:
Total time:
Homemade Totchos are easy to make, delicious and perfect for when you're craving bar food!
Ingredients
16 oz frozen tator tots
1 C. shredded cheddar cheese
6 bacon slices, cooked & crumbled
4 green onions, diced
¼ C. jarred, sliced jalapenos
sour cream for serving
Instructions
Preheat the oven to 400 degrees.
Place the frozen tator tots on the baking tray and bake 20-25 minutes. You want them nice and crisp and cooked through.
Remove the tator tots from the oven.
If serving on a platter, make sure it is oven safe. Place the tator tots on the platter and cover in shredded cheese.
Add crumbled bacon, green onions and jalapeno slices.
Place under the broiler on low for 5-10 minutes.
Serve with sour cream.
You will also want to try our: