This post is sponsored by © Nature's Recipe, LLC., all opinions are my own.
We have all heard at one time or another that dogs are man's best friend and in my experience it's true. Growing up, I lived on a rural farm. We always had various animals during different times in my life: geese, horses, cats and dogs, just to name a few. I've always loved animals so even though they weren't all living in my house, I treated them like they were part of my family. Each of them had their own name and special place in my heart.
Throughout the years, I've had a variety of dogs and I've always been a dog owner. Dogs make me happy! I love that they greet me at the door when I come home. They love me unconditionally and don't expect anything, except maybe a cuddle, in return.
During my college years, I lived on campus so pets were simply not allowed. That was the only time I wasn't a dog owner, but I could go home on weekends and holidays and visit my furry friends at my parent's house.
After college, I got my first "real job" and I moved in with my now husband. Because we lived in an apartment, we weren't allowed to have pets and I really missed having a dog. My mom still had my dog from when I was younger, so I visited him a lot.
My husband and I eventually moved to a rental house and started building our own home. At this time, a co-worker of mine was having German Shorthair puppies and I jumped at the chance to have a dog again. I grew up with German Shorthair Pointers and knew their disposition of being a loving family dog would be perfect for us. I had to convince my husband that we really needed a dog and it worked!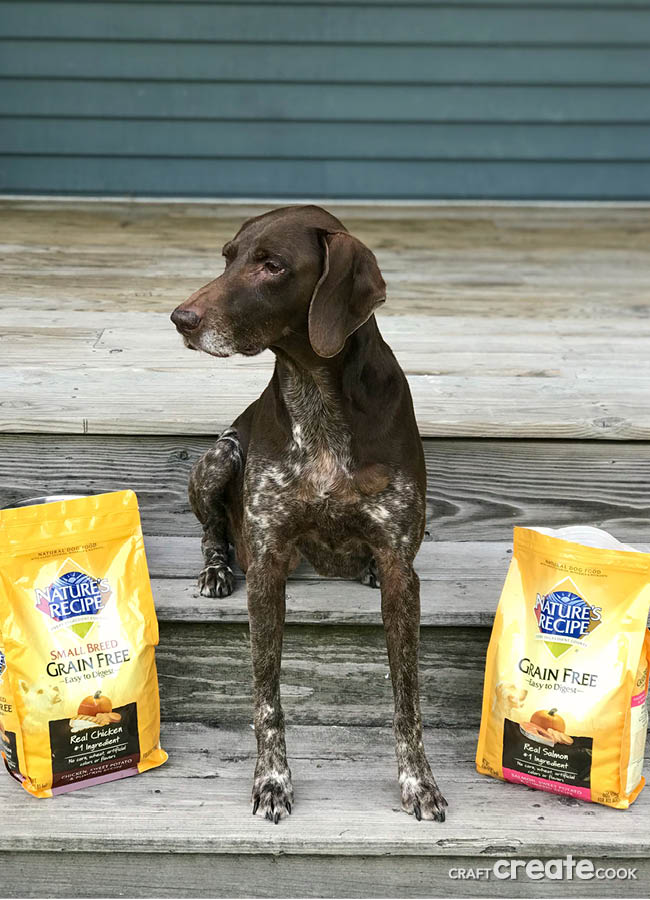 I picked out our little girl and we named her Charlie. We picked her up in August of 2006 and she immediately became a fixture in our family. Charlie only receives the best of the best. We feed her the best food, make sure she's up to date on her vet care and provide a safe space for her to sleep within our home.
We now have 3 human kiddos ages 7, 9, and 10 but I always refer to Charlie as my oldest. Charlie has adapted well to each of my children being born and brought home from the hospital. She is a part of all of the kid's' lives and each of them enjoys snuggling with her, feeding her and helping to let her inside and outside when she asks.
Charlie is 12 years old and still kicking. She enjoys running in the woods, swimming, playing fetch, and her love for us is unconditional. I still enjoy spoiling her because she will always be my first baby.
When it's time to feed Charlie, I head to Walmart and grab Nature's Recipe® brand dog food. Nature's Recipe provides Charlie with all the nutrition she needs. Their recipe is carefully crafted to give dogs all the nutrients they require. I love that Nature's Recipe is grain-free. There is no corn, wheat, soy or poultry by-product meal in Nature's Recipe so you know your furbaby is getting the best.
Charlie's favorite is the Nature's Recipe Grain Free Salmon. You never know how your pet will react to trying new food but she immediately devoured the entire bowl and loved it. Plus, it contains all of the vitamins, minerals and nutrients that she needs to get out there and play fetch with me in the yard!
Want to find out more about Nature's Recipe Grain Free products available at Walmart? Head over HERE!