These Coffee Filter Ghost Suckers are so easy to make and great for Trick-or-Treaters.
There's one street in our town where they block off the street and most of the houses on that street are decorated with fun Halloween decorations. Some of the houses set up little tables instead of having to go up to their door and they make a night out of it by dressing up and making it fun for the kids. It's super busy but you don't have to worry about the kids running out into the road because the street is closed to traffic.
So when I was little I always remember people making these cute little Ghosts Suckers but they were made out of tissues. I have fond memories of people hanging them in a tree in their front yard and getting to see them while out Trick-or-Treating.
Although I didn't have tissues to make these Ghost Suckers, I always have a large amount of coffee filters. Plus coffee filters are a lot stiffer than a tissue so you can fiddle with them and fluff out the bottom of your ghost suckers. I also have a love for Puffy Paints so that is what the face is painted with, you could use a black marker if your not as fond of Puffy Paints as I am.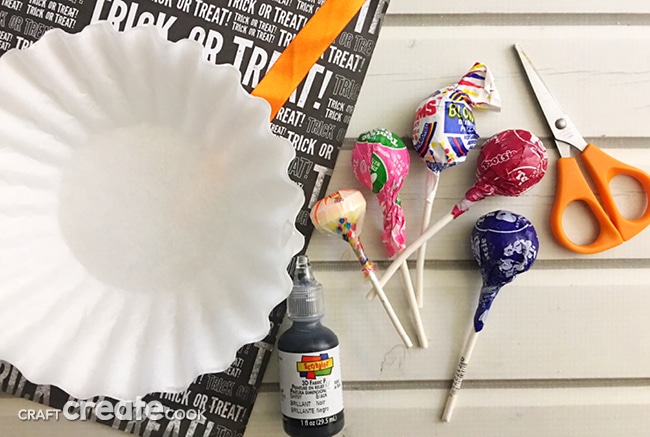 Materials:
Cut and tie an 8" or so piece of ribbon and tie it in a single knot around the bottom of the round part of the sucker as shown.
You might also enjoy our:
Troll Pumpkins to Make for Halloween - Our Troll Pumpkins will make you want to sing and dance this Halloween!
Graham Cracker Mummies - Our Graham Cracker Mummies are super easy to make but still adorable!
Chocolate Covered Caramel Apples - These Chocolate Covered Caramel Apples are just as fun to make as they are to eat!