Whether you are camping in the backyard or out in the great outdoors, these camping cupcakes are easy to make and even more fun to eat!
It's camping season and what's goes better with camping, than camping cupcakes?! Don't get me wrong, I love cupcakes any time of year but something about themed cupcakes makes them a bit yummier to munch on! Most kids love camping, and anyone who eats these camping cupcakes will love them, too.
These cupcakes are great for scouting events and school camping themed parties. Or make them for an indoor camping themed winter birthday party! They aren't just for summer!
Camping Cupcakes Recipe
Yield: 16
Camping Cupcakes Recipe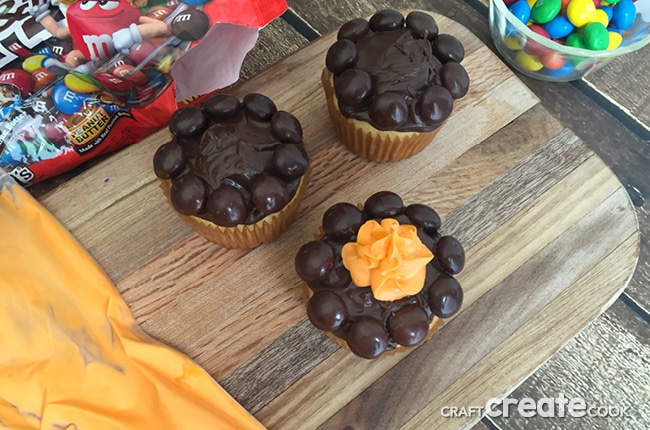 Whether you are camping in the backyard or out in the great outdoors, these camping cupcakes are easy to make and fun to eat!

Prep Time 10 minutes

Cook Time 20 minutes

Total Time 30 minutes
Ingredients
1 box of chocolate cake mix, any brand and ingredients to make cupcakes.
brown M&M's
white frosting, any brand
orange gel food coloring
chocolate frosting, any brand
cupcake liners
piping bag
large star frosting tip
Instructions
Preheat the oven to 350 degrees and line a 12 cupcake tin with cupcake liners.
Mix the chocolate cupcakes according to the box directions.
Bake 18-20 minutes and let cool.
Generously frost each cupcake with chocolate frosting.
Add a few drops of the orange gel food coloring to the white frosting and combine.
Attach the frosting to the piping bag and fill with orange frosting.
Gently squeeze the orange frosting out of the piping bag to make a 'fire' directly in the middle of the cupcake.
Place brown M&M's all the way around the 'fire'.
Repeat with all the cupcakes.


You will also want to try our:
Save