If you're looking for non-toxic and natural beauty products, Goodbeing is the perfect choice for you.
I received a Goodbeing box free of charge in exchange for a review. All opinions are my own.
I was so excited last week when my Goodbeing box arrived in the mail! I have always loved mail, but when it's a surprise goodie box, it's even better! PLUS, the size was PERFECT to actually fit into my mailbox! Sometimes when unexpected packages arrive, they get placed onto my porch because they are too big for the box, but this was perfect and put a smile on my face!
I ran inside and opened my box and received some fun things! For starters I had a cute personalized note from the Goodbeing team. Then I had some cute little product cards telling me what was in the box. This shows me the ingredients, how to use and price. I love these little cards! I am tucking them into my bathroom drawer for future reference.
After the cards were all the products, packed in a fun paper filler! I received:
Lip Pencil by Zao essence of nature. This vegan pencil is 100% natural and the color stayed on my lips pretty well.
Clarity Awakening Face Cream by Good Medicine. I really liked this face cream! It was light and smooth and I might need to order more! A little goes a long way, too.
Vitamin C+E Blotting Papiers by Mai Couture. I used these one afternoon before picking up my kids from school. I'm always horrified at the amount of oils blotting papers pick up!
Moody Sisters Lip Scrub. I tried this before showering. Wet my lips, rubbed on and let set for a few minutes while my shower warmed up. I hopped into the shower and rinsed it off and my lips felt great! And it tasted great! I know, you aren't supposed to eat it, but I got a little on my tongue and it was good. And while I was showering I could feel the moisture staying on my lips.
Suntegrity Lip C.P.R with SPF 30. This lip color was fun! A neat coral that also has SPF 30 and a hint of sweetness! There's 8 different colors and I definitely see a few I'd like to try!
So what on Earth IS Goodbeing?
It's a treat for anyone who loves makeup, facial, beauty and personal care products. You can discover and try healthy beauty products for an affordable price. These are all non-toxic products including organic and natural ingredients. The box contents will always be a surprise – because that's what makes it fun – but your products will be selected based on your profile answers.
This subscription service offers affordable options (starting at $18 a month) for anyone. You can also give a gift of good being to a friend or family member! A perfect option for someone you know who would love these products, but won't purchase the subscription for herself!
As a member you'll receive special discounts and offers on products, too! Complete your profile here and receive your own discovery box!
As a loyal CraftCreateCook reader, we're giving away a Goodbeing box! Enter below!
a Rafflecopter giveaway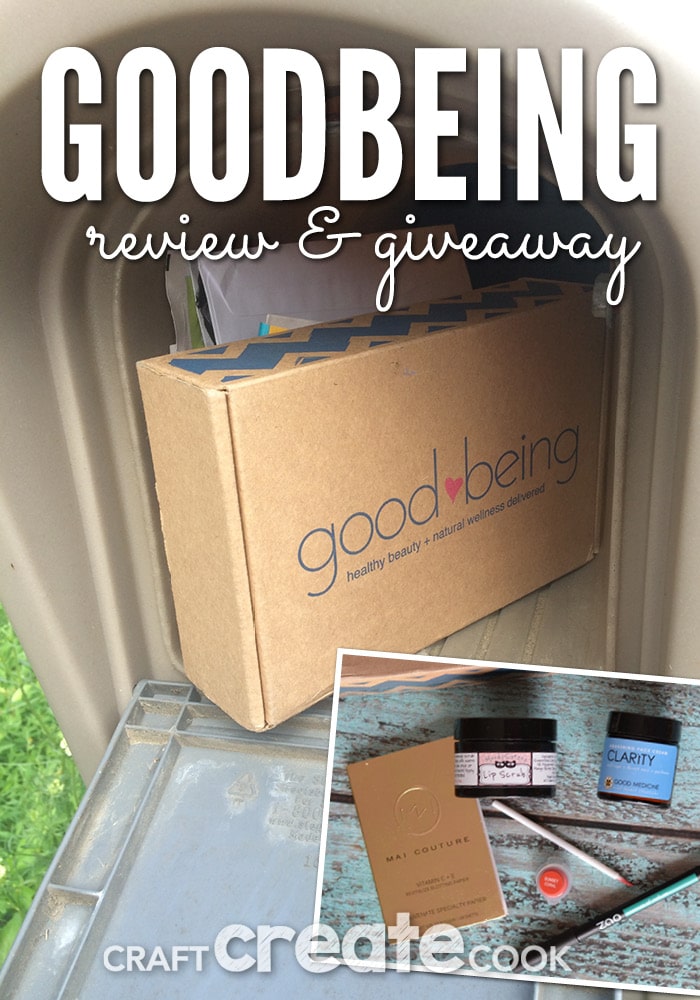 Make sure you check out some of the other products we love!

Save
Save
Save