Semi-homemade and easy to make chewy butter pecan bars will disappear in no time!
I made this batch and the bars were gone in days. Actually I think it was more like 22 hours. My husband and I DEVOURED them! These chewy butter pecan bars are so tasty! These remind me of a chewy bar version of butter pecan ice cream!
Now, I'll be the first to admit butter pecan is not my first choice for an ice cream flavor, that's cookie dough, but it is in my top five! And if you like butter pecan ice cream, pair it with these chewy butter pecan bars and you'll have an immense and delicious flavor explosion.
What I love about this recipe is how fast it comes together. Starting with a box of cake mix and adding in a handful of additional ingredients, you're on your way to these chewy and buttery nut bars.
When you're making this recipe you may want to add more water, but don't do it! Just keep stirring, the dough will come together! Use the back of the spoon and a little elbow grease to mix all ingredients together.
My top secret way to cut these bars is to use a pan scraper! it works excellent! The bars won't stick to the scraper and you'll have a nice clean cut every time.
You can always make these bars the day before an event. Store them in an airtight container in the refrigerator and bring them to room temperature before you serve them. And before you know it, the batch will be GONE!
Are you looking for some additional bar recipes? Try some of these: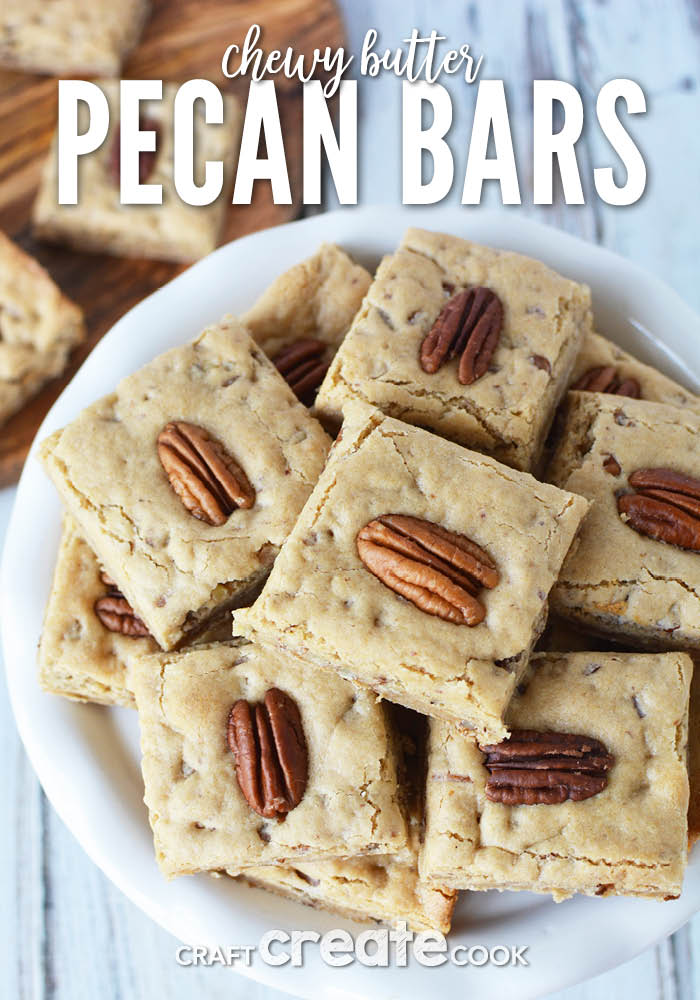 Yield: 24
Easy to Make Chewy Butter Pecan Bars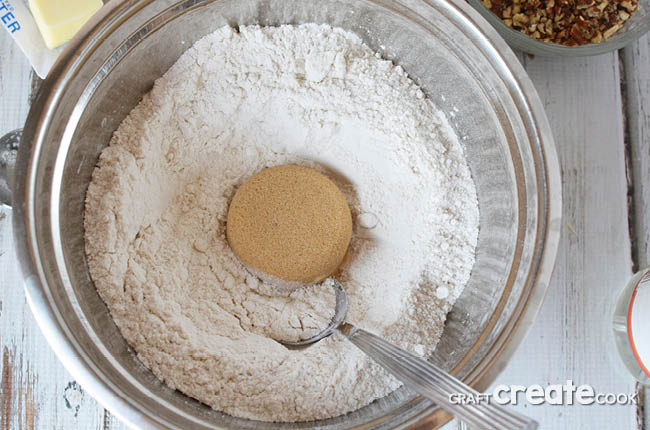 Semi-homemade and easy to make chewy butter pecan bars will disappear in no time!

Prep Time 10 minutes

Cook Time 25 minutes

Total Time 35 minutes
Ingredients
1 box, 15.25 oz, butter pecan flavored cake mix
1/3 cup brown sugar
3 tablespoons flour
2 tablespoons corn syrup
2 tablespoons melted butter
2 eggs
2 tablespoons water
3/4 cup chopped pecans
24 whole pecan halves
Instructions
Preheat oven to 350 and grease a 9x13 baking pan with nonstick coking spray.
In a mixing bowl, combine cake mix, brown sugar and flour. Mix well.
Add corn syrup, butter, eggs and water and mix well. The dough will take a minute to come together. Continue to mix and the dough will form.
Fold in chopped pecans.
Press into prepared pan. I find placing my hand in a sandwich bag sprayed with nonstick coking spray helps to press the dough into the pan.
Place 24 whole pecan halves in rows in the pan.
Bake for 25-30 minutes or until edges are brown and center is set. Cool completely before cutting into 24 bars.