These better-for-you fruit cups will be a big hit at your next party or school event!
I'm constantly looking for fun and healthy snacks to take to school parties, softball games, and girl scout meetings. Since my daughter's girl, scout troop only has 8 girls, these flower fruit cups were the perfect meeting snack. Plus, the cookie flower fits in with their "Daisy" Troop! The cookie flower helps to make the healthy fruity cups a little bit more of a treat, adding a sweet sugary cookie.
I was able to make a dozen fruit cups with this recipe. If you need to make more, you can always use a smaller cup or the same size cup with double or even triple the ingredients. I used 6″ lollipop sticks and they fit perfectly into the cup with the cookie. If you ever have to cut lollipop sticks or bamboo skewers, I strongly recommend getting a set of diagonal cutters and stashing them away so your husband doesn't swipe them! They were great for cutting the sticks and plastic zip ties on toys.
Some of my cookies did crack, but the other side stayed in tact and was fine, so I just flipped the sticks over to pipe the flowers onto the cookies.
You'll need one tootsie roll per 2 cups to make the flower leaf. I suggest only microwaving 1 tootsie roll at a time since it hardens quickly.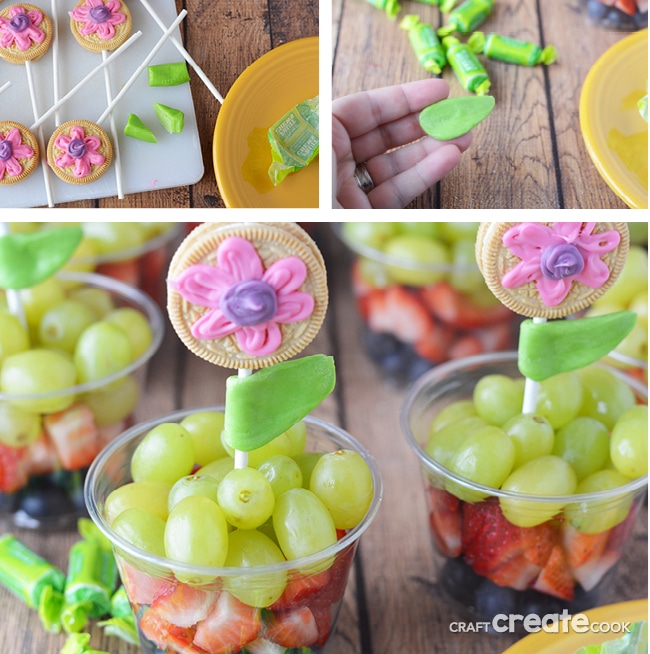 Yield: 12
Easy Flower Fruit Cups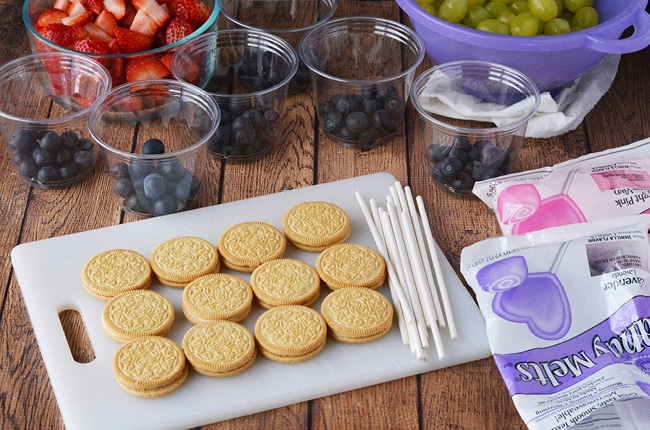 This better-for-you fruit cup will be a big hit at your next party or school event!

Prep Time 20 minutes

Total Time 20 minutes
Ingredients
12 golden Oreo cookies
1/4 cup bright pink candy melts
1/4 cup lavender candy melts
6" lollipop sticks
2 lbs strawberries, stems removed, washed and quartered
2 lbs green grapes, washed
1 lb blueberries, washed
9 oz clear plastic drinking cups
6 green tootsie rolls
Instructions
To Make Flowers:
Open each oreo by twisting it and set onto a flat surface.Gently press a lollipop stick into the frosting of the oreo so it makes an indention.
Place pink candy melts into the corner of sealable bag (but do not seal) and microwave for 60 seconds, kneading every 15 seconds until melted. Seal the bag and snip the end.
Place lollipop stick onto the frosting and pipe a small amount of pink on top of the stick. Place the cookie back together pressing firmly. One side of the cookie may break, but the other side should remain intact.
Use the pink candy melts to pipe a flower shape onto the front of the cookie and fill in. Let set.
Microwave the purple candy melts in a sealable bag (but do not seal) for 60 seconds, kneading every 15 seconds until melted. Seal the bag and snip the tip of the bag and pipe a circle center onto the flowers. Let set to harden.
Add blueberries to the bottom of the cups.
Add a few strawberries and place the center of the cookie lollipop into the cup and place additional strawberries around the stick to hold it in place.
Top the cup with green grapes.
Unwrap 1 tootsie roll at a time and microwave for 5 seconds. Cut in half diagonally and flatten to make a leaf shape. Wrap the leaf around the stem of the cookie pressing firmly to hold in place. Repeat until you have all cups done.