With only two ingredients, anyone can make this DIY Lip Balm!
Having chapped lips is a big annoyance of mine. I always keep a lip balm or gloss with me. I buy those small tubes to toss in my purse, but the problem is they are so small, so I lose them. I never knew how easy it was to make my own or I would have started making it a lot sooner. I always have petroleum jelly in my medicine cabinet and Kool-Aid packets are only .20 at my local grocery store so I stocked up!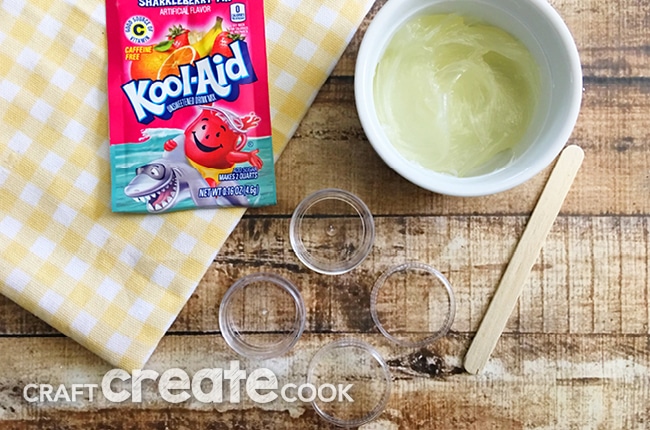 The first thing I do is place a brown paper grocery bag onto my work surface. Kool-Aid will stain your skin (for just a few days) and your counter top if you are not careful. I measure 2 tablespoons of petroleum jelly into a small glass, microwave safe dish and microwave it for about 2 minutes, until the jelly was liquefied. Be careful as this gets very hot. I use a glass dish as the Kool-Aid will stain the plastic dish.
Pour the Kool-Aid packet into the liquefied jelly and mix with a craft stick. Add one drop of water to intensify the color and stir well.
Pour the mixture into Lip Balm Pots and set in the fridge for about 10 minutes until the mixture thickens. (Those are my FAVORITE lip balm pots, by the way!)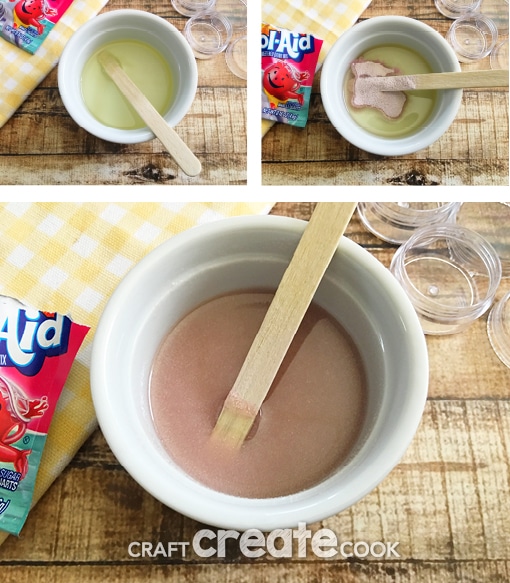 This recipe will make 3 containers of DIY lip balm so be sure to share or stock up for yourself or your kids! Plus, you can try any flavor of Kool-Aid and make all sorts of DIY lip balms! I like to make extra and have on hand in case I'm out with a girlfriend who is frantically searching for some lip protection. I hand her a cute lip balm and it not only does it solve her chapped lip problem, but it also brings a smile to her face! What flavor Kool-Aid will you try?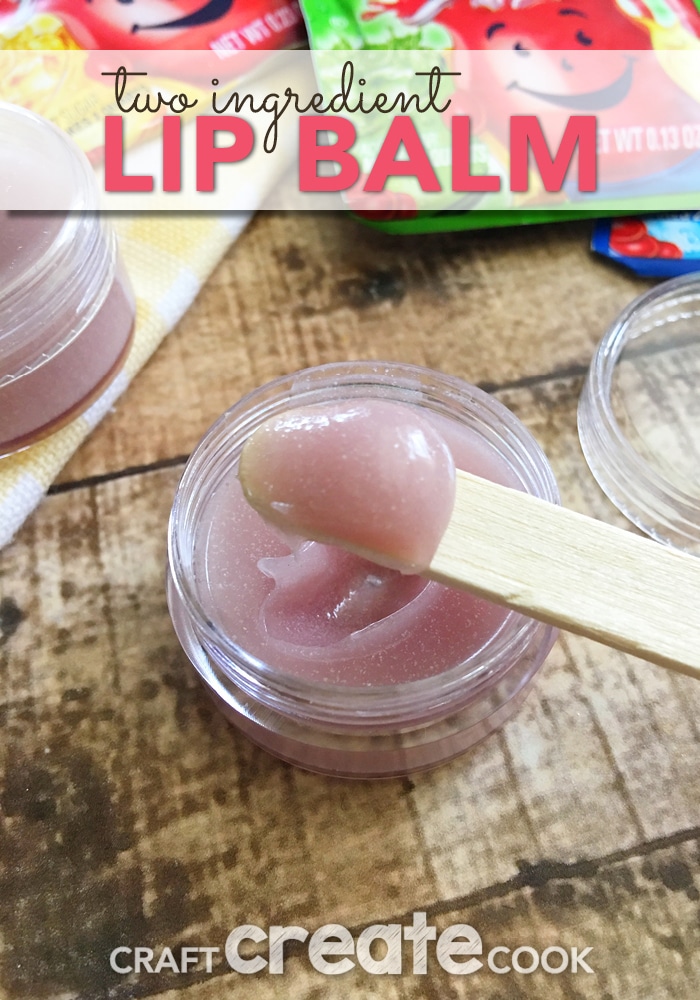 Yield: 3
2 Ingredient DIY Lip Balm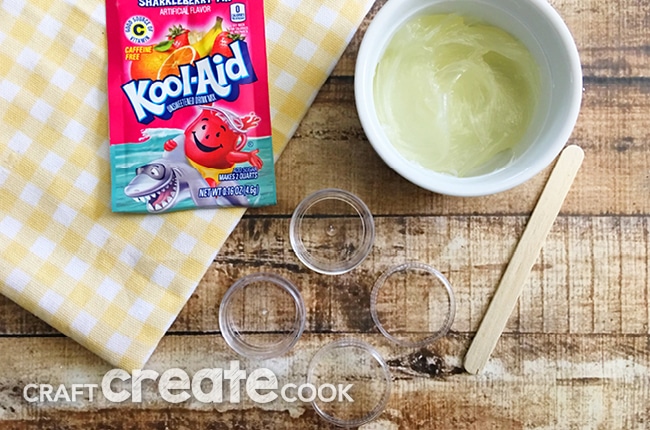 An easy DIY, colorful lip balm with only two ingredients

Prep Time 10 minutes

Total Time 10 minutes
Ingredients
2 Tablespoons petroleum jelly
1 Packet of sparkleberry fin Kool-Aid
Instructions
Scoop 2 Tablespoons of petroleum jelly into a small microwave safe dish
Microwave for about 2 minutes until your petroleum jelly is liquefied
Mix your Kool-Aid packet
Careful pour your lip balm into your small containers
Set in the fridge for about 10 minutes
To use: place a small amount of your lip balm on the end of your finger and rub on your lips, this will hydrate your lips and tint them just a touch


You'll want to check more easy and quick DIY Projects:
Easy Clipboard Paper Craft and our DIY Faux Marble Pottery Pot project.