A chocolate peanut butter trifle is easy to make, feeds a crowd and you'll hardly have any leftovers!
A gazillion years ago I began to bake on my own. I loved it so much that I would make sweets on a Monday night and take them to my sister's basketball game on Tuesday night. I'd cart my mom's Tupperware product into the game and distribute my previous night's baking specialty to all of the parents in the stand.
This routine of "feeding the crowd" went on the entire season. Sometimes I'd show up with cookie bars, sometimes just rice krispie treats, but either way, I was in the kitchen, baking and I was happy.
Most of my recipes started out as "box" mixes, but eventually I moved onto making banana bread and cookies from scratch. This Chocolate Peanut Butter Trifle is one of those "easy box recipes" and I'm not ashamed to share it with anyone because it's so good.
How to make a chocolate peanut butter trifle
The feature of this recipe is the trifle bowl. If you don't have one, any large, clear glass bowl will work but a trifle bowl will look the best. If you don't have a trifle bowl, and are using a bowl without straight sides, I suggest cubing the cake before adding it to the bowl.
The wonderful thing about this chocolate peanut butter trifle is that you can easily modify it to fit your taste buds! Try swapping the peanut butter pudding for chocolate and adding chopped snickers to your recipe. Perhaps you'd rather have OREO cookies on top. No matter what the flavor, this trifle is about presentation and everyone will want a taste.
You'd think by the beauty of my chocolate peanut butter trifle recipe that it's sweet and rich, but it's anything but that. It's a nice light and airy cake, followed by some tasty pudding, light whipped topping and candy. It's not overly sweet and you might even ask for seconds!
LOVE chocolate peanut butter? Try some of our other recipes: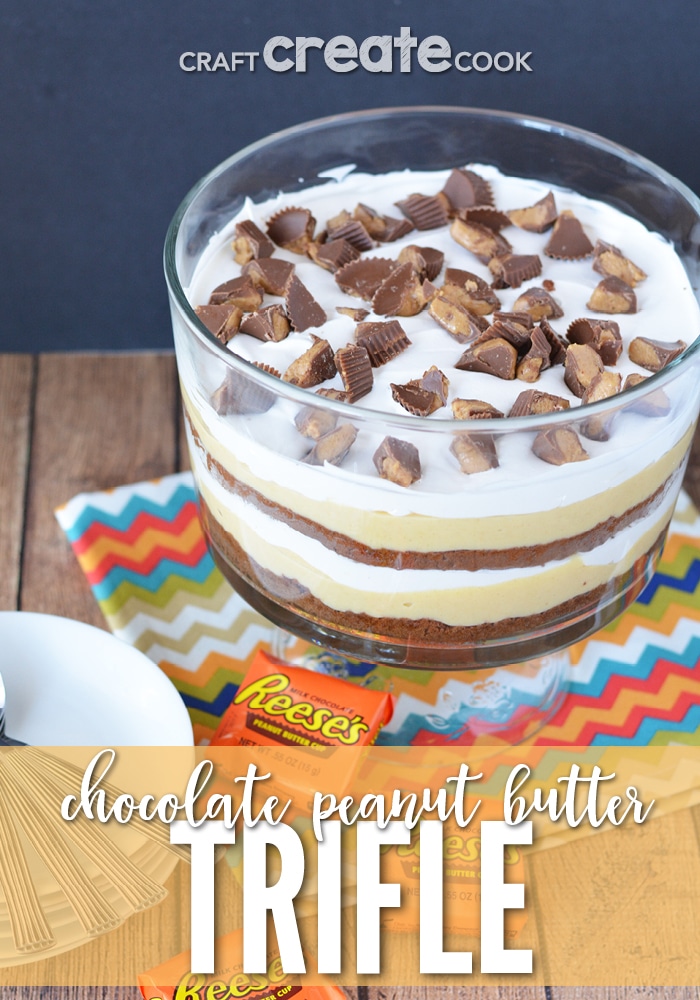 Yield: 12
Chocolate Peanut Butter Trifle Recipe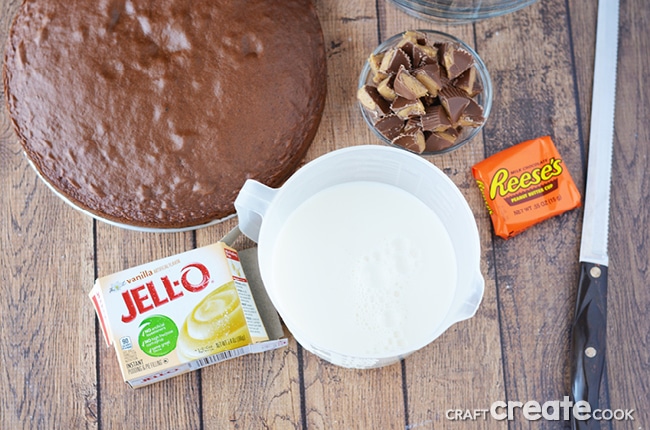 A chocolate peanut butter trifle is easy to make, feeds a crowd and you'll hardly have any leftovers!

Prep Time 10 minutes

Cook Time 22 minutes

Total Time 32 minutes
Ingredients
1 box chocolate cake mix and ingredients to make cake
1 small box (3.4 oz) vanilla pudding
2 cups cold milk
½ cup creamy peanut butter
1 tub (16 oz) whipped topping, thawed
12 Reese's Peanut Butter Cups, chopped
Instructions
Prepare cake according to package directions for 2 round cakes. Let cool completely.
In a large bowl, combine milk and vanilla pudding. Whisk well until smooth and no longer lumpy.
Microwave peanut butter in a small bowl for 60 seconds on 50% power. Stir until smooth. Mix well with pudding. Refrigerate pudding for 5 minutes.
Place trifle bowl (top side down) on top of the cake and use a knife to cut around the cake so it fits inside the bowl. Remove the cake from the pan and place it into the bottom of the trifle bowl. Repeat for the second round cake, but leave in the pan until ready to add to the trifle bowl.
Add half of the pudding mix on top of the cake, followed by half of the whipped topping and half of the peanut butter cups.
Repeat the layering, adding the cake, pudding and whipped topping and peanut butter cups.
Notes
When serving this recipe use a large spoon. Scoop to the bottom of the first layer of cake and once the top layer is gone, begin to serve the bottom layer.



Save