This amazing rich & creamy pumpkin soup is perfect for cooler days!
Cooler fall days mean sweaters, leggings, boots and football games. Cooler fall days also means warm slow cooker meals and hearty soups. I've seen a ton of memes online lately stating that September 1st is pumpkin season. Here in Northern Michigan, I'd agree. Our weather started turning cool a few weeks and ago and now the rain has started. Our fall season is generally rainy with a few bright, sunny and crisp days that are perfect for hayrides and pumpkin patches.
I've been posting a lot of pumpkin recipes lately. 'Tis the season and pumpkin is delicious! I'll admit, I've never made my own pumpkin filling. I'm an expert at grabbing a few cans of pumpkin in the baking aisle at my local Meijer store. I grab a few cans at a time, that way I always have pumpkin on hand for when I want to whip up a pumpkin recipe.
I have to admit, for as much as I love baking with pumpkin, I had yet to make a more savory pumpkin recipe. Several years ago, I made a Pumpkin Sauce and Meatball Recipe for Brett over at This Mama Loves. At the time I thought it was an odd combination. I tasted it, but still preferred baked goods. Fast forward to now and my tastes are beginning to change. The older I get, the more I honestly love trying new dishes AND eating them.
This amazing rice and creamy soup comes together in a snap and is ready in less than 30 minutes and I love using my smaller dutch oven. Serve is as a main dish with garlic bread and a salad or a light lunch. It also makes a great side dish with sandwiches on a cold fall day. I love the flavor combinations: the chicken broth, pumpkin and spices are delicious together and not at all what I expected.
Products I used and love:
Dutch Oven – I love my dutch oven. It's great any time of year but fall and winter are my favorite time to use it and it cooks wonderfully.
Wooden Spoons – I have a thing for wooden spoons and I use them daily.
Amazing Rich & Creamy Pumpkin Soup Recipe
Amazing Rich & Creamy Pumpkin Soup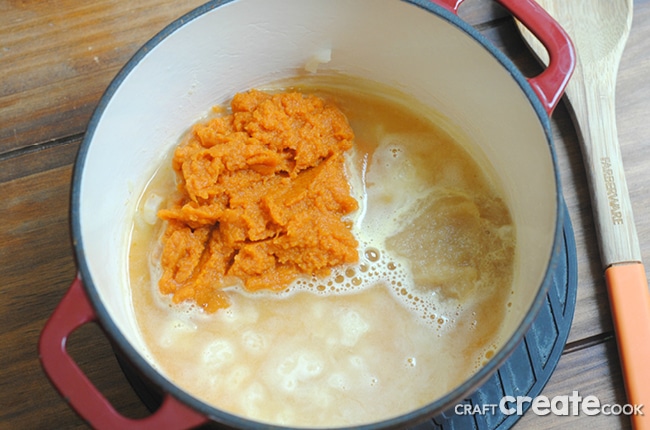 This amazing rich & creamy pumpkin soup is perfect for cooler days!

Prep Time 5 minutes

Cook Time 30 minutes

Total Time 35 minutes
Ingredients
15 oz pumpkin (not pumpkin pie mix)
2 tbsp. flour
4 C. chicken broth
2 tbsp. butter
1/2 C. onion, diced
1/2 C. applesauce
1/2 tsp. ginger
1/4 tsp. nutmeg
salt & pepper to taste
1 C. half & half
Instructions
Melt the butter in a medium saucepan of dutch oven and saute the onion until lightly browned.
Add in the flour and stir to combine.
Add in the chicken broth, pumpkin, applesauce, ginger and nutmeg.
Turn the heat up and bring the soup to a rolling boil and let bubble for 15-20 minutes.
Add in the half & half and salt and pepper to taste.
Garnish with parsley (optional)
Serve with a salad and rolls.


You will also want to make our:
Save