This is sponsored by Acorn, all opinions are my own.
Summer is finally here! Summer vacation starts next week and I am SO ready. I keep seeing those meme's on Facebook about packing lunches and I'm so ready to be done. The cute, crafty and creative fall lunches that consisted of bento boxes has now turned into croutons wrapped in plastic and tossed into the kids lunch boxes. Totally kidding. Kind of.
With summer vacation being so close I am excited to have friends and family over for campfires, yard games and delicious food! Summer entertaining can be daunting but I don't let that slow me down. I love making easy summer dishes like grilled chicken and corn on the cob. We love grilling and it's perfect for when the temperatures goes up. Along with easy summer food, I love easy clean-up! Dixie® Everyday 26 ct. 10.5-inch Plates make my summer entertaining easy and fool-proof.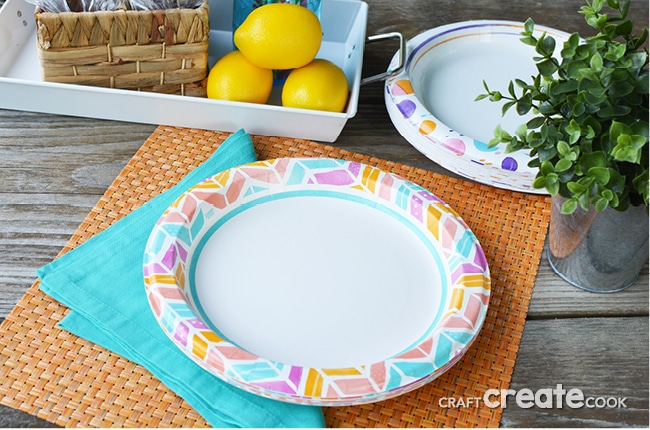 When planning my summer get together's I head to my local Dollar General store where I stock up on Dixie® Everyday Plates. Now through July you can grab Dixie® Everyday Limited Edition designs which are super cute and perfect for easy summer entertaining! You can find the these Dixie® Everyday Limited Edition designs at your local Dollar General store:
Dixie® Everyday 26 ct. 10.5-inch Plate
Dixie® Everyday 48 ct. 9-inch Plate
Dixie Ultra® 20 ct. 10.5-inch Plate
The Dixie® Limited Edition styles have 5 layers and are 50% stronger than the leading store brand, so you can double up on servings, not plates so you're cutting down on waste. The plates are soak proof too, so they won't get all soggy and gross from your favorite salad! Have leftovers? The plates are even microwavable so when you're craving that leftover grilled the next day, simply reheat in the microwave and you're good to go!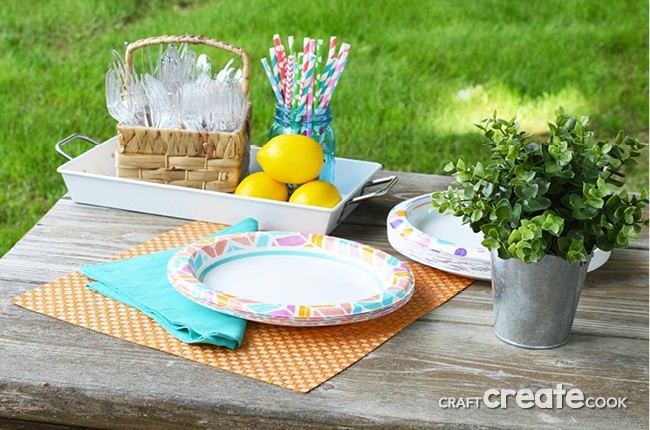 Want to try them out? Head into your local Dollar General store when you can find them in the summer section on display. If you have trouble locating them, make sure you ask a store employee.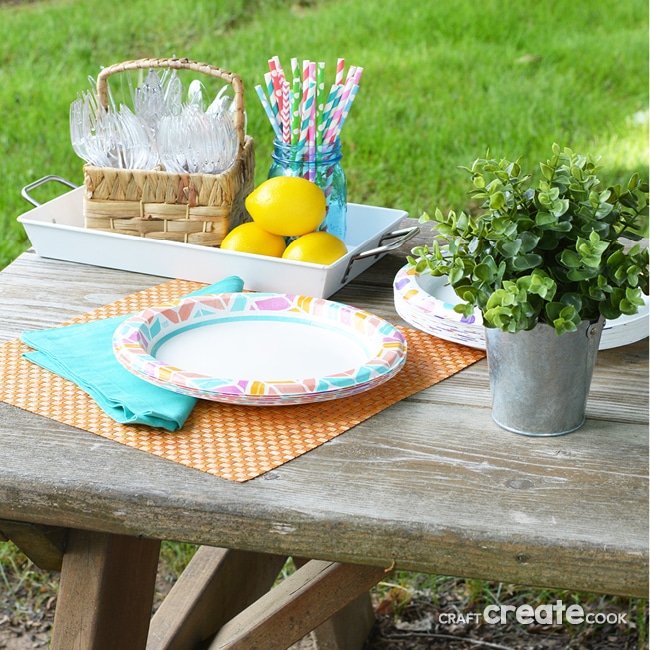 8 Summer Entertaining Hacks
Use Dixie® Everyday Plates. Save time and your sanity. They come in a variety of fun colors and for perfect for summer entertaining which means you can spend less time in the kitchen and more time mingling with your guests!
Prep Food in Advance: When entertaining, I hate being inside when the guest start showing up. Summer meals should be simple, easy to make and delicious. I make the cold dishes a head of time and store them in the fridge prior to serving.
Cook Outside: During the summer months we love grilling out. My husband enjoys manning the grill and it allows us to still socialize with our guests. Grilled chicken breast and corn on the cob, still in the husk make for the perfect summer meal!
Stay Hydrated: The last thing you want it for people to get hot and thirsty. Make sure you have a fridge stocked with cold beverages or fill a couple of coolers with ice and store them in there.
Yard Games: We love playing yard games with our guests when entertaining. It's fun for everyone and keeps everyone entertained. Our favorite yard games are Yahtzee and cornhole.
Frozen Fruit Ice Cubes: Serving cocktails? Cut strawberries, grapes and other fresh fruit into chunks and use as ice cubes in wine and cocktails!
Use Cupcake Liners: Cupcake liners are perfect for covering drinks to prevent bugs from landing in them and also catching popsicle drips.
Use a Muffin Tin for Condiments: Serving hot dogs and burgers? Place the different condiments and topping into a muffin tin with spoons so guests can help themselves.