You'll wow your friends and bring out the magic with this easy to make unicorn pizza recipe!
We love anything unicorn at my house. From duct tape to stuffed animals to notebooks, we are obsessed with the fun, whimsical, colorful, mythical creatures. I'm the first to admit that I love seeing all of the unicorn things in stores! I typically point them out to my daughter.
Creating a unicorn pizza recipe was high on my to-do list after the holidays. I was certain that we needed something colorful and fun to enjoy during this dreary winter. I am very happy with how this unicorn pizza turned out and so was my family!
Unicorn Pizza Recipe
Using refrigerated chocolate chip cookie dough cuts your recipe time in half. The pre-made dough can also be made the day before, wrapped in plastic wrap and decorated the next day. It's so easy!
I opted to also use a tub of frosting colored with color gels to save me some time in the decorating department. Did you know you can microwave frosting and make it semi liquid so you can drizzle it? This little trick was a game changer for my unicorn pizza recipe. I used teal and violet Wilton color gels to color the frosting.
You can really make this unicorn pizza recipe come together with the small details. Pink colored sixlets will really add some fun shine and sparkle to your pizza.
Use a unicorn sprinkle mix to add stars and rainbow colors as toppings. I was able to find Cake Mate Sprinkles Unicorn Love at my local grocery store! Check there or order these.
These sparkly "diamonds" add the finishing touches to this magical dessert pizza. These edible candies are pearlized and add some shine to your dessert!
This unicorn pizza recipe is so good, I'm certain you'll want more than one slice!
If you're looking for some other fun Unicorn recipes and crafts, we have them all right here!
Tip: It's important to use a 12" pizza pan, or accommodate for a different size pizza pan. If you use a smaller pizza pan, omit some of the dough. If you use a larger size pizza pan, you will need more than 1 package of cookie dough. My 12" pizza pan had holes in the bottom, so I covered it with foil before making my recipe.



Yield: 16
Unicorn Pizza Recipe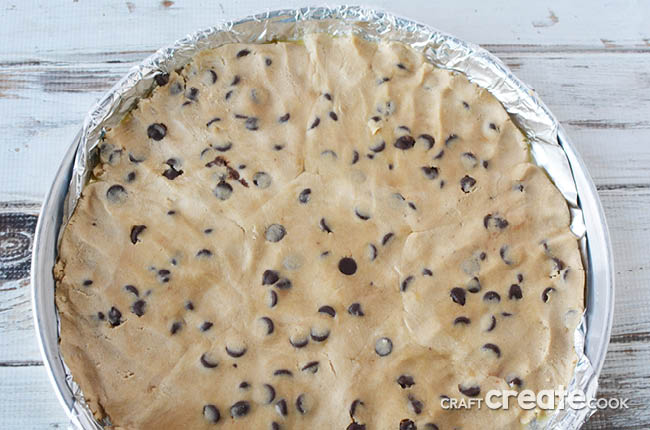 You'll wow your friends and bring out the magic with this easy to make unicorn pizza recipe!

Prep Time 15 minutes

Cook Time 12 minutes

Total Time 27 minutes
Ingredients
1 roll, 16.5 oz, refrigerated chocolate chip cookie dough
1-½ cups rainbow mini marshmallows
½ cup white frosting
unicorn sprinkles
pink sixlet candies
diamond candies
teal and violet color gels
Instructions
Preheat oven to 350 and grease a 12" pizza pan.
Press dough into pan with your fingers and bake for 12-15 minutes or until golden brown. Add marshmallows to top and bake an additional 2 minutes until puffy. Remove from oven and cool completely.
Divide frosting in half and tint one bowl teal and one bowl violet in color. Microwave both bowls for 15 seconds. Stir until smooth and runny. Drizzle over cookie pizza.
Sprinkle with unicorn sprinkles, candy sixlets and diamonds.
Cut into 16 slices