These easy no bake peanut butter bites are perfect for Santa!
This post may contain affiliate links. As an Amazon and Awin Associate I earn from qualifying purchases. More info
here.
Thanksgiving is officially over and the Christmas season is in full swing. I look forward to Christmas every year and I adore everything about it. I love putting up the Christmas tree and decorating our home, setting up my ceramic Christmas village and shopping for Christmas presents. And now that Thanksgiving is over, the kids have been asking daily when their Elf, Buddy, will be returning. I told them he will come back when our Christmas tree is up which will probably be later this week.
Once the Christmas tree is up, the holiday baking and annual cookie exchanges will begin. There is something about the holidays that makes me want to get in the kitchen and create goodies. Between Christmas shopping, building a snowman with the kids, and drinking Swiss Miss® with Marshmallows, there is always a delicious treat to be had. Creating new recipes is something I love and having my kids help in the kitchen is great way to spend quality time together during the holiday season AND gets them away from their electronics.
This holiday season I created something new for Santa using classic NILLA Wafers and Peter Pan Simply Ground™ Peanut Butter. I combined both for a unique little treat that pairs perfectly with Swiss Miss® Hot Cocoa and is perfect for Santa this holiday season!
One of my favorite ingredients to use in my holiday recipes is Peter Pan Simply Ground™ Peanut Butter. It's creamy but also has the perfect amount of crunch! I love creating simple yet delicious treats and what better ingredients to use than NILLA Wafers and Peter Pan Simply Ground™ Peanut Butter! Both are delicious and a perfect compliment to each other. I also wanted to create a treat that didn't take long to make and the kids could easily help with. No bake bites are my solution! Plus, Santa loves treats and these would be perfect for Christmas Eve!

I headed out to my local Walmart store where I purchased everything I needed to make something new for Santa. Once home, I put all the ingredients together using my food processor and had a delicious and easy treat within minutes.

These no bake peanut butter bites are perfect for busy winter days and go great with Swiss Miss® with Marshmallows. What are your favorite simple holiday treats?

Save


Yield: 12
No Bake Peanut Butter Bites
These easy no bake peanut butter bites are perfect for Santa!

Prep Time 5 minutes

Cook Time 10 minutes

Total Time 15 minutes
Ingredients
40 NILLA wafers
3/4 C. Peter Pan Simply Ground™ Peanut Butter
1/8 tsp. honey
1 tsp sugar
Instructions
Add the NILLA Wafers to a food processor and pulse until the wafers are crumbs.
Add in the 1 teaspoon of sugar and pulse to combine.
Add in the 3/4 cup of peanut butter and 1/8 cup of honey and pulse to combine.
Pour the mixture into a medium size bowl and continue to mix by hand.
Use a 2" cookie scoop to scoop the dough into balls and place on a baking sheet.
Place the baking sheet in the fridge for 1 hour so the bites set.
Remove from the fridge prior to serving and store covered in the fridge when not eating.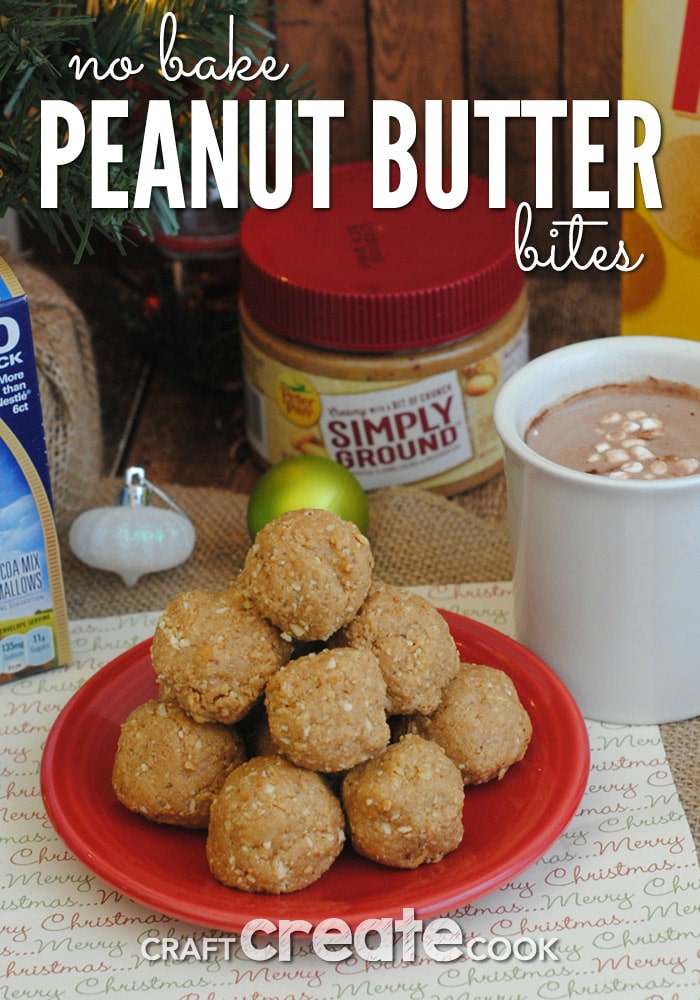 Save