You will love this kid friendly orange Kool-Aid slushie!
I love summer. Long sunny days spent at the beach with friends or out on the boat is my absolute favorite thing to do. Making fun drinks and snacks for the kids during the summer months is a close second. With the kids being out of school and home most of the day, they enjoy helping me in the kitchen as much as possible. Last month, I made a few adult slushie drinks for company. The kids have been bugging me ever since to make some for them, alcohol free, obviously.
I rarely keep Kool-Aid in the house but sometimes a few packets find their way home from the grocery store. I don't like giving my kids a ton of sugar but the occasional slushie is ok and it gives me a break from listening to 'when are you gonna make us one?!?!' So, grab a pack of Kool-Aid, some ice, sugar and water and lets get started!
First, you will want to dig out your blender. Next, pour the water into the blender and add the Kool-Aid packet. Top with ice and sugar. Blend 30 seconds to 1 minute (or until the desired consistency). Pour into some tall glasses with a slice of orange on the side (optional) and serve. The kids will love it and they'll be asking you make these all the time!
You will also want to make: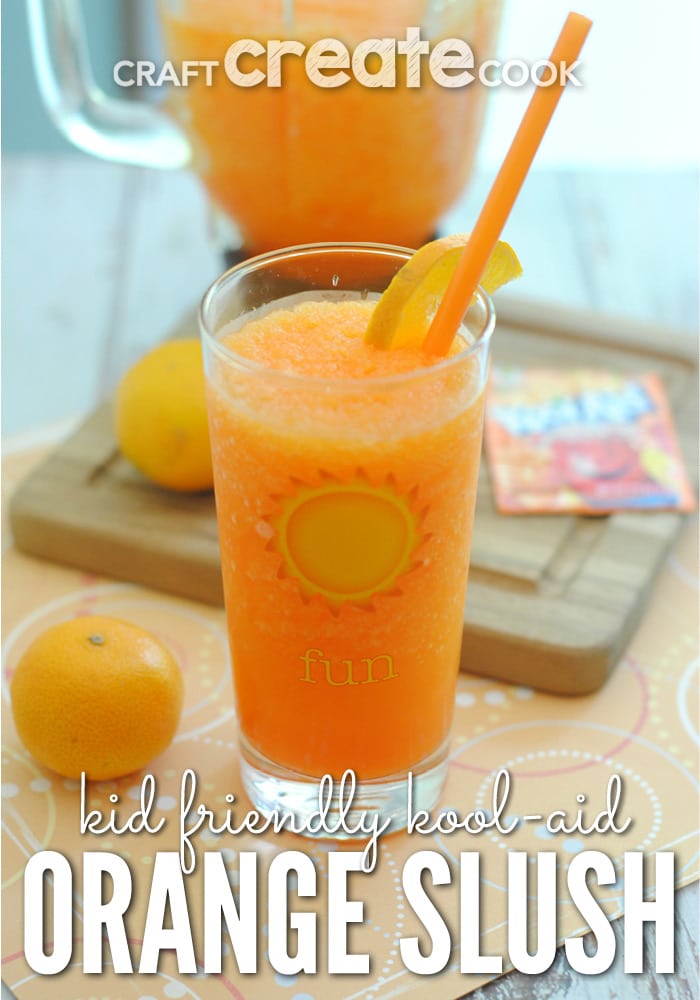 Yield: 4
Kid Friendly Orange Kool-Aid Slushie
Your kids will love this kid friendly orange Kool-Aid slushie!

Prep Time 5 minutes

Cook Time 1 minute

Total Time 6 minutes
Ingredients
1 packet of orange Kool-Aid
2 C. cold water
½ C. sugar
4 C. ice
Instructions
Add all ingredients to your blender and blend until smooth (about 30 seconds to 1 minute).
Pour and serve