This shop has been compensated by Collective Bias, Inc. and its advertiser. All opinions are mine alone. #WellYesMoment #CollectiveBias
Do you struggle with the afternoon slump? Here are some great tips to prevent it!
Working at home has it perks, that's for sure. I can wear slippers all day long, I can take a break and catch an episode of my favorite sitcom on TV, I can take my bra off whenever I want, I can toss a load of laundry in the washer AND dryer. But one thing I tend to do when working at home is lose track of time. Recently I started to set alarms to remind myself throughout the day to do things.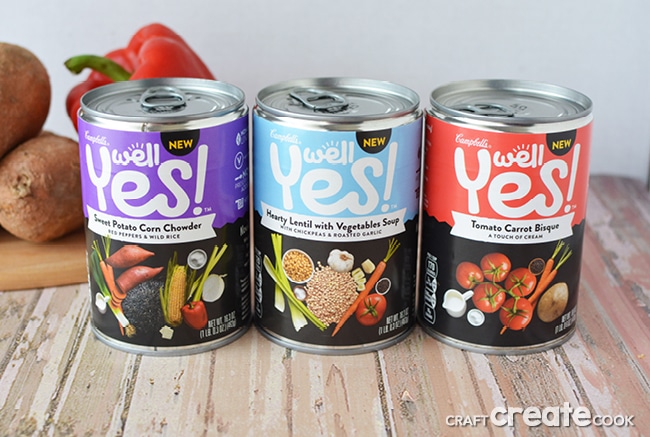 The most recent alarm I set is a lunchtime alarm. This is when my Yes moment began. You did read that correctly. I have to set an alarm to remind myself to eat lunch. You may be thinking I'm crazy, because "who could forget to eat?" Well, me. I get so into working on a project that the time begins to fly by and the next thing I know, I've missed lunch and I have 2 until my daughter will be off the bus. When this happens, I'm starving and now that it's 2 o'clock, I'm grabbing anything I can find and shoving it into my mouth – a granola bar, handful of chips, cookies, cheese sticks, any and everything that isn't a substitute for lunch!
Then 3 o'clock hits and BAM, I'm struggling to stay awake. The afternoon slump has set in and I can barely keep my energy levels up to stay awake at my desk! It's B-R-U-T-A-L!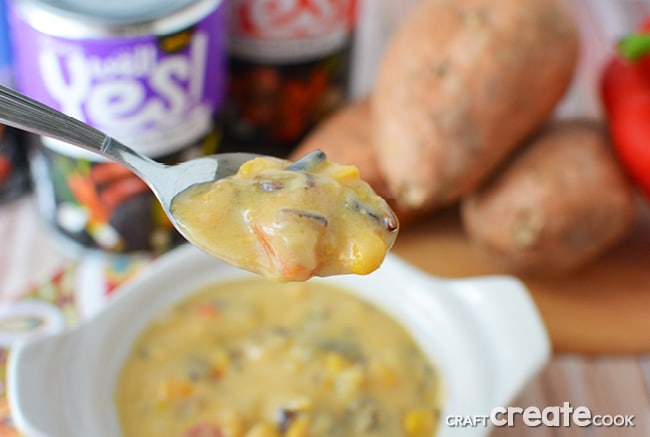 So when my alarm goes off to eat lunch, I find myself gravitating toward Well Yes!® Soups. I stumbled upon these at the grocery store. As a graphic designer I was mainly drawn to their label design. Then I began to read the flavors and the next thing I was doing was putting them into my cart! The flavors are unique and appealing and the ingredients are nutritious. How can you go wrong with a Sweet Potato Corn Chowder? And how about Tomato Carrot Bisque and Black Bean with Red Quinoa? My mouth is watering talking about these soups!
Having lunch helps end the afternoon slump that hits me around 3 o'clock when I don't eat right and skip a meal. Well Yes! Soups also have this cute infographic on the label that lets you know the can is made of a non-bpa lining, non-gmo ingredients and no artificial flavors or colors (see, there's that designer geek again!). So I know what I'm getting is good stuff!
Need additional ways to say YES to a positive lifestyle? Try setting an alarm on your phone or a reminder to do the following:
Drink more water
Exercise and workout
Make time to read
Pack lunch the night before
Save money while trying Well Yes! Soups
You'll be surprised how these simple alarm reminders can be your moment of YES! Just taking a moment to enjoy Well Yes! soup as a meal will be one of the best decisions of your day!
Don't forget to enter the #WellYesMoment Sweepstakes in the widget below for a chance to win up to a $500 Visa gift card! It's as easy as clicking, logging in, and sharing your Moment of Yes story! If you win, think of all the ways you can use the prizing to achieve your Moment of Yes!
#WellYesMoment #Sweepstakes (10/14 to 11/17)
Make sure you visit Well Yes! Soups for a complete list of flavors!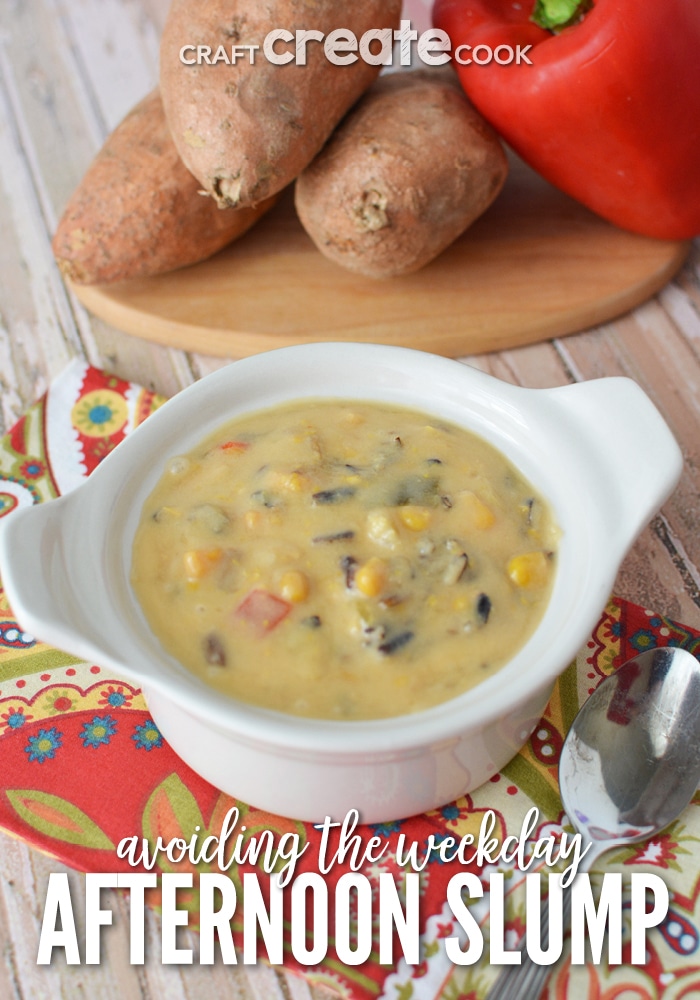 Save
Save
Save
Save
Save
Save
Save
Save
Save
Save