These football party Rice Krispie treats are perfect for making for your own family or to take to the next big game party you get invited to.
Fall is here and game days around our house are full of fun and food! There might be some cheering and high fives as well as some shouting at the TV! There's always a handful of parties we get invited to go to and watch the big game and I love making these football party Rice Krispie treats because they are easy, taste good and everyone comments on how cute they are! When I bring these treats to friends houses I never end up having to bring any leftovers home and that's definitely a plus!
Whip up a pan of RiceKrispie treats and let them set up. Use this football cookie cutter and cut out lots of footballs (all while tasting the scraps just to ensure they taste okay to serve to others. Yummmm…sooo goood!) The Wilton Sparkle Gel helps to bring these footballs alive by adding the stitching to them. You can make this a fun family recipe by having the kids help cut the treats and add the stitching! They will also love enjoying the scrap pieces I mentioned earlier! Have fun with it. And, when other holidays roll around you can always make other fun shapes!
Need something else to make for your football party? Try our Homemade Pizza Recipe and this delicious Orange Slushie Drink!
Save

Football Party Rice Krispie Treats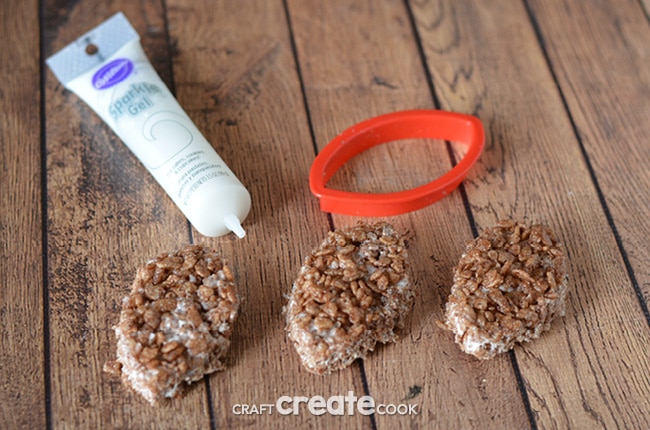 These football party rice krispie treats are perfect for making for your own family or to take to the next big game party you get invited to.

Prep Time 15 minutes

Total Time 15 minutes
Ingredients
2 packages of mini marshmallows (11 oz each)
1/2 cup butter, cubed
8 cups cocoa rice krispie cereal
white Wilton sparkle gel
Instructions
Spray a 9×13 baking pan with nonstick cooking spray and set aside.
In a large microwave safe bowl, add butter and marshmallows. Microwave on high for 60 seconds. Check the marshmallows and continue to microwave (if necessary) on high for 20 second increments until almost all marshmallows double in size. Stir well to combine butter and marshmallows.
Stir in cereal and mix well to evenly coat with the marshmallow mixture.
Firmly press mixture into prepared pan using greased fingers. Let cool and set.
Use a football shaped cookie cutter to cut treats.
Use sparkle gels to add stitching to footballs



Save