This post was sponsored by Ling Ling, all opinions expressed in my post are my own.
Being a busy parent, I am always looking for ways to save time, money and my sanity. My kids, like most kids are super picky when it comes to food. They love Asian dishes and enjoy eating at our local Asian buffet. The buffet is great and all, but it's expensive, especially having a family of 5! I'd rather save time and money by eating at home and that is where Ling Ling Asian Food comes in!
My kids and I love Asian noodles and Ling Ling Authentic Yakisoba Asian Style Noodles infused with delicious sauces, proteins, and vegetables are a great addition to any dinner table! Our other favorite is Ling Ling Yakitori Fried Rice. Serving any Ling Ling dish for dinner is always a quick, easy and delicious meal solution and I love preparing an easy side dish to serve as well.
My family loves coleslaw so I wanted to created an Asian slaw salad that we could eat with the Ling Ling Yakisoba Noodles. I headed out to my local grocery store where I grabbed a package of coleslaw mix from the produce section. I then headed to the freezer section where I added Ling Ling Yakisoba Noodles to my shopping cart.
One stop shopping for an easy, filling and delicious meal that my family loves!
Want to save time and money? Head over HERE for a $2 off ONE Ling Ling Entree or Appetizer (20oz. or more) coupon available only for a limited time!
Also, enter to win one of (5) $100 Walmart Gift Cards courtesy of Ling Ling Asian Food! Enter to win now through March, 6th!
Ling Ling Asian Kitchen Giveaway (Phase 3)
*I-C will randomly select winners from all program entries and will facilitate fulfillment of the winning prizes (5)
Easy Asian Slaw Salad Recipe
Easy Asian Slaw Salad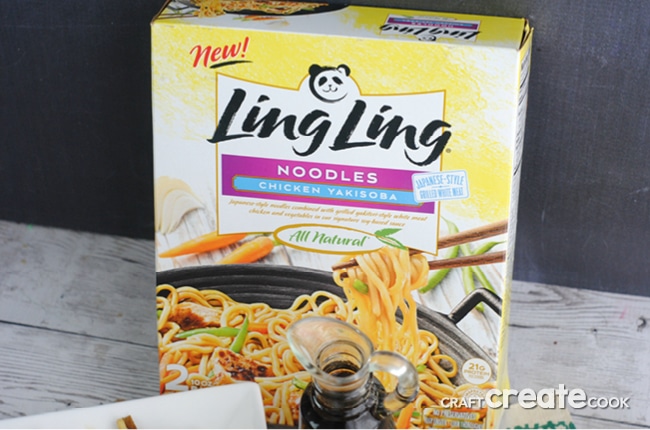 This easy Asian Slaw Salad is the perfect side dish or light lunch!

Prep Time 5 minutes

Cook Time 1 hour

Total Time 1 hour 5 minutes
Ingredients
(2) 16 oz prepackaged coleslaw mix
1 small red onion, diced
1/2 C. almond slices
1/4 C. soy sauce
1/4 C. olive oil
1 tbsp. ground ginger
2 tbsp. white vinegar
2 tbsp. brown sugar
Salt & pepper to taste
Instructions
Place the coleslaw mix, almond slices and red onion in a large bowl and set aside.
In a separate bowl, whisk together the additional ingredients.
Pour over the coleslaw mix and gently stir.
Cover and place in the fridge for 1 hour so the flavors meld together.
Serve chilled.



Want more great Asian Food recipes and Ideas? Check out Ling Ling Asian Foods on Social Media!
Ling Ling Facebook Page
Ling Ling Twitter Page