Brownie Ice Cream Sandwiches are easy to make and great for your next summer gathering.
Ahhh, Summer. I love summer for so many reasons and one of them is ice cream. I usually don't buy ice cream unless it's someone's birthday or a special occasion. But when summer rolls around, I take advantage of the grocery store sales and grab a few small cartons of ice cream and keep them in our freezer. My husband and I often enjoy a small bowl after the kids go to bed a few times a week.
Our family also enjoys going out for ice cream a few times a month. There's a new frozen yogurt shop in town that lets you put all sorts of different toppings on your cold treat, and my kids love to pick and choose all the candy and chocolate they can fit into their bowl. Plus, when Dairy Queen opens in March, it's a sure sign spring is here and summer is close behind.
When we cannot go out for ice cream every night of the week, I like to make these brownie ice cream sandwiches and keep them in the fridge for my family to enjoy as a special treat. I always start with a pan of my favorite brownie recipe (minus the nuts) and add ice cream. For a special holiday spin, I added some red, white and blue sprinkles to these brownie ice cream sandwiches. They look and taste amazing!
How to make Brownie Ice Cream Sandwiches
I have a few tricks for making the best brownie ice cream sandwiches!
Cut your brownies a little larger so they are easier to handle. If they are too big, or more than a serving size you'd like, freeze the larger sandwiches and cut them in half before serving. These are big sandwiches and with two brownies, can be very rich.
You can use almost any brownie recipe, but I suggest this one as it's much more dense and more apt not to fall apart when you slather semi-frozen ice cream on the brownie.
Make sure when you put ice cream onto the brownie, it's semi soft and your brownie is on a flat surface. Don't put the brownie in your hand and spread ice cream on it. You'll break your brownie in half and be bummed out!
Check out some of our other great frozen treats!
Yield: 18
Brownie Ice Cream Sandwiches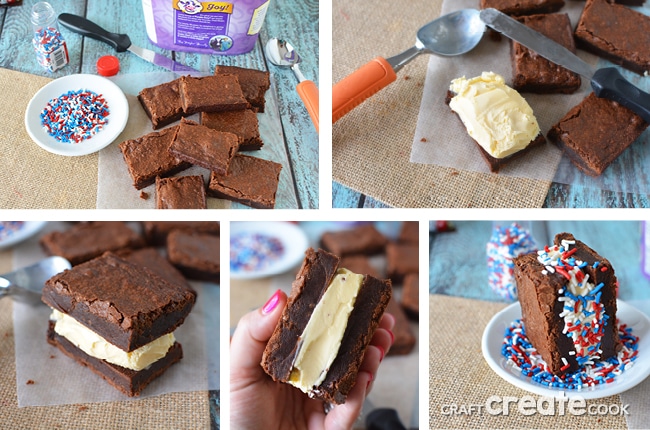 Brownie Ice Cream Sandwiches are easy to make and great for your next summer gathering.

Prep Time 15 minutes

Total Time 15 minutes
Ingredients
1 batch of brownies, baked and cooled
1 quart of your favorite ice cream
red, white & blue candy jimmies
Instructions
Take the ice cream out of the freezer and let set for five minutes.
Cut your brownies into 2" x 3" rectangles and remove from pan.
Place 1 brownie, upside down, onto a flat surface (not the palm of your hand) and place 1 scoop of ice cream onto the brownie. Use a knife to flatten and smooth the ice cream and spread it a bit on the brownie.
Place another brownie on top of the ice cream to make a sandwich. Gently press together.
Use the edge of a knife to smooth the ice cream on the sides and fill in any holes.
Dip the edges of the brownie into sprinkles.
Place back into the freezer for 1-2 hours until ready to serve.
To Store: Store in a sealed freezer bag or container in your freezer.