You'll love this modern chocolate caramel spin on a traditional bread pudding recipe.
I have never been a fan of bread pudding. My Great Aunt used to make it when she came to our house for Easter. It reminded me of "slop" or some sort of "porridge" you'd see in the movies. You know the part in the movie when the kids/prisoners are lined up in the cafeteria with their divided food tray and the cook slaps a sticky, gooey, steamy pile of something onto their plate? Yeah, that's what I thought of bread pudding.
I cannot even tell you what my Aunt's bread pudding was made of. I do know it had raisins in it and it was mushy and gooey and I turned my nose up every time she brought it over. So can you imagine I'd actually TRY making my own bread pudding? Well that's because I do not like wasting food. And I had this bread, that needed to be used and bread pudding was the only thing I could think to do with it. And you know what? This actually tastes AMAZING! Like so amazing I may have sneaked a small bowl several times and hid in my mudroom and gobbled it up!
If you've followed my favorite kitchen gadget post, you know I'm slightly obsessed with stoneware. I love making this bread pudding in stoneware because it stays warm for so long! I don't enjoy eating cold food, I'm getting high maintenance in my old age.
This recipe pairs exceptionally well with Easter Dinner! Need some more Easter dinner desserts? Try these:



Yield: 12
Chocolate Caramel Bread Pudding Recipe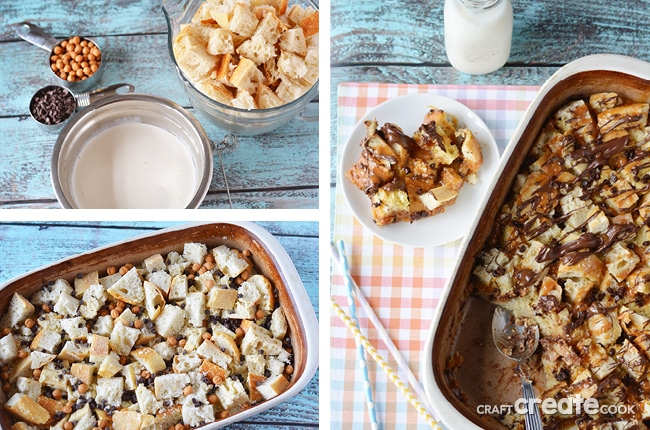 You'll love this modern chocolate caramel spin on a traditional bread pudding recipe.

Prep Time 10 minutes

Cook Time 25 minutes

Total Time 35 minutes
Ingredients
8 cups 1" cubed bread
3 eggs
1 cup milk
1-1/4 cup heavy whipping cream
1/2 cup brown sugar
1/2 teaspoon salt
1 teaspoon vanilla
2 tablespoons mini chocolate chips
2 tablespoons caramel baking bits (Kraft brand, find in the baking aisle)
Chocolate Caramel Topping
1/3 cup mini chocolate chips
1/3 cup caramel baking bits
1 tablespoon milk
Instructions
Preheat oven to 350 and grease a 9x13 pan with cooking spray.
Pour bread into baking pan and distribute evenly.
Whisk eggs, milk, cream, brown sugar, salt and vanilla together in mixing bowl. Pour over bread in pan.
Sprinkle 2 tablespoons of mini chocolate chips and 2 tablespoons caramel bits onto the bread.
Bake for 25 minutes or until eggs are set. Remove from oven and prepare topping.
Chocolate Caramel Topping
Place 1/3 cup chocolate chips in a microwave safe bowl and microwave for 30 seconds. Stir until melted. Return to the microwave in 15 second increments and stir after each addition until melted if necessary. Drizzle over bread.
Place 1/3 cup caramel bits and 1 tablespoon milk into a microwave safe bowl. Microwave for 45 seconds and stir. Continue to microwave in 20 second increments, and stirring after each addition, until caramel is melted. Drizzle over bread.
Serve warm.
Save
Save